STUDENT LEADERSHIP RECOGNITION
Celebrates students who live lives of thoughtful inquiry, service, leadership, and care while empowering their peers to do the same.
Student Involvement and Leadership encourages faculty, administrators, staff, and students to take time to acknowledge the contributions of student leaders who have excelled academically and made a difference through their leadership and service at PLU and in their communities.
Nominated students who are eligible for awards will be invited to submit a resume. A selection committee will review all nominations and make award recommendations. Finally, the Vice President for Student Life and Dean of Students will confirm the award recipients.
"Ubuntu" is a word from the Bantu region of southern Africa, which is translated as "I am because we are". The word has become a central theme of the Student Leadership Institute. Student involvement and leadership roles at PLU daily demonstrate the fundamental value of self for others. This award is to honor students as they complete their PLU education.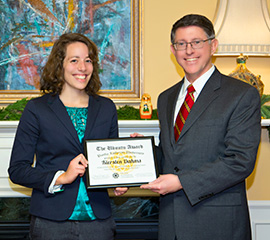 NOMINATION
A Ubuntu nominating narrative should highlight nominee's activities, accomplishments and positions of leadership, both on campus and in the community. A selection committee will review all nominations. Finally, Vice President of Student Life will confirm those students who will receive the Student Life Ubuntu Award. Please share with us how you feel your nominee stands apart from her/his peer group. Nominations are typically one page in length. Submit your nominations by email as a word document attachment to sil@plu.edu.
The Leader of Distinction award recognizes students with a 2.75 GPA or higher who have demonstrated leadership skills through their affiliation with a student organization or university department. Continuing students are nominated by the PLU community. Recipients will be presented with a certificate during the Celebration of Leadership. This award is for current PLU students.
This leadership distinction has become synonymous with excellence in leadership, scholarship, service, and community impact throughout a student's undergraduate experience. At PLU, Pinnacle Society is our highest honor for leadership and co-curricular involvement for students with a 3.5 GPA or higher. Graduating seniors are nominated by the PLU community. Recipients will be presented with a framed certificate of membership and a commemorative sash, to be worn at commencement.
Mortar Board is a national honor society that recognizes college seniors for superior achievement in scholarship, leadership, and service. Membership is synonymous with dedication and success. The PLU Black & Gold Chapter creates a cohort experience for students, in which they will elect leadership positions and assume responsibility for ongoing programs and service to the institution throughout their senior year.