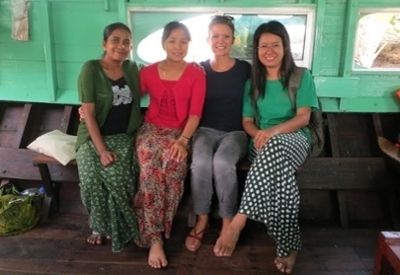 PLU Class of 2005

Political Science Major, Communications Minor

Current: Director, Corporate Partnerships at Mercy Corps
I graduated from PLU in 2005. I studied abroad the first semester of my junior year in Rome. I first went to Florence for three weeks to try to learn the language, then on to Rome. I absolutely loved Italy. The history, the art, the people, the food. It was amazing and I loved every moment. I studied Italian cinema, political science, mythology and art. I traveled as much as possible – learning, seeing and experiencing as much as I could. I came back to PLU that winter and needless to say, Tacoma just wasn't quite as interesting after life in Rome. So I immediately made plans to travel again.
I wanted to do something completely different. I had seen parts of Western Europe but wanted to see the developing world, something far from my reality. I went to the Wang Center and saw a flier for Namibia. At that point, I probably would have had a hard time correctly identifying Namibia on a map. I decided this was the right place. They had an internship at a women's human rights organization, Sister Namibia, which did advocacy work, education and put out a bi-monthly publication, Sister Magazine.
A close girlfriend of mine and roommate, Randi Johnson, also decided to study in Namibia. We agreed to take J-term and fly around the world. We packed our giant backpacks, routing through New Zealand, Australia, London, South Africa then Namibia, staying in hostels along with way.
In Namibia, I spent time in Katatura township, outside of the capital city, doing HIV/AIDS education. Katutura means in Otjiherero, the place where people do not want to live. Katutura was created in the 1960s when black Namibians were forced to leave Windhoek, but has since grown into a bustling town full of life.
I did research on gender-based violence and discriminatory inheritance practices, wrote articles and organized the Sister Namibia library. Looking back, the value I added paled in comparison to the incredible value I gained through my experience there.
During my time, there was a wave of violence against young women and girls, including girls as young as just a few months old. There were murders and rapes – it was horrifying. We organized demonstrations and marched to the courthouse demanding help for families and greater crime-prevention measures. One of my jobs was to track all of the stories of violence against women in the local media. There were so many stories. Poverty, injustice and the spread of HIV/AIDS contributed to the desperation people were feeling across the city, country and region.
In spite of it all, somehow, there was hope. There were countless organizations like Sister Namibia working around the clock to make things better.
I knew then that I wanted to do what I could to support organizations like Sister Namibia. When I graduated, I decided to look for work with a nonprofit organization. I spent time with Sunshine Division, an emergency food bank in Portland, Oregon. Then I went back to graduate school at Portland State to study public administration. I worked for Virginia Garcia Memorial Foundation, a fantastic group that ensures low-income families, the uninsured and migrant and seasonal workers get access to good behavioral, primary health and dental care. I moved from direct-service side of nonprofit work to development:  At Virginia Garcia, I spent a lot of time developing corporate partnerships, which is very rewarding. Both at Sunshine Division and Virginia Garcia, I had the opportunity to work with incredible teams and under top-notch leaders, which solidified my commitment to working in the nonprofit sector.
In 2011, I left Virginia Garcia to work full time on global corporate partnerships at Mercy Corps, an international humanitarian aid and development agency.  Our mission is to build secure, productive and just communities in the world's toughest places, such as Afghanistan, Nigeria and Myanmar. I manage relationships with national and multinational corporations to develop partnerships that meet core corporate social responsibility and business objectives and create meaningful, lasting social and economic benefit to the communities where Mercy Corps works.
Studying abroad opened my eyes to the challenges faced by much of the rest of the world, and inspired me to commit my career to advancing the work of organizations helping individuals and communities face those challenges.