Want to Know More about Our WMGS Capstones?
Here's a list of the Spring 2012 Capstone topics:
Hannah Reece: Beyond Reading, Writing, and Arithmetic: Including Gender Education in the High School Curriculum
Jeremy Wilks: Carriageless Horse: A Look at Marriage Equality and the State of Marriage
Sarah Wissenbach: Domestic Violence and Mothering: An Underexplored Intersection
Kristi Krabbenhoft: Deciphering the Code: The Hide/Seek Exhibit and Homosexuality in Art
Jessica McGifford: Deconstructing Social Barriers: An Analysis of Same-Sex Domestic Violence
Claire Plourde: The 'Bottom-Up' Approach: Using Girls' Voices for Change
Skye Bartholmew: 'Wives Submit to Your Husbands': The biblical Justification of Domestic Abuse and Church Responses
Hannah Febach: When We Think of Women, We do not Think of War: Rape Politics and the Former Yugoslavia
Here are Some Narratives from Graduating WMGS Majors: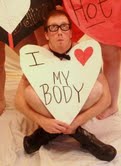 Jeremy Wilks, Class of 2012
I chose to become a Women's and Gender Studies minor after taking Psychology of Women from Dana Anderson. Having taken a couple of classes that qualified, it crystallized my interest in the program and instilled in me a desire to understand more about the oppression of women, which would develop to become an interest in understanding oppression and how to act out against that in constructive ways. My capstone works at addressing the understanding of same-sex marriage in the overarching narrative of American marriages and redefinition of family life as a result of changes to the social and legal structures pertaining to marriage. Not just marriage equality for same-sex couples, but also legalization of interracial marriage, oral contraception, women's presence in the work force and the removal of coverture. My pursuit of the topic really arose from my internal dissonance I had regarding the passing of Same-Sex Marriage in the state. I wasn't sure how I felt about it. While I was elated by the fact that a new option would be available to legitimize the relationships of gays and lesbians, I wanted to take stock and understand the history behind the movement as it has come thus far. I wanted to know why marriage was the goal; this opened up my understanding of what marriage means, where it comes from and why it seems so important in our culture.
Jessica McGifford, Class of 2012
I was sold on being a WMGS major really early in my first year at PLU. By the end of the third week of that fall semester, I wanted to sign up for WMGS 201 and see what all the fuss was about. That class opened my eyes to issues I had never seen, had never considered. Why does the media over sexualize women? How come motherhood is prized above fatherhood? Coupled with my Sociology major, my degree in WMGS helps me understand how gender and sexuality influence, intersect and construct the patriarchal culture in which we live. Over the past four years I've written papers about how toys are gendered, how systematic rape in wartime is somehow acceptable and how violence and sexuality are portrayed in a popular vampire TV show. Those discussions of gender, sexuality and violence served as precursors to my WMGS capstone. I am currently interning at the Crystal Judson Family Justice Center in downtown Tacoma, an agency that provides all types of services to victims of domestic violence. Blending experiences at my internship with the issues I am passionate about, my WMGS capstone explores domestic violence in same-sex relationships. The Women's Rights movement has taken great strides in addressing the needs of women in abusive relationships, and there are many great resources available. Those resources are very often limited, however, to heterosexual-identified individuals. My capstone delves into the reasons why.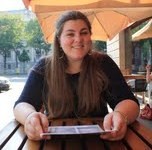 Claire Plourde, Class of 2012
I feel as though my Women & Gender Studies major chose me than the other way around. During my first year at PLU I was able to take my Writing 101 with Professor Smith and WMGS 201 with Lisa Marcus. I quickly became passionate about issues affecting women and the intersectionalities of oppression. My Capstone internship is at the Women's Center, however I am doing work through a grant we received by the AAUW (American Association of University Women). My internship has focused on creating focus groups of girls to talk about the issue of sexual harassment in schools. In the focus groups, we have defined what sexual harassment is, named certain experiences, and brainstormed tools of empowerment to stop it. This is a deeply complicated issue, however allowing girls a safe place to have their voices heard is absolutely imperative in creating solution for the prevalence sexual harassment. I will also be presenting my Capstone project at the AAUW sponsored NCCWSL conference in Washington DC at the end of May. My Capstone project has led me to want to pursue a graduate degree in Girlhood Studies. I now have a huge passion to work with girls around issues of empowerment, leadership and change. I think it is important to begin asking the questions of – What would it be like if we created spaces for girls to talk to one another about issues they face daily – whether that be sexual harassment or how to talk to one another? Girls need to be heard. And I want to create that.