Pursuing a graduate degree is more than adding letters after your name.
It's an outlet for ambitious, lifelong learners looking to expand their skills and earning potential. It's an opportunity to pick the brains of talented professionals from a variety of industries.
And it allows for advancement in diverse ways, often on your terms.
As graduate-admission professionals who communicate daily with prospective students locally and globally, we find these motivations are common. People want to expand their knowledge and skills in a specialized area for career advancement and potentially higher pay. They also are looking to expand their professional networks.
Similarly, what people are looking for in an institution and graduate program are the qualities that reinforce their reasons for pursuing an advanced degree: learning alongside eager classmates who are there to progress with help from professional connections, encountering renowned professors who are highly regarded in their fields, and interacting with an alumni base that is accomplished and accessible.
Pacific Lutheran University possesses these qualities and then some. PLU's graduate programs — which have been part of the university's academic offerings for more than 60 years — offer distinct opportunities, flexibility and rigor.
And they're growing. This semester, we welcomed 377 graduate students — the largest fall-term cohort since 1995. The growth is thanks to strong curriculum and renowned faculty — the 10 percent discount for PLU alumni doesn't hurt, either.
Throughout the decades, PLU has prepared thousands of graduate students for advanced careers as business owners and leaders, financial consultants, marketing data analysts, music instructors, nurse administrators and practitioners, school administrators and teachers, social scientists, writers and more. They work for small businesses, city governments, school districts, nonprofit organizations, international agencies, and for some of the most famous companies in the world, such as Amazon, Boeing, Microsoft and Starbucks. Our graduate alumni — nurtured and challenged in the context of Lutheran higher education — are part of a long legacy of excellence, innovative thinking, servant leadership, and care for others and the environment around them.
This edition of ResoLute illustrates the diverse ways alumni have leveraged their graduate education: an alumnus who literally created his own dream job upon completing his master's in marketing research; a police-officer-turned-distiller who used his business administration skills to craft a business plan for his ever-growing microdistillery; a poet who kept an iconic, poetry-only bookstore flourishing while finishing her studies as part of the Rainier Writing Workshop. These and other stories throughout these pages highlight the persistent, creative and driven alumni who help make PLU's programs distinct. They chose PLU for their advanced degree, for much more than the letters after their name.
Who will be next?
Visit plu.edu/graduate to learn more about our distinct graduate programs, and the possibilities awaiting you.

Geoff Foy,
Associate Provost for Graduate Programs and Continuing Education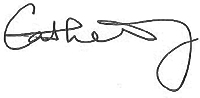 Catherine Chan
Director of Graduate Admission