Rachid Benkhalti
Dr. Rachid Benkhalti, PLU professor of mathematics, died unexpectedly of natural causes in November 2020. Beloved by his students and peers alike, Rachid joined our Department of Mathematics in 1987. He became a full professor in 1999 and also served two terms as chair of the Mathematics Department.
"Rachid was a great teacher who loved his subject and his students," says Professor Emeritus of Mathematics Celine Dorner. "He was an exemplary recruiter, mentor, and coach who excelled as a textbook writer and scholar. Rachid loved his students, and they appreciated the time he spent with them outside of class. The department will miss his passion for spotting, nurturing, and recruiting students with an interest in mathematics."
A Fulbright scholar and recipient of PLU's Faculty Excellence in Scholarship Award, Rachid was a highly accomplished mathematician interested in the fields of delay differential equations, mathematical biology, dynamical systems, and bifurcation theory. Citing his textbook about differential equations (in French) and his vast number of published papers in well-respected journals, his colleagues in mathematics describe him as one of the most active scholars in the department. He earned a doctoral degree, diploma of in-depth studies, and a master's degree in mathematics from UniversiteÌ of Pau (France).
"Students at all levels praise his willingness to work with them outside of class, his concern with their progress, and his mastery of the course material," wrote Mathematics colleagues Bryan Dorner and Mei Zhu in a 2015 sabbatical review.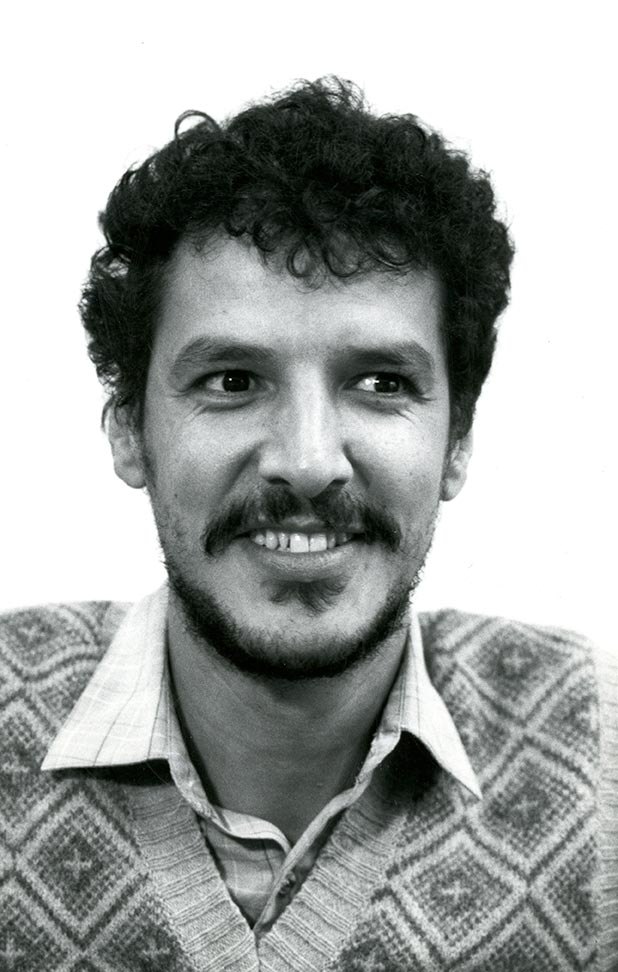 "Rachid takes great interest in his students as individuals and is known for catching potential math majors early on and passionately encouraging them to major in math," Dorner and Zhu continued. "Several of our mathematics majors have commented that they decided to major in math because Rachid spoke to them and encouraged them."
"Dr. Benkhalti is an ideal college professor," wrote a recent student. "My experience taking classes from him was memorable and makes learning hard mathematical concepts attainable. I learned so much while taking the calculus series, and he motivated me to become a mathematician."
Throughout his 33 years at PLU, Rachid has been involved in a wide variety of leadership and planning committees. Highlights include serving as the Mathematics Department representative to the Planning Committee for the Morken Center and serving on the Educational Policies Committee, the Diversity Committee, and the Natural Sciences Division's Safety Committee.
Those closest to Rachid say they will remember Rachid as a dear friend; a proud, loving father; an avid Moroccan cook and lover of Moroccan music; and a soccer enthusiast who played with friends twice a week. He is survived by his two adult children who are PLU alumni—Ahmed Benkhalti '10 and Salima Benkhalti '15.
Arturo Biblarz
PLU Professor Emeritus Arturo Biblarz passed away on February 20, 2021 from complications of Parkinson's disease. He was 85 years-old. (Full obituary here). Arturo taught sociology at PLU from 1977-2005 and is remembered fondly by colleagues for his joy of teaching; enthusiasm for long, in-depth conversations; and love for the PLU and Tacoma communities.
"Arturo taught me a great deal about sociology and about teaching," remembers Dean of Social Sciences Anna Leon Guerrero. "He was a veritable encyclopedia of sociology, able to offer his analysis of any classical or contemporary theory. He led by example and inspired me and our students to engage our sociological imaginations and to read and think more expansively about our discipline."
Arturo's curiosity as a sociologist was endless. He researched and wrote on a wide range of topics including the sociology of revolution, a methological critique of studies of swinging, media influence on the attitudes toward suicide, and conceptions of self—just to name a few.
"What I remember about his approach to teaching was the way he drew students into the material by telling stories about his life," says Sociology Chair Kate Luther, a former PLU student of Arturo's. "For example, as he taught about racial justice and ethnic identity, he would share about his experiences growing up in Colombia in a Polish family. I was grateful to Arturo's support as I learned to teach sociology and his encouragement as I applied to graduate school."
Provost Joanna Gregson remembers Arturo as the faculty colleague who asked her the most difficult question during her interview at PLU and the mentor who helped her gain confidence in teaching a new class outside her area of expertise by co-teaching it with her. "I have an indelible image in my mind of seeing Arturo on the steps outside Xavier as we headed into work, with him wearing his hat, carrying his briefcase, smiling, and asking lots of questions."
He was an active member of the Tacoma community, volunteering with the Hispanic Affairs Commission of Washington, Community Health Care, and Central Latino. He was also selected as a fellow with the American Leadership Forum, a community he remained involved with over the years. Upon his retirement, he completed a year-long research project on "communities of love," focused on Bellarmine Preparatory School.
Kathy Russell
Professor Emeritus Dr. Kathy Russell died at the age of 68 in July 2021. Kathy will be remembered at PLU for the instrumental role she played in helping to develop the university's social work program, her mentorship of students and faculty, and — perhaps most of all — her innate ability to connect with and bring out the very best of her students.
"Kathy's service and dedication to students and their learning was unmatched," says Social Work Department Chair David Simpson. "Faculty members learned a great deal about how to interact with students solely by watching her in action. She was definitely an expert in her approach to students, and her years of experience were a treasure for those needing guidance."
Kathy energized colleagues and students alike with her urgent engagement with complex and timely social issues. A deft blend of social work, systems analysis, and advocacy were hallmarks of her most popular courses. In 2016 she wrote in a post-sabbatical review:
I enjoy interaction with learners and thinking about how to craft experiences that let students operationalize what we're learning, or ways to help them connect policy history to real life today. When I think about teaching, I try to provide an environment where there are didactic, heuristic, and philetic learning opportunities… This approach comes from teaching the social foundations of education, but also applies to teaching the craft of social work, a blend of knowledge, values, and skills.
"Because of Kathy, students learned the important connection between social policies, communities, and organizations, and in turn learned ways these policies, communities, and organizations support individuals in need, particularly those from systemically underrepresented groups," says Simpson. "Because she expertly brought these fields of practice together, PLU students became more aware of the need to advocate and intervene in ways that affect the lives of so many individuals in underserved communities."
In service to the Department of Social Work, Kathy mentored several junior faculty members, forged strong relationships with community partners, and chaired the department for several years. She was also a highly engaged faculty leader throughout her years at PLU, chairing the Educational Policy Committee and sitting on the Summer Academy Task Force, Long Range Planning Committee, Admission and Retention of Students Committee, and Strategic Enrollment Management Advisory Committee.
"She was a gifted, creative, innovative, insightful, and dedicated instructor," says social work professor JoDee Keller. "Many of her contributions to the social work program have become institutionalized, including case presentations and the ethics symposium. She touched the lives of many students — as well as the greater Tacoma area."
Kathy exemplified PLU's commitment to community and service. She was highly involved with the Washington Corrections Center for Women and the children of incarcerated parents. Notably, she served as board president of Associated Ministries, a Tacoma-based human services nonprofit, and was the recipient of Associated Ministries' 2009–2010 David T. Alger Award for Service. Kathy saw her board service with Associated Ministries and other community organizations as fully integrated with her work at PLU, writing that:
"For me, scholarship and service often become conflated. My involvement with Associated Ministries is a case in point. …Serving as President of the Board of Directors and working to move the agency toward strengths-based and culturally competent practice is applied scholarship, though it is also clearly service to the community. It is macro social work practice for me, allowing me to bring to the classroom examples and teaching materials that would otherwise be out of reach and letting me implement things at the agency from theory and practice that help them achieve their goals."
In addition to her impact as a social worker, educator, researcher, and advocate, colleagues describe Kathy as a warm and wonderful person to be around. "She was a lot of fun to spend time with…she had a great sense of humor and was good at 'big picture' visions," says Keller.
David Simpson agrees. "Kathy had a sense of humor that was often missed if you didn't pay attention," he remembers. "She was a master at processing a situation or event to find clear, practical solutions. Her quick wit and passion for social policy and macro practice will be missed. We were all lucky to call her colleague and friend."
Chris Sanders '77
PLU alumnus and longtime staff member Chris Sanders '77 passed away on Oct. 27, 2020. The impact of Chris' leadership and contributions at PLU are immeasurable. He played a leading role in many of the implementations of first-generation technological tools and systems that came to PLU and, in many ways, he acted as the university's unofficial archivist for technology.
"He's one of the best people I've ever known," remembers Valerie Seeley of Hospitality Services & Campus Restaurants. "His kindness, goodness and willingness to help guided me many times."
Chris worked at PLU for nearly 40 years. He was hired in 1981 as a computer operations analyst and most recently served as the senior technical lead in Information & Technology Services. Regularly worthy of promotion and never one to shy from a new challenge, Chris held 11 different positions throughout his career at PLU. The position he held for the longest period of time was Director of Computing from 1999-2008.
"The needs of the PLU community were always reflected in his actions and leadership," says Ardys Curtis of Information & Technology Services. "He worked on a daily basis to support the campus community in its use of technology while always making a personal connection with those he was working with. Chris was a true Lute at heart."
Former PLU President Loren Anderson agrees. "Chris was such a wonderful part of my PLU experience — faithful, hard-working, smart, able — it was always a lift to see him walking down the halls of the administration building," Anderson remembers. "In my experience, he did not know the word 'no!' — he was always willing to tackle the very next project, and to do it well!"
As a PLU student, Chris was a member of the Wind Ensemble and majored in business administration with an emphasis in computer science.
Away from campus, Chris was passionate about photography, woodworking, backpacking, skiing and cooking.
He is remembered lovingly by his daughter and PLU staff member Sarah Daggett '07 '12 and his sons David Sanders '14 and Andrew Sanders.
Rochelle Snee
Professor Emeritus Rochelle Snee passed away on Sept. 6, 2020. Rochelle was an engaged and highly respected community member at PLU. She will be remembered for her care and leadership for the classics department and for her unwavering dedication to her students and excellence in teaching.
Rochelle worked at PLU for more than 35 years. She was hired in 1981 as an assistant professor of modern and classical languages, before becoming an associate professor in 1990. She received many awards during her tenure at PLU, including some of the highest honors in her field such as the Fulbright-Hays Fellowship, Mellon Fellow in early Christian Humanism, and recognition as a Taylor Lecturer at Colby College. Rochelle completed her phased retirement in 2017.
As a classics scholar, Rochelle's work often provided her with travel opportunities which fueled her passion for scholarship and educating students. Away from campus, Rochelle was known as a wonderful cook and a lover of reading, theater, opera, and ancient art.
Rochelle is lovingly survived by her husband, Joseph Knee, her father, John J. Snee, and her siblings, Christine L. Snee and Joseph M. Snee.