Cliff Rowe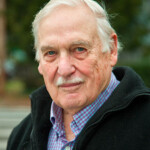 Emeritus Professor in Communication Cliff Rowe passed away in January. He will be remembered for his remarkable career in journalism and higher education; his unwavering commitment to mentorship; and his passion and enthusiasm for teaching, collaboration, and storytelling. Professor Rowe joined the faculty at PLU full-time in 1980 after a distinguished career as a reporter and editor at the Seattle Times, Chicago Sun-Times, and elsewhere. His contributions to PLU's Department of Communication are many and varied. His understanding of the changing nature of his field guided vital curricular changes, which expanded courses in Media Ethics, Conflict Studies, Peace Journalism and Media Literacy.
Gene Lundgaard '51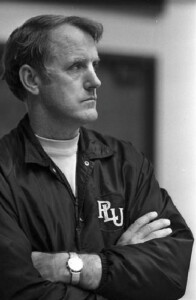 PLU alumnus and longtime head basketball coach Gene Lundgaard '51 passed away in February. As a player and a coach, he played a vital role in 18 of PLU's 25 consecutive winning basketball seasons. At the end of his playing career, he ranked second on PLU's all-time scoring list. In 1958, after four years in the Air Force and two years working with Franklin Pierce School District, he returned to PLU as head basketball coach. He coached the team for 17 seasons, leading the program to ten conference titles. Lundgaard also taught at PLU for 33 years, specializing in recreation and directing the university's intramural program. He also coached the PLU golf team.
Derek Sparks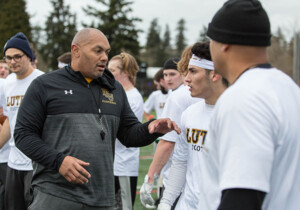 Assistant football coach Derek Sparks passed away in November. Sparks coached at PLU for four seasons, serving most recently as running backs coach and travel coordinator. An advocate in the community, Sparks created the Cleats vs. Cancer All-Star game featuring standout players from around the state that raised funds for pediatric cancer. As a player he was a standout running back at Washington State University and played a short time in the NFL.
Stephen Barndt
Emeritus Professor in Business Stephen Barndt passed away in February. Following a distinguished career in the Air Force, he served as a professor in the PLU School of Business for 22 years, from 1978-2000. Former students remember him as a thoughtful mentor and passionate instructor. His wife, Jeanine, worked for many years as a staff member in PLU's Mortvedt Library.
Dom Calata '08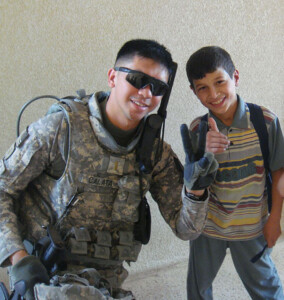 Dom Calata '08 passed away on March 16, 2022. The Army veteran died while serving a warrant from the Pierce County Sheriff's Department. Calata grew up in Spanaway and graduated from Bethel High School. He met his wife, Erin, when they were students at PLU. After serving overseas, he went right back to serving this community. His roots are in Parkland-Spanaway and he was a beloved member of the community.