Attaway Lutes
https://www.plu.edu/resolute/winter-2017/wp-content/uploads/sites/17/2016/05/molly-lindberg-cover-1024x427.jpg
1024
427
Mark Albanese
https://www.plu.edu/resolute/winter-2017/wp-content/uploads/sites/17/2016/09/mark-albanese.jpg
Attaway Lutes
Molly Lindberg '17 claims important seat in a men's team boat in Oxford, England
Molly Lindberg '17 was an unlikely passenger in the boat on the River Thames in Oxford, England.
Despite competing with a club rowing team in high school, the Pacific Lutheran University student hadn't rowed for three years.
Her pursuit of a spot on one of the women's teams at the University of Oxford was fruitless — the boat was full.
Then, an unexpected email eventually landed Lindberg in the important stroke seat on a men's team.
"I was pretty nervous about it, but it was a really great experience," she said of joining the men on the water.
It took Lindberg about a week to regain her stride. In high school, she helped her Seattle-based club team qualify for nationals. But once she enrolled at Pacific Lutheran University, Lindberg gave up the sport to focus on academics and other extracurricular activities.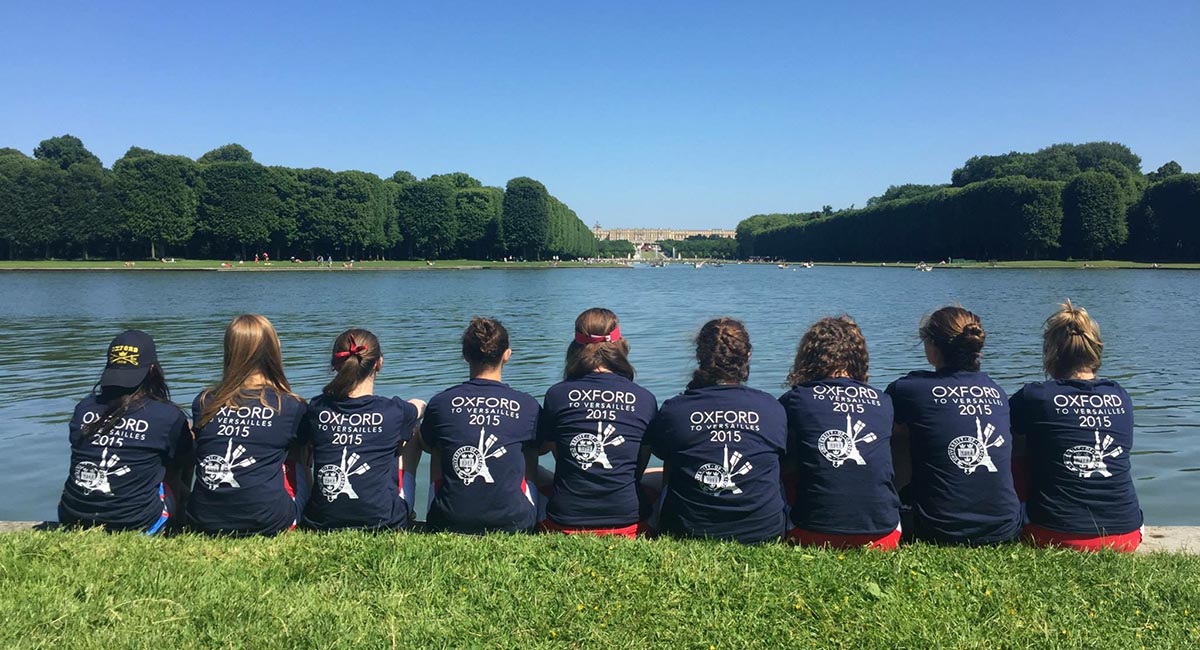 "It definitely helped me (having prior experience)," she said of rowing in Oxford. "I was surprised how quickly it came back to me."
Lindberg revived her rowing career while studying in one of PLU's Gateway programs. She was part of the second cohort of International Honors students to enroll in the study away experience. It placed her and nine fellow Lutes at Regent's Park College, one of 39 colleges that make up the oldest university in the English-speaking world.
Lindberg and others lived and attended class together, in addition to taking an Oxford-style tutorial class, a one-on-one course with a professor.
"It was really nice (staying together with PLU students) because you get to come back with those people and they still are my best friends," Lindberg said.
Once she arrived in Oxford, Lindberg realized she had more downtime compared to her time at PLU. She met a few women on the Regent's Park rowing team and asked to join the squad. A week after learning that team was full, she received an email from the men's team captain inviting her to join their boat.
Sitting in the stroke seat, one of the most important seats in the boat, Lindberg competed in several bumps races during the spring semester.
Bumps races, which began at Oxford in 1815, consist of boats lined up single file on the river with each crew attempting to catch and "bump" the boat in front of them without being caught by the boat behind. The unique format is ideal for the narrow waterways of the Isis and River Thames and feature crew teams from each college within the University of Oxford.
Her college's team had a diverse crew; Lindberg was one of two Americans. The squad also had rowers from Germany, Italy and Britain. In addition to competing in several bumps races, she watched the famed Boat Race between Oxford and Cambridge University clubs. Lindberg also raced with the women's squad, who was down a rower, at Versailles in France.
OXFORD, ENGLAND
The study away experience is an extension of PLU's International Honors program. In addition to three courses toward the IHON curriculum, students delve into their area of academic interest with Oxford professors (known as tutors).
"I think rowing is one of those sports where once you start you're never really out of the rowing community," Lindberg said. "I just love watching races and being in the races or participating in any way."
Upon returning to PLU, Lindberg spent the 2015-16 academic year as a coxswain — the person in charge of the boat — for the men's club team.
"One of the biggest things I learned was just taking risks," she said. "I had no idea how I'd do on this men's boat with these people I had never met before and I just absolutely loved it. I made some really close friends in the boat. It has gotten me more willing to just put myself out there."