Though he met the definition of a first-generation college student, that distinction was not at the top of mind for Jud Keim '86 when he made the decision to attend and play football at Pacific Lutheran University.
As a high schooler in Federal Way, Keim knew college would be his next step. His parents were both successful and supportive, and though neither attended a four-year university, they instilled in him the importance of postsecondary education, and the opportunities it affords.
That's what Keim embraced most about his first-in-the-family status: his parents wholeheartedly supported his pursuit of personal greatness, so his enjoyment of the PLU experience was never just about him.
"Really, it was to honor my mom and dad and make them proud of this degree that I earned from this prestigious, credentialed university," Keim said. "But all these people I met through college, that was as important to me in my college experience as earning a degree and learning how to be a critical thinker. My parents did everything to support that, and some of that, they had not experienced themselves."
His time at PLU profoundly influenced the trajectory of Keim's personal and professional life: this is where he met his wife, Sari Tollefson Keim '87, a Lute whose father was on the school's Board of Regents at the time. It's where he played college football for legendary coach Frosty Westering, and where he returned as an assistant coach in 2004 under Frosty's son, Scott. And it's where he remains today, as the program enters a new era under first-year coach Brant McAdams.
Now, it is where his daughter, Kalen Keim '19, chose to go to school (she's a sprinter on the PLU track team), and where his son, Jace, will enroll (and, yes, play football) this fall.
There's just something about the place. "We're living a dream right now," Keim said.
But daughter and son did not choose PLU to appease mom and dad. Kalen exercised due diligence, explored her options, toured other Northwest Conference schools. None of them felt like PLU. And that's a decision at which she arrived on her own, her father urging her only to "find the best fit for you for all the right reasons."
"I think she checked all the boxes there," Jud said.
It's the same, honest message he uses as recruiting coordinator for PLU football, in addition to his duties as defensive backs coach and special teams coordinator.
"My dad definitely brings his coaching philosophies home, and that's a good thing," Kalen said, "because they shaped me into who I am today."
Indeed, they are philosophies that transcend the pursuit of athletic accomplishment, rooted in the tradition of PLU's past and essential to its future growth. Keim knows how fortunate he was to have the opportunity to earn a degree from a university of PLU's caliber. But the wisdom he passes to football players here goes beyond that.
"What is your calling? What is your purpose? PLU has never been just about earning a degree. It's all those things that you discover when you're here, and that's the value and unique thing that has made it all it is," Keim said. "Buildings and bricks don't talk to you. It's the human resource that is the best element that PLU has to offer. It's the people here. It's the heart they have for others."
McAdams, on the job since late February, can already see the heart Keim has for PLU and its student athletes. While the school conducted its search for a permanent hire, Keim served as interim coach, sustaining PLU's recruiting efforts and providing a degree of continuity during the transition.
"He picked up the torch and kept the best interests of the program in mind," said McAdams, hired from Trinity University in San Antonio, Texas, where he was defensive coordinator and linebackers coach. "I have a great deal of gratitude for the role that he embraced during this transition as the interim head football coach. He kind of took on a very large load in recruiting for three-plus months."
Keim's value as a recruiter, McAdams said, is "irreplaceable."
"He can speak firsthand to the history and the tradition and the community," McAdams said, "and the mission of the university over time."
That tradition, McAdams said, is part of what drew him to PLU. And Keim is eager to blend that legacy with the direction of new leadership.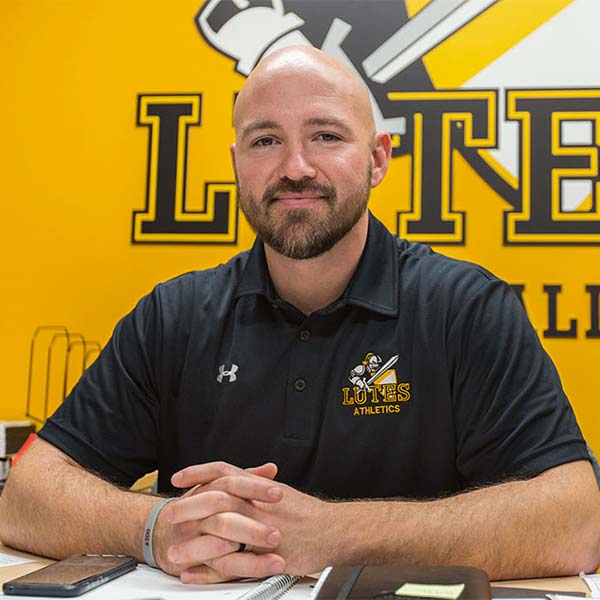 "I think everything is in place to continue on with the unique experience of PLU football," Keim said. "We have yet to go through a season here, but the transition has been exciting. New staff, new leadership — you have to embrace the change, but I think I'm in a unique position because I can still draw from all the things that made us great."
From a first-generation student to a multi-generation PLU family, Keim has never forgotten where it all began.
"The values that I embrace and that have worked for me in my career, I learned here at PLU," Keim said. "The impact that I was able to make in several different coaching opportunities I've been involved with, that impact was because of my PLU experience."