"There's something magical about stepping into a workplace and learning about it," said Grace Amsden '19, after exploring Amazon's Seattle headquarters in February. The communication major and 43 other Pacific Lutheran University students spent Presidents Day visiting the tech giant's campus, having lunch with PLU alumni who work for the world's largest online retailer.
"It's great for current students to see other Lutes in the industry," said Jimmy Nguyen '13, a non-technical sourcing recruiter at Amazon. He said he enjoyed talking with students and sharing how he joined his team.
Events like this offer current students the opportunity to network with alumni and learn more about potential paths after graduation.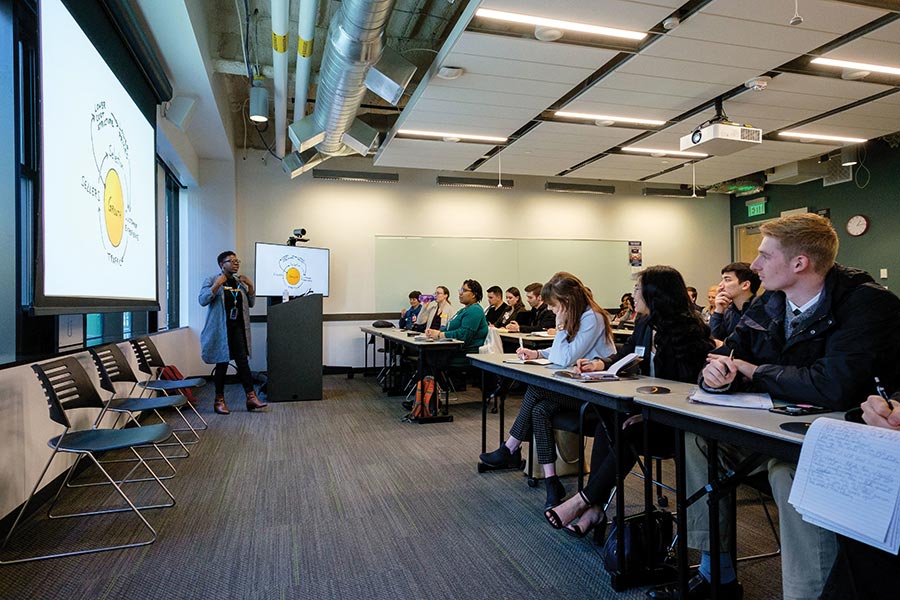 "Having the opportunity to meet with alumni in a casual setting like this lunch is invaluable for building confidence in soon-to-be graduates," said Haley Miller '13, another alumna who works with Amazon Web Services.
Recruiters from Amazon hosted an informational session and a panel with current employees, who gave students more insight into working at the Fortune 500 company — one that's seen explosive growth, including a recent acquisition of the supermarket chain Whole Foods and an impending headquarters expansion.
Get in Touch with Alumni
Interested in connecting with current students?
"As a business student, I was gratified to learn how the HR, finance, marketing and accounting functions could work together in harmony for tech employees," said Finn Kelln '18, who is set to graduate in December. "I am excited to enter the business world after seeing an organization of this size. It is wonderful that PLU offers opportunities like this."
While they enjoyed exploring the company's campus, students said their favorite part of the trip was meeting with alumni and sharing stories about their PLU experiences.
"It's a great opportunity to create visibility for our students, and to connect with many of our former classmates," said Sascha Billinghurst '15, an Alexa communications recruiting coordinator at Amazon.