Rae Linda Brown, Ph.D.
Rae Linda died Aug. 20 from a rare and aggressive cancer in Seattle. She was born Oct. 7, 1953, in Hartford, Connecticut, and is the daughter of the late Raymond and Doris (Williams) Brown.
Rae Linda earned her B.S. in Music Education from the University of Connecticut, a M.A. in African-American Studies, and a Ph.D. in Musicology from Yale University. She held full-time faculty and administrative positions at the University of Michigan and the University of California, Irvine. From 2008–16 Rae Linda served as associate provost for undergraduate education and held the faculty position of professor of music at Loyola Marymount University, Los Angeles. In August 2016, Rae Linda began a new position as provost and senior vice president for academic affairs at Pacific Lutheran University. Her focus was on student access, diversity, increased service to students and continued academic excellence at PLU.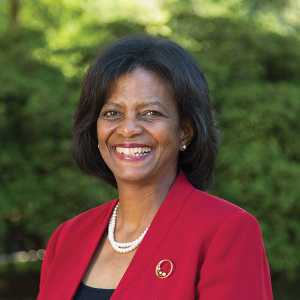 Rae Linda was a highly respected and influential scholar of American and African-American music. Her work of edited scores of Florence B. Price (1887 – 1953), the first African-American female composer to have had a symphonic composition performed by a major orchestra, and published editions of Price's music have been performed by numerous ensembles and artists in the United States and abroad. Among her many achievements and awards, Rae Linda received the first Willis Patterson Research Award by the African-American Art Song Alliance in February 2017.
She is survived by her son, William Coley, Los Angeles; sisters Helaine Teale (Charles) of Hartford, and Carlene J. Brown (Elvis Campbell) of Seattle; brother Gerald Brown (Jodi) of San Angelo, Texas; nephews Jason Daniels (Priscilla), Colin and Ethan Brown, and nieces Ileah Daniels, Ryanna and Nyah Campbell. Rae Linda also leaves a very large extended family as well as many friends and colleagues.
In tribute to Rae Linda's legacy of care for students, especially those first in their family to attend college, Pacific Lutheran University has established the Dr. Rae Linda Brown Access Scholarship. Memorial gifts can be made online (plu.edu/give) or sent to: Pacific Lutheran University Office of Advancement, 12180 Park Avenue S, Tacoma, WA 98447.
Marianne Stacy Klett '51
Marianne died April 4, 2017, in Redwood City, California. She was born in Tacoma, Washington, to Chris and Cleo Stacy in March 1929. While living in Tacoma, she attended St. Nicholas Greek Orthodox Church where she was a member of the choir, Maids of Athens, and Daughters of Penelope.
She attended Horace Mann Elementary School, Stewart Jr. High School and Lincoln High School (class of 1947). While at Lincoln, she was a cheerleader and inducted into Quill and Scroll, an honor society for high school journalism students. She attended Pacific Lutheran College (later named PLU) where she was a cheerleader and majored in education.
She married Bob Klett on July 22, 1951, a marriage that lasted 64 years, until Bob died. In 1953, after teaching two years in Aberdeen, Washington, she moved to Menlo Park, California. She taught for 35 years at Garfield Elementary School in Redwood City. She spent the majority of those years teaching kindergarten. She retired from Redwood City School District in 1988.
Their family was complete on July 29, 1956, when they adopted two children, Stephen (8) and Christine (6) from Greece. Marianne and Bob spent most of their retirement years in the Lake Tahoe area. She was very active in the Incline Village Hospital Auxiliary, where for several years she was named Volunteer of the Year. She was also named Honorary Member, an honor given to only a few members.
Douglas Marvin McClary '63
Douglas died May 21, 2017, in George, Washington, where he was involved in a fatal motor vehicle accident. Doug was born April 29, 1940, in Yakima, Washington, as the younger of two sons born to Jack and Mardelle McClary. He was raised in Tacoma, Washington, where he graduated from Lincoln High School in 1958. He received a bachelor's degree in education from Pacific Lutheran University in 1963 and a master's degree in education from Western Washington University in 1969.
From 1963-72, Doug taught and, in June of 1972, he entered the FBI as a special agent where he was assigned to the Los Angeles FBI Field Office. During his 23-year career with the bureau, Doug was involved in a number of high-profile investigations. He returned to his home state following his retirement in 1995 and lived in the north Olympic Peninsula area until the time of his death.
Doug was involved with the North Olympic Model A Fords club, belonged to the national and Seattle chapters of Former FBI Agents and served as secretary for the home owner's association where he lived. Additionally, he volunteered as a grant writer for Volunteer Hospice of Clallam County, worked with Therapy Dogs International, attended the Sequim Community Church and conducted background investigations for the FBI throughout Western Washington on a part-time and contractual basis for 14 years.
Todd Alan Brandoff '71
Todd died in comfortable peace and without pain with his family and many friends near him on March 25, 2017. Todd was born Aug. 14, 1942, in Freeport, New York, to Carl and Adeline Brandoff. By age 16, he started his own small business doing salvage diving off Long Island. He graduated from Baldwin High School in 1960 and from the University of Montana with a bachelor's degree in journalism in 1966. Todd also completed the U.S. Army ROTC program and was a member of the skydiving club. During that time, Todd worked as a Lolo Hotshot firefighter and later as a fire lookout in Eagle, Alaska. He later graduated from Pacific Lutheran University in 1971 with a bachelor's degree in education.
On June 10, 1967, he married Kerry Lynn Hartwig, in Dallas, Texas. He graduated from helicopter school at Fort Wolters in Texas and Fort Rucker in Alabama. He deployed to Vietnam in 1967 and served with the 118th Assault Helicopter Company out of Bien Hoa. He was severely wounded when his helicopter was shot down. He received the Purple Heart. After a lengthy recuperation, he completed his Army service as a company commander at Fort Lewis, Washington (now Joint Base Lewis-McChord).
Todd and Kerry moved to Missoula in 1971. Todd worked as a sawyer with his own portable sawmill. He served as director of Lolo Sewer and Water. He served on the boards of Missoula International UM Friendship Program and of the Good Food Store. One of his proudest achievements was being an advisor to the Missoula Refugee Assistance Corporation. A big priority in his life was his devotion to his Christian faith by serving in his church as greeter, usher and nursery helper.
In 1988, Todd was part of a group of Vietnam veterans who visited Soviet veterans who had been in Afghanistan. The group's mission was to exchange information to help transition back to civilian life. In 1991, he was asked to be a member of the Gulf Peace Team, which went to Baghdad, Iraq. He saw these trips and his work with foreign students as citizen diplomacy to help bring different people together.
Antoinette (Toni) Curtis
Former PLU employee and past parent, died on July 8, 2017 in Graham, Washington. She was 78 years old. Toni was a graduate of St. Vincent's High School in Akron, Ohio. When she met and married Chuck, they settled in Connecticut and raised their family. In 1978, they moved to Washington where they reconnected with Chuck's PLU friends. Toni loved to visit with friends, travel and spend time with their children and grandchildren. Toni enjoyed traveling with friends, worked in the community as a counselor at her church and spent many years working for PLU in the science department.
Walt Tomsic
Former PLU painting and design professor, died on July 16. He had a passion for his work as managing editor of OpenRoad magazine. As a huge car lover, Walt started the UnClub Vintage Sports Car Club. He was also an illustrator, painter and outstanding athlete. He particularly loved tennis, pickleball, paddle boarding and mountain hiking. Walt will always be remembered for his witty sense of humor and his love for cars.