Marketing and Communications

Lace M. Smith, associate vice president of marketing and communications
As Associate Vice President of Marketing & Communications, Lace M. Smith leads the MarCom division on an interim basis. Her teams include the design group, content development, as well as web design, customer service and Lute Locker. Smith is responsible for the development and implementation of a content strategy that integrates website, social media and digital campaigns with print and external communications. This strategy aims to raise the visibility of PLU and inspire connection with prospective students and their families, current students, alumni, donors, influencers/thought leaders, and community members.
Smith joined Student Involvement & Leadership at PLU in 2005. Smith earned a bachelor's degree in studio art from the University of Puget Sound and a MBA from PLU.
Smith most recently served as the Executive Director of Content Development at PLU and was directly responsible for curating adaptive and sharable content that can be centrally managed and delivered through evolving sets of media.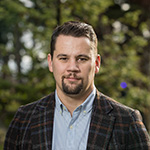 Zach Powers '10, Director of Communications
Zach is PLU's director of communications and editor of ResoLute. Prior to working in higher education, he worked in nonprofit marketing, managed a number of political campaigns and was a freelance writer for the Weekly Volcano, Tacoma Weekly, Anchorage Daily News and others.

Simon Sung, executive creative director
Simon Sung graduated in 1990 from the University of Washington. During his tenure in the design field he has worked for various clients including Simon and Schuster, Random House, Crown, Disney, Chronicle Books, Starbucks and the National Baseball Hall of Fame in Cooperstown.

Chris Albert, director of web development
Chris currently leads our web team in planning, designing, developing and implementing the PLU website. He started at PLU in 2008 as a content development specialist creating different ways to tell the PLU story. Before that he spent more than two years as a reporter at the Pierce County Herald, covering Bonney Lake and Puyallup.

John Froschauer, photographer
Prior to his time at the university, John spent 15 years working for himself with a main client, Associated Press and APImages, but also worked with regional and international news outlets along with corporate clients.
Way back when — in 1977 — John graduated from Ohio University with a B.F.A. in photography and an emphasis on photojournalism. John mostly spent his working life as a photojournalist with newspapers or news agencies.

Logan Seelye, senior web designer
Logan graduated from Central Washington University in 2009 and did freelance work for several years. He started working at PLU in 2012. Since then, he's been responsible for completely redesigning the university's website, and was a huge contributor ahead of an award for outstanding design and functionality in 2015. He is also the author of the book, 10 and 90: The Tackle That Changed Everything, and an inspirational speaker. He is on a mission to share his story and positive attitude after a spinal cord injury in high school left him in a wheelchair and derailed his dreams of playing professional football.
When he's not designing, writing or speaking, Logan enjoys going to the gym and relaxing at home with his wife, daughter and dog. They currently reside in the beautiful Pacific Northwest, and are lifelong Seattle Seahawks fans.

Mark Albanese
Mark is the director of sports communication for PLU. Prior to coming to work for PLU, he worked in athletics communications for a number of universities in the Midwest.

Lisa Patterson '98
Lisa Patterson is the editor in chief of South Sound magazine and 425 magazine, both regional, award-winning lifestyle publications. She graduated from Pacific Lutheran University in 1998, and enjoys coming back to campus to talk to students about media-related topics.

Lora Shinn
Lora is a Seattle-based writer and editor. She contributes regularly to The Seattle Times and has also written for Redbook, New York Magazine, Hemispheres, Kirkus Reviews, Afar and Alaska Airlines.