Photo: (Top, left to right) Tolu Taiwo, Angie Hambrick, Jarel Sanders, (Bottom, left to right) Nicole Jordan, Nayonni Watts , Ally Livingston '11
A cross-generational, supportive community for those who care about the Black Lives Matter movement created a virtual discussion group in the Spring of 2020.
PLU alumni met over Zoom to discuss current events, including Black Lives Matter and the death of George Floyd. All were members of Diversity Center Alumni, an affinity group for anyone interested in equity and justice, and those previously connected to the Diversity Center (dCenter).
Three dialogue groups of about 8-12 alumni met every other week — one for Black alumni, one for non-Black people of color, and one for white alumni.
"We were intentional about making very joyful space," explains Center for Gender Equity Director Angie Hambrick. Hambrick is PLU's assistant vice president of diversity, justice and sustainability, and the Black alumni group leader.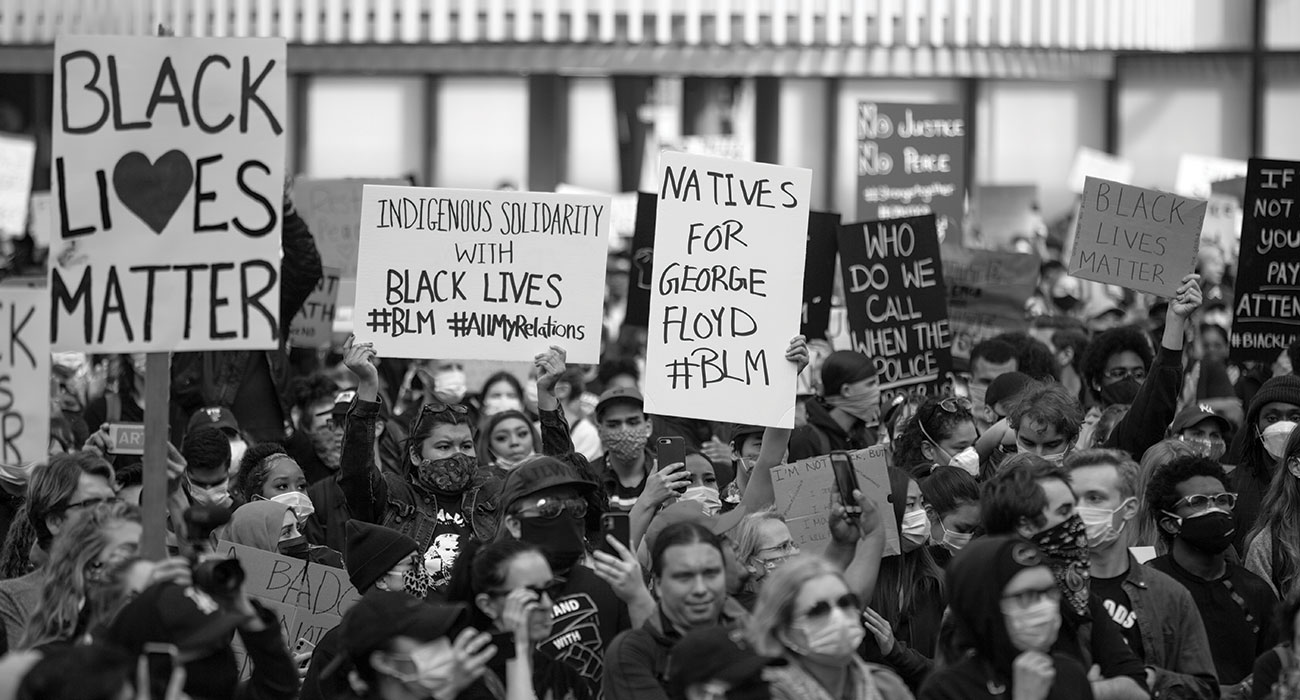 "We're modeling for recent grads that you can be engaged in the movement — angry, upset, hurt — but still reminding folks there's joy in being Black," Hambrick says.
"Angie leads by example, and embodies the phrase 'Black joy is resistance,' " says Ally Livingston, '11, a group member who lives in Everett, WA.
At a meeting, members might need to vent, share a positive experience, speak openly about a traumatic situation, or ask for advice about starting a workplace group.
For Livingston, it feels like a virtual extension of the physical dCenter — a safe, nonjudgmental environment to be vulnerable, and share concerns.
"I feel like I'm home," she says.
At a recent meeting, Livingston described how health concerns constrained her options for action.
"At PLU, I learned how to be an advocate and an activist. It's been eating me up inside that I can't express my voice and advocate for change," she says. She asked for ideas.
"We were intentional about making very joyful space. We're modeling for recent grads that you can be engaged in the movement — angry, upset, hurt — but still reminding folks there's joy in being Black."
Members suggested donations for events and organizations. "If you can't be out on streets protesting, many groups need supplies, food, water, and bail money. It's part of the movement that goes forgotten, but is still needed," Livingston says.
Staying healthy was an action, too, as everyday life offers many options for affirming choices. For example, Hambrick watches "Into the Spider-Verse," with her 2-year-old son. When the young Black man (and superhero) named Miles Morales is on-screen, Hambrick is thrilled to hear her son exclaim, "Miles has skin like mine, hair like mine!"
Xochilt Pena, '13, currently lives in Virginia Beach, VA and has regularly joined the Zoom non-Black POC meetings. "We reflect how each of us plays into this, because we're all complicit in some shape or form," Pena says. "It's our responsibility as non-Black POC to address the anti-Blackness in our own communities and stand in solidarity with the Black community."
The group shares actions for a lifetime commitment to anti-racism, including reading books, listening to Black community members, voting, sending e-mails and signing petitions, while also recommending good Netflix programs. Pena suggests the documentary "13th" and the miniseries "When They See Us," both by acclaimed director Ava DuVernay.
Now that Pena has graduated from PLU, meetings are another way to reconnect with dCenter friends. It's been helpful during the pandemic lockdown to avoid feeling isolated when significant or traumatic events occur.
Livingston echoes that sentiment.
"It's been beautiful to see old friends and other students I've known through the dCenter, who've been touched by and transformed by that space the same way I was," Livingston says. Friends old and new are Zooming in from Washington, New York, and Atlanta. "Meetings have been comforting in this time when connecting with people is a challenge."
"It makes me so happy to spend time virtually with such a diverse group, who are invested in justice and equity across racial lines," Hambrick says.
Yet hope and fear are both in play.
"I wonder if this is a moment or movement," she says. "Is Black Lives Matter a snapshot that will fade away because attention is pulled elsewhere, or will it sustain itself? Will people stay engaged? What will be the next thing to take attention from the problems of anti-Blackness and people dying?"
"We have to hope that things will get better and change, or a movement can become hard to sustain," Hambrick says. "We've been in this struggle for 400 years. We can't forget happiness and joy."
PLU alumni can engage with the dCenter, even if they haven't before — and even if it causes some discomfort.
"No one wants to be uncomfortable. I don't want to be uncomfortable when I walk out the door, and people look at me like I'm dangerous. But still, I do my best," Livingston says. "There's no better time than now to connect with people outside your comfort zone. Something is shifting, and change is coming. The only way to get on board is to get uncomfortable and have conversations nobody wants to have."
"However you identify, you're welcome, and there's space for you," Livingston adds. "That's what we're here for, so there's no excuse. If you don't have people in your life for safe conversations, we're here and have built up this community and safe space for these conversations. It's like the building is there — you just need to be willing to step inside."
To learn more about the dCenter visit plu.edu/dcenter. To sign up for the monthly newsletter email dcenter@plu.edu. Follow the center on Instagram, Twitter, and Facebook at @dcenterplu.