Photos by Iana Mae Abinales '17.
Sista Circle began with humble yet powerful roots in 2015.
Its earliest meetings were informal gatherings for women of color in the on-campus apartment of former resident director Mercy Daramola. Those gatherings were a place for discussion and support, tears and laughter, self-care and community care. Since then, Sista Circle has grown, rippling beyond the PLU campus.
For example, consider the annual, day-long Fall Sista Circle Leadership Retreat for students. In the inaugural year, 2018, Tacoma Mayor Victoria Woodards (then a member of City Council) was the event's keynote speaker, which also included panelists of community leaders. Attendees met women of color from campus and the Tacoma area, and spent time creating art, eating good food, and discussing mentorship, activism, and the intersections of gender and race — within a leadership context.
Last year, the retreat welcomed students, staff, and faculty members from the University of Puget Sound, widening the circle.
But the small, intimate gatherings of 20 or so Lutes remain the program's foundation. Last school year, monthly events kicked off with a watch party for Beyonce's "Homecoming," and a meal cooked by Barbara Gilchrist '20, who served as the Women's Leadership Intern with the Center for Gender Equity (CGE) for the past three years and helped guide much of the group's recent growth.
This year, when COVID-19 made in-person gatherings inaccessible, Sista Circle launched virtual get-togethers over Zoom. The first April event focused on self-care and the sustainability of self. Then, on five Mondays, members discussed healthy relationships and conflict management. For fun, there was a game night and karaoke night.
"It's a mix of conversation and fun, because that's super important as you're building relationships," says Nicole Jordan '15, a Center for Gender Equity (CGE) coordinator since January 2020, who now coordinates Sista Circle.
Sista Circle's embrace
Sista Circle's growth isn't surprising, considering who's helped to drive much of its successes. Gilchrist is a triple (yes, triple) major in global studies, political science and psychology. In addition to her work at the CGE, she also worked as an Admissions Ambassador, was a Rieke Scholar in the Diversity Center, and was appointed vice president of ASPLU her senior year.
Gilchrist first became involved in Sista Circle to empower her peers, but the group helped personally, too. After growing up in a Black household, adjusting to the predominantly white PLU was challenging.
"This was my first time not being surrounded by my own culture within the place that I live," Gilchrist says. "It was just really strange for me. I didn't know how to navigate stuff. It took a lot for me to say things like, 'I don't feel comfortable,' and 'That is a microaggression.' "
In Sista Circle, Gilchrist could say: "I feel uncomfortable with the fact that there are just three people of color on my entire floor," without being required to explain why.
"Sista Circle was healing for me in that sense," she says.
"Sista Circle is about finding your place on campus, and being able to be vulnerable with people who share a common thread," Jordan says. "I think that's what Sista Circle is — to value what a safe place can be and invest in that."
Many of the students who attend Sista Circle events also attend events produced by the Diversity Center and CGE, but Jordan says Sista Circle offers something different. "Sista Circle is an opportunity for us to get a smaller group of people together for a more intimate connection," she says.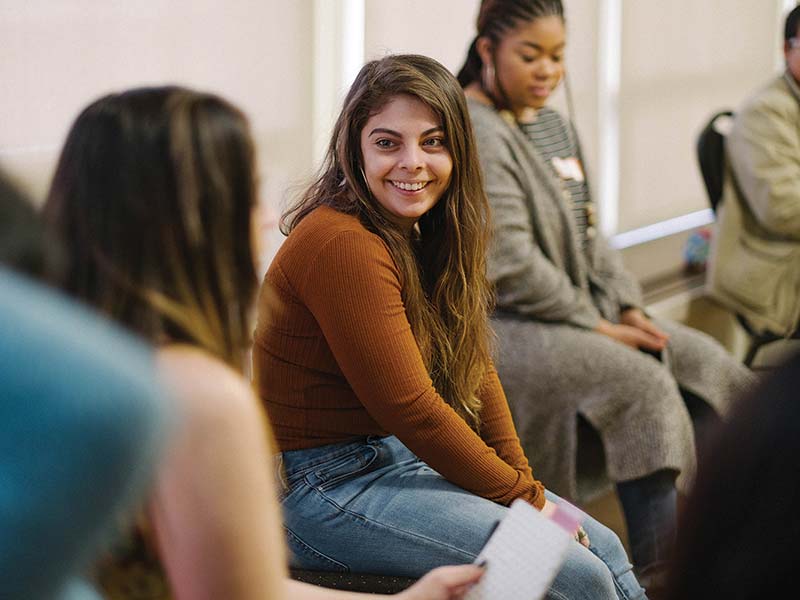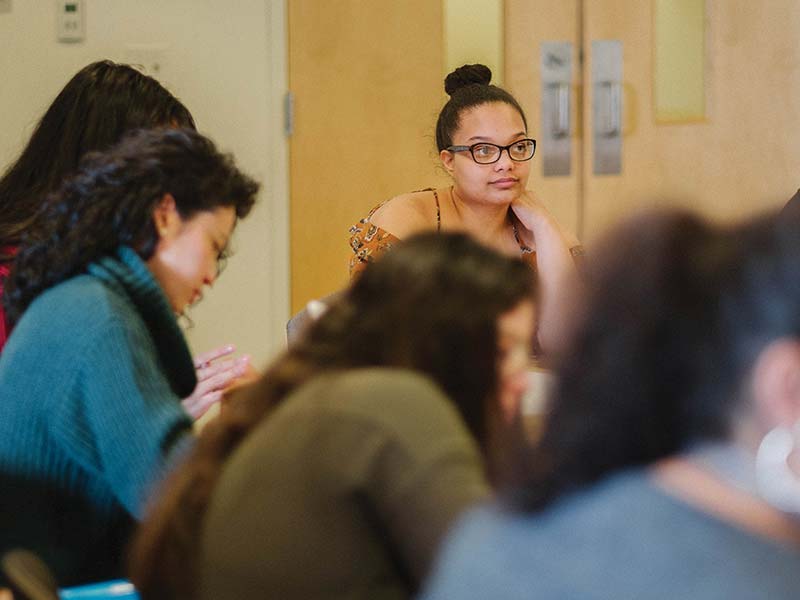 Sista Circle mentoring
Students involved with Sista Circle have received help with finding jobs, cultivating business plans, and networking. "We bring in many community leaders and speakers who hear students' dreams and skill sets and invest in them. You eat lunch with leaders, and they get to know you," Gilchrist says. "The next time they're sitting in a meeting, and someone says, 'Well, who could be great for this?' The leaders are like, 'Well, I met someone last weekend who I think would be great for it.' "
A former political campaign manager and student lobbyist for the expansion of the Washington State Need Grant, Gilchrist is now the campaign director at Argo Strategies, a political consulting firm based in Seattle. She credits a Sista Circle event for help forging one of her fist connections with a local elected official.
"Victoria Woodards keynoted our SC retreat my sophomore year and I performed a spoken word piece that she really liked," Gilchrist remembers. "She said it was powerful and gave me a standing ovation, which was very meaningful.
"A couple of years later, when I was campaign manager for State Rep. Melanie Morgan, Victoria was a supporter and a resource for our campaign and it was cool to have that brief earlier connection from Sista Circle to build on."
Gilchrist says that a defining quality of mentoring and fellowship in Sista Circle is a deep, authentic commitment to listening and giving thoughtful advice. "Sista Circle opened up a space for something I was raised with and attribute to Black culture — the idea of seeking counsel," Gilchrist says. "Before you make decisions, before you respond to something, you go to your community and ask them, 'Okay, what do you all think? Check me on this. Am I totally way out of line, or is something going on?'"
"Sista Circle helped create that space for me. I can contact people, and they're able to give me advice and counsel."