PLU's Twin Cities Alumni Chapter Screens Award-Winning MediaLab Film
A lot of Lutes say "community" is one of the main reasons they chose PLU in the first place–the people and the place just made them feel "at home." The Twin Cities Alumni Chapter is bringing that same sense of Lute Community to the Twin Cities through its varied events.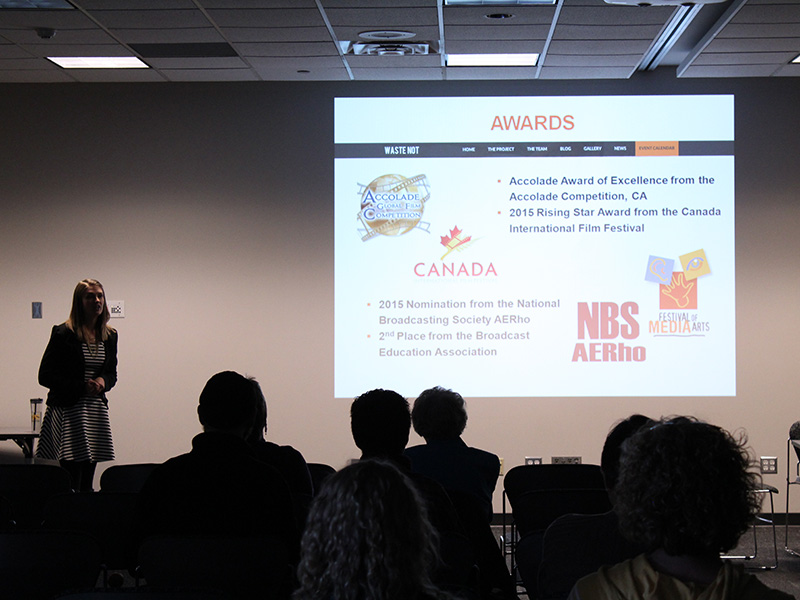 A core group of alumni volunteers started the Twin Cities Alumni Chapter, and with the support of the Alumni & Constituent Relations Office, has been planning events for Minnesotan Lutes. One, on March 28, brought together local Lutes, a MediaLab student and community members to discuss food waste. The chapter viewed the MediaLab documentary Waste Not: Breaking Down the Food Equation and enjoyed a presentation by one of the student directors of the film, Minnesota native Amanda Brasgalla '15.
"This was our first event with a current student about things that are going on at PLU right now. It was fun to highlight the work of MediaLab but also to highlight an area I'm personally passionate about," said Emily Barker, coordinator of this event and Chapter Council member.
Bringing the PLU mission of service, leadership and care to the Midwest is one goal of the chapter: By offering events centered around social, service and academic topics, members hope to bring local Lutes together to form a strong community.
The most surprising thing about the Chapter events? The people who show up.
Barker recalled that for the Night at the Twins baseball game last year, Kaaren Hatlen '13 took an eight-hour bus ride all the way from Chicago just to join her fellow Lutes for the evening. A woman who works in Barker's building, whose husband is an alum, also attended. And Elaine (Eide) Thurston '50 came to the
Waste Not
event because she cared about the subject and wanted to learn more about what is going on at PLU.
"Our events end up being very cross-generational," said Barker.