J
ehane Noujaim has received seemingly every illustrious award and accolade available to an independent filmmaker.
The Harvard graduate's documentaries have earned top honors at many of the world's most prestigious international film festivals, including Sundance, Full Frame, Berlin, Sydney and Toronto.
Her most recent feature, The Square, which profiles four visionary young leaders on the front lines of the Egyptian revolution, was nominated for an Academy Award and won multiple Emmys.
Equal parts poignant and optimistic, stirring and healing, and still and energetic, Noujaim's documentaries are not easily forgotten—much like her visit to PLU.
On Feb. 19, Noujaim spent the day on campus at PLU, culminating with her delivery of the second biennial Ambassador Chris Stevens Memorial Lecture. From the moment she stepped foot on campus, there was no doubting her passion for thoughtful dialogue with students.
Her humility, candidness and warmth, coupled with her fervor, experience and knowledge, opened the door for countless conversations.
The essence of the filmmaker's message to PLU students: Anyone has the power to tell a story she believes is important—regardless of who she is and where in the world that story may be.
"We are living in a time when we have great power as individuals to communicate and understand what is happening halfway around the world. If you see an injustice, you have the power to communicate it, talk about it, Tweet about it, march about it, make a film about it, change it."
Her visit began with lunch in the Scandinavian Cultural Center, where more than 100 students peppered her with questions about her films, storytelling strategies and her personal connection to the Egyptian revolution.
"I grew up about 10 minutes away from Tahrir Square. If you can imagine, think of a huge uprising that was the center of the world's attention at the time being five minutes away from your house … and you're a filmmaker… you'd think, 'This is where I need to be!'"
Her next stop was Ingram Hall, home to PLU's School of Arts and Communication, where Noujaim was the subject of a mock-press conference with students from a multimedia journalism course.
"The press conference went spectacularly because she (Noujaim) was so open and so engaging," said Professor of Communication Joanne Lisosky. "The students were completely engaged with her because they share an affinity for telling stories."
The aspiring journalists, publicists and digital storytellers posed questions about funding documentary films, advice for aspiring filmmakers, the challenges of filming a documentary in the midst of a violent revolution and the role of digital media in social movements.
"I consider myself a visual diarist, enabled and obliged to bring testimony to our world so you're able to see beyond the three-minute news sound bite … Viral videos and stories can catch the spirit of a nation and spread across the world like wildfire. It is the story that a culture tells that sets the parameters for what we perceive as possible … we as journalists can magnify a dream."
Noujaim's afternoon concluded with a conversation with students in a Women's and Gender Studies course, where she discussed how she chooses the subjects of her films, her multicultural identity, the pace of systemic progress and even parenthood (at the time of her visit, Noujaim was six months' pregnant, and she talked jubilantly throughout the day about her unborn child).
It doesn't take an entire nation to change the destination of a country. Most often, changing the world is done by a dedicated few pushing the limits and the boundaries and keep questioning."
Following a late-afternoon screening of The Square, more than 500 students, PLU community members and area residents packed the Karen Hille Phillips Center for the Performing Arts for Noujaim's lecture.
Mirroring the synopsis of her film, Noujaim's lecture was titled "The Square: An Eyewitness Account of the Egyptian Revolution and the Downfall of a Regime."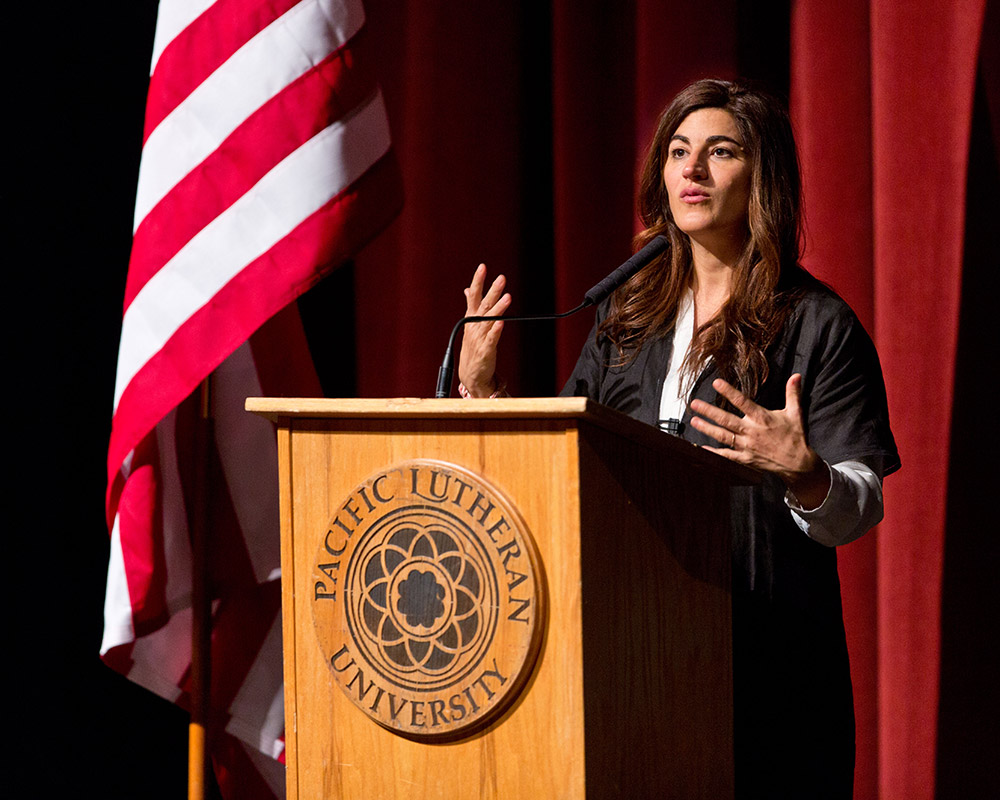 The best films have a timeless, transcendent quality, Noujaim explained. Her film, she said, is about the Egyptian revolution and the people who filled Tahrir Square, but it also reflects the social construct and potential for change throughout the Middle East and all over the world.
"I'm interested in making films that capture the zeitgeist of our time, and to me that means finding and making films about people who are on the front lines of change and sharing those stories with the world."
Noujaim explained that she believes her passion for filmmaking and storytelling is what she can offer her fellow Egyptians, and she feels an obligation to tell the stories of those who are unable to do so.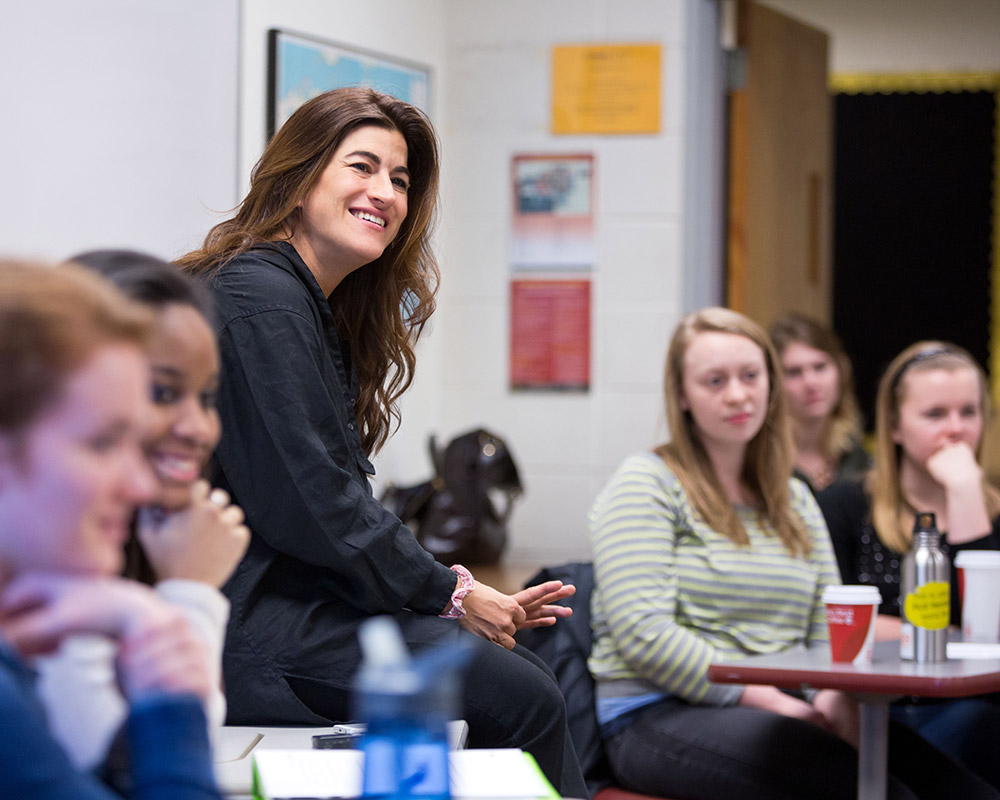 "Expressing one's truth is a privilege we all have here and a right we must continue to protect. The truth-tellers who are languishing in Egyptian prison cells are the very people who should be leading our country forward. They are depending on us now, and it's my obligation to tell their stories and continue to fight for their freedom."
The key to bringing about social change and fostering vibrant cultures, Noujaim said, is not individuals contributing what others suggest they ought to be contributing, but rather looking within themselves to discover what makes them feel alive and contributing their inherent gifts.
Noujaim's words had a profound effect on the PLU community, including visiting family members of the late Chris Stevens, a U.S. Ambassador who was killed in 2012 while serving in Benghazi, Libya.
"When we hear her talking about people going out into dangerous places and seeing hope, it thrills us," said Rebecca Hemphill, Stevens' cousin. "It's a reminder of what's possible and a reminder of how Chris saw the world—and that keeps him alive."
"Howard Thurman wrote, 'Don't ask what the world needs; ask what makes you come alive and do it, because what the world needs is more people who have come alive.' I came alive when I saw what I thought I'd never see in Egypt: people on the street coming together as a collective to demand a just and dignified life."
Professors and students alike left the auditorium moved and thankful for the filmmaker's visit.
"She was so personable and inspiring," said English Literature major Allison Groseclose. "She really made all of the things that PLU tells us to care about actually come to life, like global citizenship and caring for others and how that transcends your nationality and where you're from."
"She was perfect because she talked about vocation from her own perspective," said Lisosky. "My favorite line of hers was, 'It's your responsibility now.' She looked at our young people and said, 'You now cannot turn a blind eye, because you have incredible power.'"
As the evening wound to a close, Noujaim described her visit as "fantastic" and lauded the students she'd met throughout the day.
"The students here at PLU were smart, engaged, thoughtful," said Noujaim. "They asked really great questions, stumped me a few times, but really got me thinking."
The day of shared laughter, shared tears and shared perspectives ended with many PLU students dreaming of the stories they might someday share through their own lenses.