I
n 2014, Andrew Austin '06 returned to the city and the organization that collectively helped foster the ascent of his professional and personal vocation.
Thankful to have had the opportunity to lead transit-advocacy efforts all over the country, Austin is now back in his element in Tacoma, advocating, organizing and educating on behalf of the issue in the state he loves.
Now regarded as a national leader and expert on transportation advocacy, the Religion and Global Studies graduate says he's still every bit as passionate about social justice as he was a decade ago while a student at PLU.
"During my junior year, I witnessed people in Tacoma relying on buses to get to work, school, the doctor or just visit their families," says Austin. "It really hit home that public transit access touches and impacts so many other critical issues."
"Even now, nearly 10 years later and equipped with a few more tools, I feel like I'm the same young guy, figuring out how I can be an effective advocate and doing this work to the best of my ability."
As an 18 year-old first-year student at PLU, Austin challenged himself to live without a vehicle, dependent on public transportation. Now 30, Austin continues to live according to that challenge, and his commitment to public transit has grown from a personal conviction to an influential career in state- and national-level public transit advocacy.
As the policy director at Transportation Choices, an advocacy organization dedicated to creating more opportunities for people to walk, bike and take public transit, Austin's work focuses on policy development, lobbying and statewide coalition building.
"Transportation is an issue that a lot of people care about, but it's not very many people's number-one issue." Austin explains. "As transit advocates, our power is based in our relationships with our closest friends. We have to build pro-transit coalitions at the state and local level to have success."
Austin's professional career in advocacy began in legislative politics. He spent the first four years of his career managing political campaigns throughout Western Washington and serving as a legislative assistant in Olympia.
While working at the Legislature in 2007, Austin began establishing himself as a local leader in Tacoma transit advocacy, participating in local activism and making the most of an opportunity with The News Tribune of Tacoma.
"I had a blog for the Tribune called 'The Bus Stops Here,'" Austin explains. "I would meet riders and talk with them about what they were doing, where they were going and why they were riding the bus and then contextualize the importance of public transit through their stories."
In 2009, Austin landed a job as policy associate with the organization he had long hoped to work for— Transportation Choices. His talent and work ethic were quickly recognized and rewarded, and after just one year he was promoted to Field Director.
"During that time it really hit home for me that advocacy work, especially on this issue and especially in this state that I love, is what I wanted to do," he says.
Austin's leadership at Transportation Choices landed him on the radar of the national transportation advocacy community. In 2012, he was recruited to serve as the Executive Director of a national nonprofit called Americans for Transit.
The opportunity meant moving from one Washington to the other, a transition Austin had always hoped might be possible. "D.C. is its own realm, much different than state and local politics, and I wanted to get a taste of that," Austin says.
Dedicated to "strengthening, uniting and creating grassroots transit rider organizations across the country," Americans for Transit afforded Austin the opportunity to travel nationwide, convening peer-networking trainings and workshops, consulting on advocacy and policy campaigns, and speaking at regional and national conferences.
"My favorite part was that I got to work with passionate, dedicated advocates fighting for transit issues all over the country," Austin says. "It was an incredible experience organizing in the south in places like Georgia and in Rust Belt cities like Pittsburgh and Cleveland.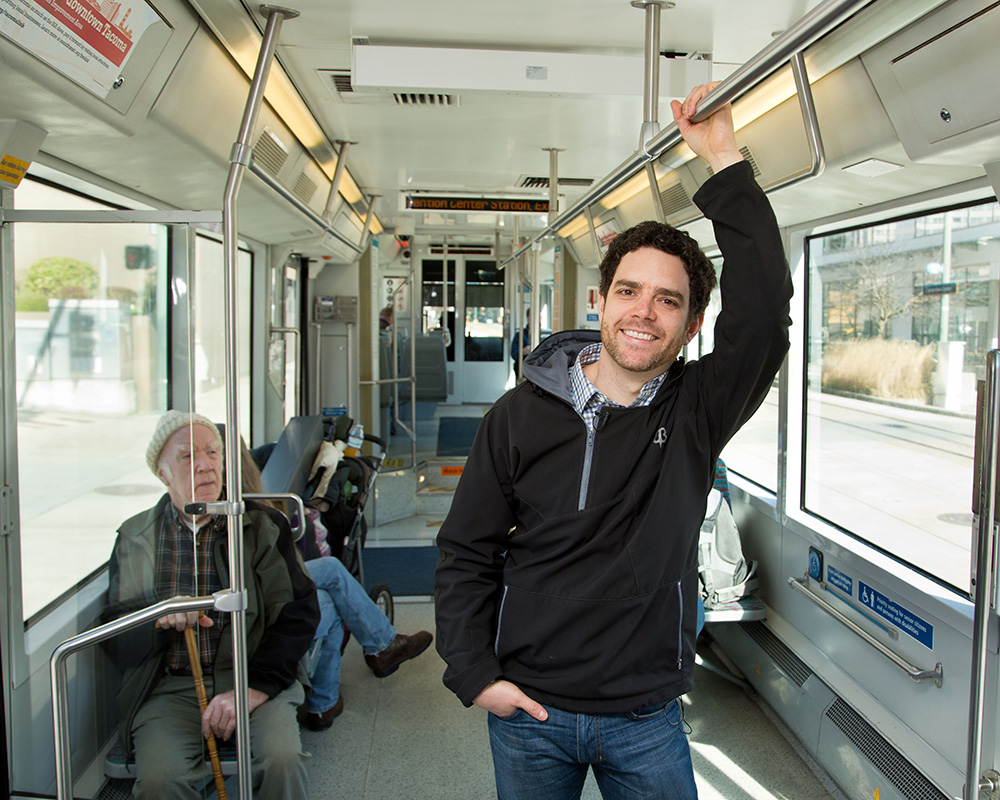 "My eyes were really opened to the similarities between advocacy organizing across the country, but also the dynamics and culture of each community greatly impacted the work. Like they say, all politics is local."
However, after two invigorating years living in D.C. and out of a suitcase on the road, Austin couldn't help but feel as though much of his fervor for advocacy had been left behind in Washington state.
"I missed working in a place where I felt a personal investment and I was able to see the work through to the finish," Austin says.
So when Transportation Choices asked whether he'd be interested in returning to serve as its Policy Director, Austin didn't have to think twice.
"I realized there is nothing I'd rather be doing than leading the policy work at Transportation Choices," he says. "Who knows what the future has in store, but I'm incredibly thankful for where I've been able to go, and so excited to be back."