Back then, it was just another class project.
Cause Haun '93, pretending to be CEO of a shoe company in a business class at Pacific Lutheran University, was tasked with critically analyzing what would set her brand apart. Quality is key, she determined: better materials and better pay for her imaginary employees.
Two decades later — sitting in the headquarters of the actual shoe company she created, surrounded by its very real employees and adorable, tiny shoes — Haun says her initial business philosophy remains.
"Quality always wins the day," she said.
Quality is what Haun searched for when she dreamed up the idea to sell children's shoes, upon realizing the market didn't cater to moms like her who wanted trendy, healthy footwear for their babies.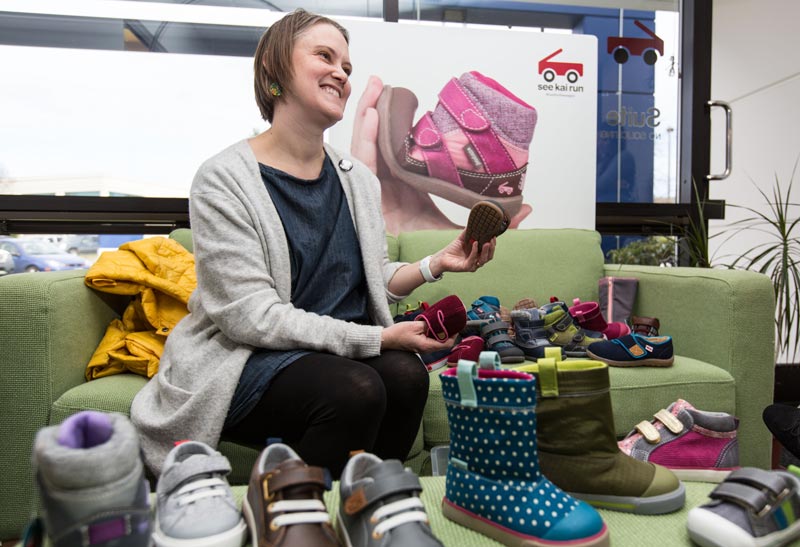 "I had no training in podiatry, in fashion, in design. I just knew the shoes were good for my kid's feet and I would want to buy them. It was just about the product."
– Cause Haun '93
And quality is what swiftly landed See Kai Run shoes, named after Haun's son, on Nordstrom's shelves not long after the company launched in 2004. "I'll never forget that moment," she said of getting the phone call from the luxury retailer, known in part for its shoe selection.
Pete Nordstrom, president of merchandising, had spotted the shoes on the feet of one of the pint- sized guests at a dinner party, Haun said.
That word-of-mouth success is indicative of See Kai Run's history. The company unexpectedly started with a leisurely trip to China and a frustrated mom.
At that time, Haun was struggling to find suitable footwear for her son. Medical professionals widely agreed that "barefoot was best" for babies, Haun said, but the market lacked footwear options that offered flexibility akin to bare feet. The shoes that did exist couldn't withstand the elements in the family's rainy home in the Pacific Northwest.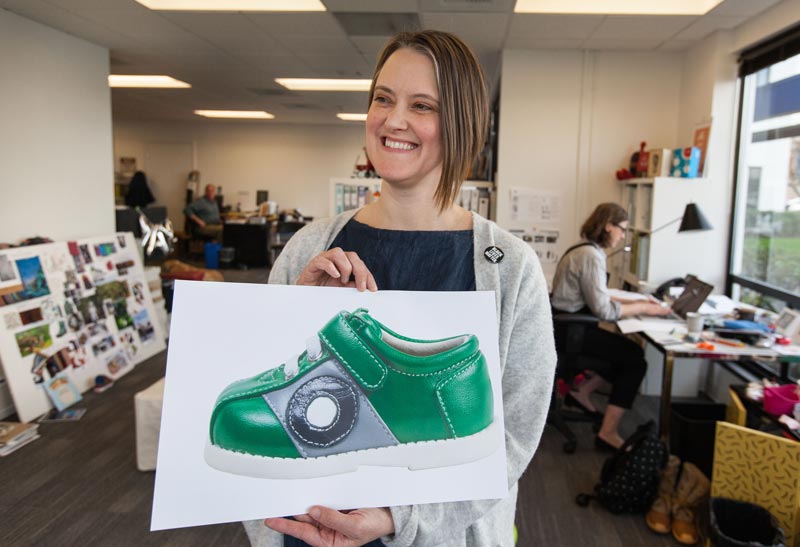 Then, Haun stumbled upon well-crafted, flexible, rubber-soled shoes that fit the bill during a China trip to visit her husband's family. So, the couple filled a suitcase full of shoes and brought them home to test the market.
"I remind him every night that it was my idea," Haun quipped.
Once the shoes started flying off the shelves of consignment shops, they quickly realized the product's potential.
They developed a partnership with a mom-and-pop manufacturer in China to produce the shoes, the result of a cold-call to a number on a shoe box. They got permission to build upon the original shoe design and incorporate See Kai Run's first logo — their son's footprint from the hospital flanked by the company's name he inspired.
"It was a very small financial investment," Haun said. "I'm very risk averse."
Once the operation was off the ground, she brought the shoes to small boutiques around the region. Once more, they flew off the shelves.
Haun graduated to trade shows, where a sales representative from California picked up the products and sold them up and down the coast of the Golden State. Soon, Haun said, moms were asking about the shoes on message boards.
"Then, it took off like nobody's business," she said.
Well, it took off like Haun's business. She couldn't keep up with the fax machine tracking new orders at her home; eventually, the orders no longer fit in the basement.
"We had to make the leap of faith and get an actual warehouse," she said. "Our house smelled of leather for months after the shoes left."
The process of building the business was all learn-as-you-go. "People along the way were super friendly," she said. "It's a very helpful industry."
That's when the call from Nordstrom came, months after Haun's messages to them went unanswered. She admits that her excitement about the opportunity was immediately followed by fear.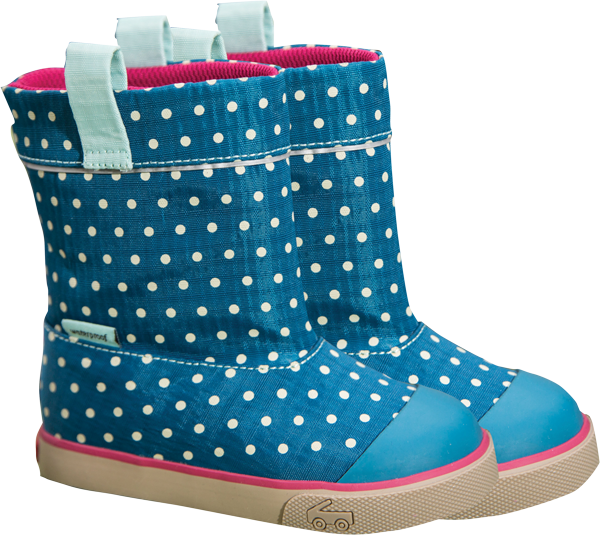 "I had no training in podiatry, in fashion, in design," she said. "I just knew the shoes were good for my kid's feet and I would want to buy them. It was just about the product."
Despite her fear, Haun said See Kai Run has taught her that trusting your instincts goes a long way.
"I love getting across the message that you don't need formal education in a venture to be successful," said Haun, who studied international business and Chinese studies at PLU. "Learning as you go is fine."
And her approach paid off. In addition to Nordstrom, companies such as Amazon, Zappos, Saks Fifth Avenue and other retailers sell See Kai Run shoes.
Haun believes the brand was successful for two reasons: the health benefits of the flexible materials and the urban, "mini-me" style of children's shoes that parents wanted but struggled to find in the past.
Her children are too old for See Kai Run shoes now (Kai is 14, his younger brother, Ocean, is 11). In fact, Kai outgrew his namesake shoe faster than Haun hoped.
While Haun's oldest was the catalyst for her inspiration, she didn't develop the products specifically for her kids. The motivation to pursue the venture was simpler: "I've always been interested in finding a treasure."
Until last year, See Kai Run used the same mom-and-pop manufacturer in China; they moved to a bigger one to accommodate higher volume production. The company quickly expanded from three full-time employees to a dozen, and Haun eventually sold it to a San Francisco- based investment firm. Her husband, Gang Chen, is a board member and the couple are part owners.
They aren't involved in day-to-day operations, but Haun stops in at least once per season to look at shoes and visit employees. "Growing (the business) was super fun and super satisfying," she said.
Now, Haun stays at home with her sons in West Seattle and is heavily involved in activism to combat gun violence and racism.
She's most proud of the product. And in the spirit of her younger self, a shoe-company CEO in a PLU business class, she's proud of See Kai Run's consistency of quality:
"I'm just glad the product has only gotten better."