Standing on a slope at Paradise, knee-deep in snow, John de Mars '09 was exactly where he wanted to be.
"I love it here," he said of Mount Rainier, as thick clouds and wet snowflakes engulfed the view of the Cascades behind him. "If I could spend all my time here, I would."
He says outdoor adventure means grabbing the minimum amount of gear possible and trying something new.
"It's for the view, it's for the feeling," said de Mars, who says he has a religious moment every time he's in nature. "This is my church."
The mountain isn't just where de Mars plays — it's also where he works. It's where he spent a lot of time developing the latest product for his hot sauce company, de Mars's LLC, which he's built from the ground up over the past several years — with help, in part, from a business competition at Pacific Lutheran University.
Expedition Sauce is hot sauce designed for adventure — a portable alternative to the company's flagship brand, Rooster Sauce — inspired by its creator's sense of adventure.
"It's a unique way to carry gourmet flavor with you when you're outside and on the go," de Mars said of the spicy sauce in a squeeze tube. "The convenience of having it in a tube is that it's lightweight and it doesn't break."

Expedition Sauce packs a strong punch of flavor. It's unlike any of the name brands favored by spicy-food connoisseurs: the concentrated spice lingers long after tasting even the smallest portion and, as suggested by the list of ingredients on the back of the bottle, the flavor leads with fresh hot peppers.
"It's great on staple foods," de Mars said, such as eggs, burritos or sandwiches.
It also livens bland foods often used by climbers and others braving the elements.
"When you're outside you have to eat," he said. "In the market there's very little options for food that tastes good when you're in the elements. The Expedition Sauce was a solution to that."
After his recent hike at Paradise, de Mars cooked up a dehydrated chicken risotto meal near a beautiful, raging waterfall. A few tablespoons of Expedition Sauce made the dish more delectable.
"We've used it on a lot of meals up here," de Mars said. "It's kind of like its home."
He dreamed up the idea for his business during his first year at Appalachian School of Law in Grundy, Virginia, before hot sauce was his star product. "I've always been an entrepreneur at heart," de Mars said. "It seemed like a natural fit for me."
So, he tabled law school and started researching. He stumbled across an article about the fastest growing industries, and hot sauce reigned supreme in the world of condiments.
He developed a recipe — after about a half dozen test runs, and multiple rounds of taste testing with friends — and built a business model.
Finally, de Mars measured the company's success by entering it in PLU's annual Business Plan Competition through the university's School of Business, where he earned his degree in finance.
The competition helps PLU students and recent graduates gain valuable entrepreneurial skills. De Mars competed via Skype from Virginia, while his business partner presented to the judges in person. The pair took second place, earning a cash prize and the confidence to take the idea further. The money helped launch the first wave of marketing for Rooster Sauce, the company's inaugural product.
He said it was an eye opener that "people can respond positively to this product."
Now, the company distributes to more than 400 clients, including Cost Plus World Market, Haggen and local outfits such as Tacoma Boys, a grocer just 10 miles from PLU's campus. The most recent addition to the list: REI.
"We really designed it with REI in mind," de Mars said of Expedition Sauce. "We've been knocking on their door for a while with it."
The recipe sticks to its roots as the company continues to expand. "Even as we've grown batch sizes, it's remained stable," de Mars said.
His products are available through campus restaurants — at Old Main Market and 208 Garfield — bringing his journey full circle, to the place where he learned to embrace his passions and learned his limits as a leader.
"I challenged myself to see what kind of workload I could take on," de Mars said of PLU. "I tested my redlines."
"I challenged myself to see what kind of workload I could take on," de Mars said of PLU. "I tested my redlines.
Among his college commitments, de Mars played tennis and served as president in student government, a fitting extracurricular for the business and political science double major. "I was busy there," he said.
De Mars continues to work with a business advisor to improve his business model. He says a new business owner can't be successful without a mentor. The key to carrying success long term is identifying goals and building internal systems to help a business become sustainable.
The next step in that vision includes major sporting goods retailers and international sales. So far, he's met with representatives from companies in Asia, Europe and Canada, thanks to a Seattle- based group that connects local businesses with international buyers.
"A lot of people can't tell you what their goals are," de Mars said. "I had a pretty clear vision."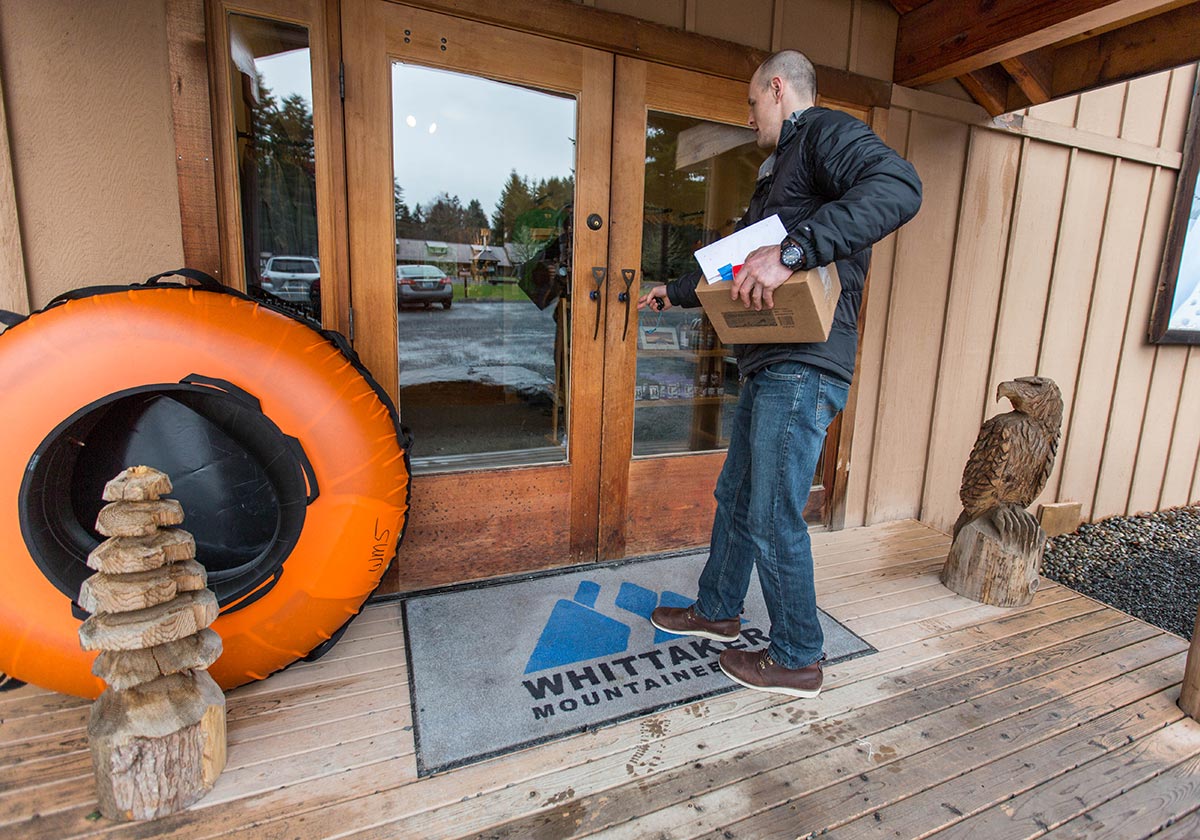 "That's been really valuable," de Mars said. "It's been a huge learning process with each country that's a potential buyer."
The ultimate goal for de Mars is to create a business that will self-sustain and subsidize his adventures outside of work.
"It's a lifestyle company," he said.
His lifestyle is a perfect match for the product he sells. In addition to summiting Mount Rainier six times and climbing peaks around the world, de Mars has participated in the Seattle to Portland bike ride and RAMROD — Ride Around Mount Rainier in One Day. He's also a painter and active in martial arts.
Additionally, de Mars speaks Chinese conversationally, and co-authored a bilingual children's book series titled "Ping Pong Panda." The first book in the series came out two years ago; the second was released this year.
All of his endeavors feed his passions (quite literally, when it comes to hot sauce), something everyone should lead with when it comes to vocation, he says.
"I really believed that creating my own enterprise and my own business would allow me the freedom around my own schedule and passions," he said.
Currently, de Mars works between 20 and 30 hours per week on his business. He hopes to reduce that number to about three. In the meantime, he continues to make plenty of time to explore outdoors — with a full water bottle, snacks and, of course, his hot sauce.
De Mars says he never takes a trip without the stuff. And the label on the back of the bottle suggests other adventurers might develop the same habit.
It reads: "Warning: You will take this everywhere!"