Noel LaVerne Abrahamson
Noel '51 died peacefully on Dec. 27, 2017, in Seattle at the age of 89. He was born an only child to Norin and Martina Abrahamson, of Norwegian descent, on Aug. 31, 1928, in Miles City, Montana. Later the family moved to North Dakota and finally settled in Washington. Noel married Constance Julia Klaras, his wife of 61 years, on Dec. 21, 1956, in Seattle. He was a loving husband and father, and a dedicated teacher and mentor who inspired students and colleagues.
Dr. Doris Geneva Stucke
Doris died Dec. 22, 2017, at the age of 99. She was born in Malta, Montana, to Herbert and Esther Stucke on Jan. 31, 1918, and lived in Parkland since 1967. Her early childhood through two years of college were lived in Minnesota and Montana. She earned a nursing diploma from Sibley Memorial Hospital School of Nursing and a Bachelor of Science in nursing at The American University in Washington, D.C. She received a Master of Education in nursing from the University of Minnesota, and a doctorate in nursing education administration from Teachers College, Columbia University, New York City.
Before enrolling in the nursing program, she worked as a secretary to the president of H. Earl Clack Company in Havre, Montana. She also worked as a secretary with the FBI in Butte, Montana and Washington, D.C. She taught nursing in diploma programs at the Sibley Memorial Hospital School of Nursing in Washington, D.C., at the Deaconess Hospital School of Nursing in Grand Forks, North Dakota, and at the Swedish Hospital School of Nursing in Minneapolis, Minnesota. From 1956 to 1967, she developed and headed the baccalaureate nursing program at Gustavus Adolphus College in St. Peter, Minnesota, where the nursing school received national accreditation beginning with the first class. In 1967 she became director and advanced to dean of nursing at Pacific Lutheran University, again gaining national accreditation amidst major curriculum change, expanding enrollments and recruiting academically qualified faculty.
She was a devout Christian who had the assurance of eternal life. She was an active member of the Lutheran church wherever she lived, worshipping regularly, teaching Sunday school and Vacation Bible School, and participating in Lutheran League activities, singing in the choir, and serving on various committees and councils. Her strong Christian faith and love for the Lord guided and sustained her throughout her life.
Dr. Stucke is survived by nieces Doris Schalka of Long Beach and Judy (Bob) Torgerson of Union Gap; nephew Louis (Nancy) Larsen of Moses Lake; three grandnieces Erin, Jennifer, Andra; one grandnephew Marty; and several children from the next generation, all in Washington state.
Memorials may be made to Trinity Lutheran Church, 12115 Park Ave S., Tacoma, WA 98444; to the Esther M. and Doris G. Stucke Memorial Fund at Pacific Lutheran University for nursing scholarship; or to a charity of your choice.
Evelyn Lorraine (Johnson) Svendsen '62
Evelyn died Dec. 1, 2017, at the age of 98. The former Puyallup School District teacher — and the elder daughter of Carl and Ida (Lindstedt) Johnson — was born May 4, 1919, in American Falls, Idaho, where she graduated from high school in 1937. She attended Pacific Lutheran College and later worked at Boeing. In 1944 she married Sheridan Svendsen.
Evelyn loved her family. It was evident by the relationship she had with each member. Preceded in death by her husband in 1987 and her sister Sylvia Lander in 1990, she is survived by her daughters Linda Strand (Gerald) of Mercer Island, Washington, and Julie Anderson of Northampton, Massachusetts; granddaughters Marnie Anderson (Michael Bishop) of Northampton, Jennifer Begun (Dave) of Davis, California, and Krista Fairley (Grant) of Claremont, California; great-grandchildren Maren Bishop, Hannah Begun, Adeline Begun, Macy Lee and Owen Fairley; niece Vicki Beetham of Edgewood, Washington; nephew Rick Lander (Maureen) of Poulsbo, Washington; grandniece Brenna Lander (Mitch Icard); grandnephews Eric Lander, Scott Beetham (Mariana), Brett Beetham (Thanh), and Ben Beetham (Heather); great-grandnieces Natalie Beetham and Vanessa Beetham; great-grandnephews Kasen Beetham and Brayden Beetham; and three step-grandchildren: Peter Strand, Kari Strand, and Barry Strand and their families.
Evelyn returned to Pacific Lutheran University (PLU) to earn a bachelor's degree in education in 1962 and taught fourth grade at Karshner Elementary School and reading at Maplewood and Meeker Elementary Schools for 19 years. She had a passion for helping children learn about their world through reading.
In her retirement, Evelyn enjoyed traveling to Elderhostels with her sisters-in-law and taking trips with her daughters. She was a gracious hostess and never tired of receiving people into her home. Being a volunteer defined Evelyn. She delivered books to homebound patrons of the Puyallup Public Library, volunteered as a Good Samaritan Hospice Bereavement Counselor, and was an active member of the PLU Scandinavian Cultural Center.
A longtime member of Mountain View Lutheran Church, she participated in Altar Guild, Book Club and Women's Bible Study. While in independent living, she served as the TLRC librarian for six years. An avid reader, Evelyn enjoyed learning about others and recommending books she thought they might enjoy.
In lieu of flowers, memorial gifts to honor Evelyn may be made to the Tacoma Lutheran Retirement Community, 1301 N. Highlands Parkway, Tacoma, WA 98406; Mountain View Lutheran Church, 122nd Ave. E., Edgewood, WA 98372; the PLU Scandinavian Cultural Center, Pacific Lutheran University, Office of Advancement, Tacoma, Washington 98447-0018; or to a charity of choice.
Panayotis Alexandros Horton '12
Panago passed away Aug. 22, 2017 at the age of 27. The world is a little less bright having lost the lumination that was Panago's life. Everyone who had the privilege of knowing Panago will forever have a piece of his compassion, friendship, loyalty, laughter and love.
Panago had a tattoo on his forearm of a three-linked chain. The links had the initials of his mother, me (his brother), and himself. We immigrated to the United States at his tender age of 2. The three of us served as a tight-knit unit to survive life in a strange land. The bond formed between us remains unmatched. The three links were to serve as a core to which we would add more links as we grew older and started families of our own.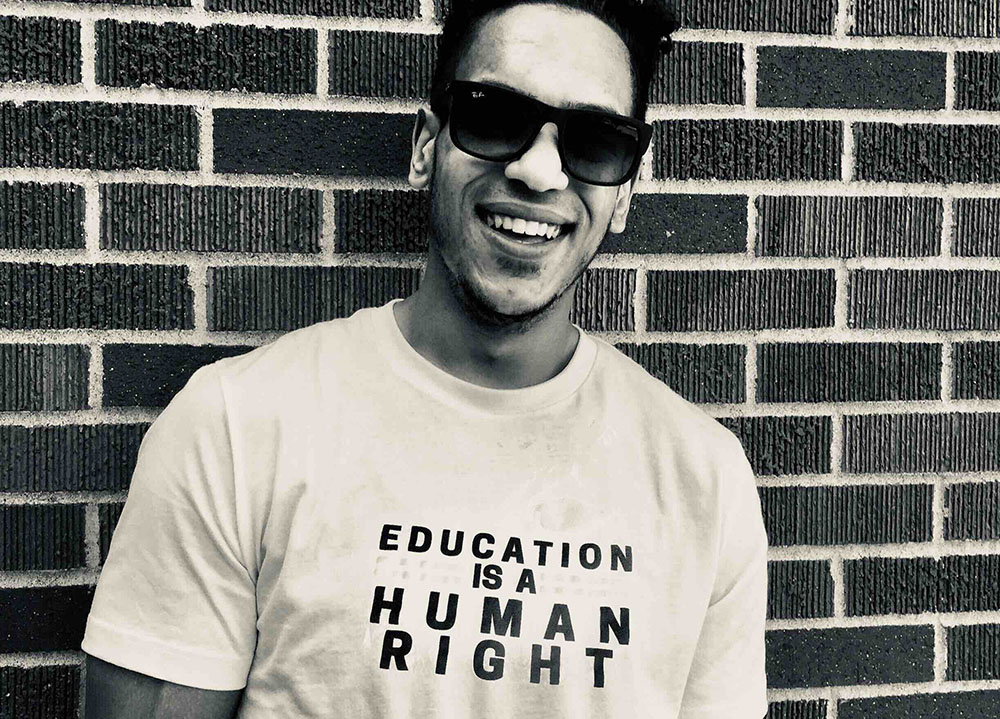 Panago graduated from Wilson High School in 2008 and received a degree in biology from Pacific Lutheran University in 2012. He served in AmeriCorps for a number of years, spending most of that time at Giaudrone and Jason Lee middle schools. He was preparing to take the LSAT and apply to law school this winter. Panago was one of the most naturally intelligent and capable people we knew. He recently began a job at State Farm that he found very rewarding. He prided himself on being able to help frustrated clients and turn an angry caller to a satisfied one. His customer service was recognized by his supervisor numerous times. He was the consummate people person.
Panago loved spending time with his family, girlfriend and friends. His humor was infectious. He had a passion for working out especially at the YMCA. He lost more than a hundred pounds and developed an amazing physique. We were all very proud of his dedication. He also had an immense interest politics and social justice. His commitment to the greater community was exemplified by his time with AmeriCorps, as well as his involvement in protests and rallies against police brutality.
It is with great sadness that Panago was lost to the effects of severe epilepsy and a subsequent hospital infection. At his side the entire time were his family and loving girlfriend, who never left him alone for one moment. Hopefully during his last days, he could hear us through his induced coma telling him over and over that he was loved, appreciated, admired, respected, adored and wanted to return to us. We did our best to fight for him because we knew he always did and would fight for us. Unfortunately fate had a different plan.
Those of us who continue to love him carry the pain and agony of not having his body to physically express our love and affection. But we firmly believe that his energy is all around us and all we have to do is persist in thinking our love, feeling or love, and expressing our love to that energy. We are truly devastated. No words can express the black hole we feel in our hearts. We can only hope that anyone who knew him continue to carry his memory. Reference his name or experiences that he graced you with. We can keep Panayotis Alexandros Horton in our world by thinking and speaking our memories as long as we live.
Panago you are irreplaceable and unforgettable. We cannot fathom a reality without you. But will carry you with us until we see each other again. No one will ever compare to you. One of your favorite authors, James Baldwin, once wrote: "Life is tragic simply because the earth turns, and the sun inexorably rises and sets, and one day, for each of us, the sun will go down for the last, last time." We cannot wait until that time that the sun setting means reuniting with you. We love you so much.
Panago is survived by his best friend and mother Georgia, his comrade and brother LeRoy, the love of his life Nicollette, and all his family and friends.