I

n the mid-1960s, The Beatles invaded America, and The Deacons occupied Pacific Lutheran University.

The association is not as far out as you might think. Both bands:
introduced a distinct sound and/or accent (oh-so British vs. … well, a trace of Norwegian);
broke serious ground (one redefined rock 'n' roll; one played at PLU's first true rock 'n' roll dance); and
notched a No. 1 hit (OK; so The Beatles had more than one, worldwide, but The Deacons hit No. 1 in Puyallup, once!).
There might be one little bigger difference, though: It's probably unlikely The Beatles took in a Deacons show—but The Deacons definitely watched The Beatles.
During a campus visit in advance of The Deacons' Homecoming Reunion performance on Oct. 4, lead singer John Sandvig '68 announced, "We saw The Beatles for the first time in Pfleuger Hall!"
Beg pardon?
"On TV," Sandvig laughed. "They didn't come down."
We tease The Deacons, but it's all in fun. Which is appropriate because, even if they are not a globally known Band That Changed The World, they are—50 years after their PLU heyday—a band enduringly known and loved for hand-clapping, body-moving, sing-along-loudly fun.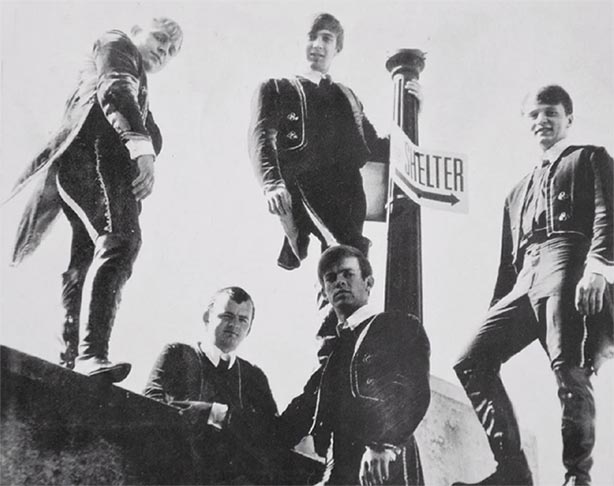 Which is the whole point, after all.
"We have fun, and we like others to have fun," Sandvig said.
The First Notes
The Deacons formed at PLU in 1964. Members Sandvig, John Radke (saxophone), Jim Sola (drums) and Michael Boyd (bass) all were Lutes; Sandvig's childhood friend Dave Luther ("Duke," guitar) was an import from Seattle's Lutheran Bible Institute. The band name, Sola said, emerged as "kind of a tie to the religious part" of PLU.
Which is kind of funny, considering a certain Deacon's defiance of 1960s-era PLU rules.
"We used to have mandatory Chapel, with disciplinary action if you missed it," Sola said during the campus visit with Sandvig.
"The first day, everyone was assigned a seat, so we'd send freshmen in with a clipboard to sit in our seats, and it looked like we were there!"
Slide to the future
A few other things have changed since then, too, of course: For one thing, the stage where The Deacons will perform in October didn't exist in the '60s—nor did Olson Auditorium itself. For another, The Deacons are now in their 60s, and retired; Sandvig lives on Camano Island, and Sola in Eagle, Idaho.
And, even though Sola claims a technical glitch or two with his 68-year-old memory ("I can see the file but can't get it open!"), he clearly remembers a quaint "kicking post" on campus: "If a woman wanted to kiss a guy, she would kick the post."
So, yes; it was a simpler time—and a great time to form a rock band. From its 1965 rock-dance performance at PLU, it didn't take long for The Deacons to expand—and to seriously succeed.
Click on the photos to meet the band members.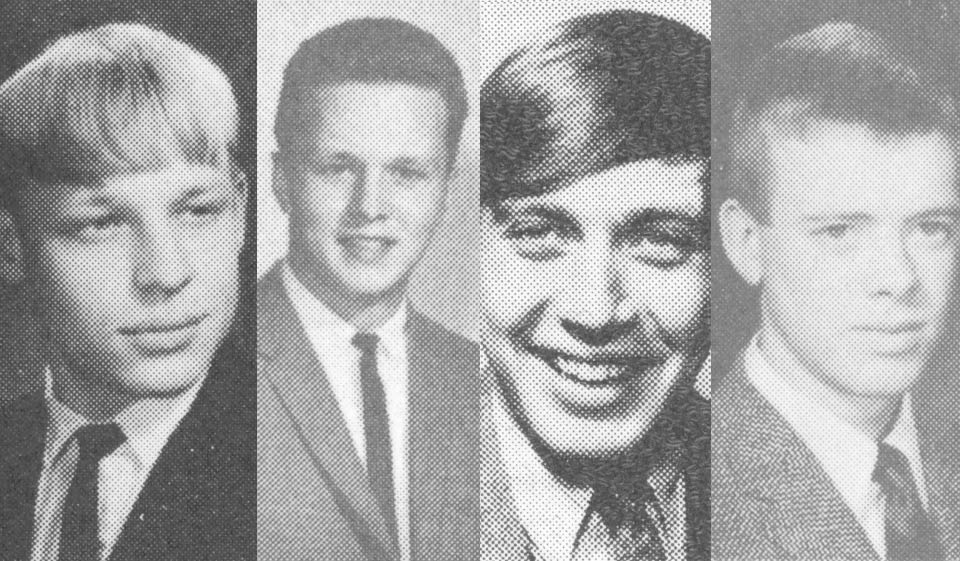 "The greatest thing is, we have five guys who have the same thing in their hearts," Sandvig said. "We were together for more than 350 dates—we were almost the 'house band' at the Fort Lewis NCO; we played the dance circuit through Washington and Oregon; we played the Red Carpet Club and The Evergreen Ballroom; and in Tacoma, if you name a high school, we played there. We also were on the Pat O'Day dance circuit—he used to be THE Top 40 DJ in Seattle—we got known more that way."
The Deacons really did score a No. 1 hit in Puyallup, with the original song You Can't Get There From Here, which "some guy from South America" posted not too long ago on YouTube, Sola said.
"It was played on the big Top 40 stations at the time, KJR and KOL," Sandvig said.
If that went to The Deacons' collective head, it did not last for long.
In 1965, the band paid a big-name local label to record and produce the hit, Sandvig said—and it turned the title into poorly translated Ikea instructions. As proof, Sandvig pulled the original 45 rpm record from his briefcase; its label reads: You Can Make From Here. Someone in the band scratched it out and corrected it by hand … just for the record.
Coming Home for Homecoming
The Deacons haven't performed together since 2003, but with 50 years of history, it does not take much practice to get right back to perfect. With members scattered from Seattle to Milwaukee, rehearsals were limited to solo workouts the past few months, but in August, the band converged at Sandvig's house on Camano Island for full-group rehearsals—and maybe a distraction or two.
"It's going to be hard because the water's right there," Sandvig said. "We're all going to be trying to impress each other with how much we've practiced."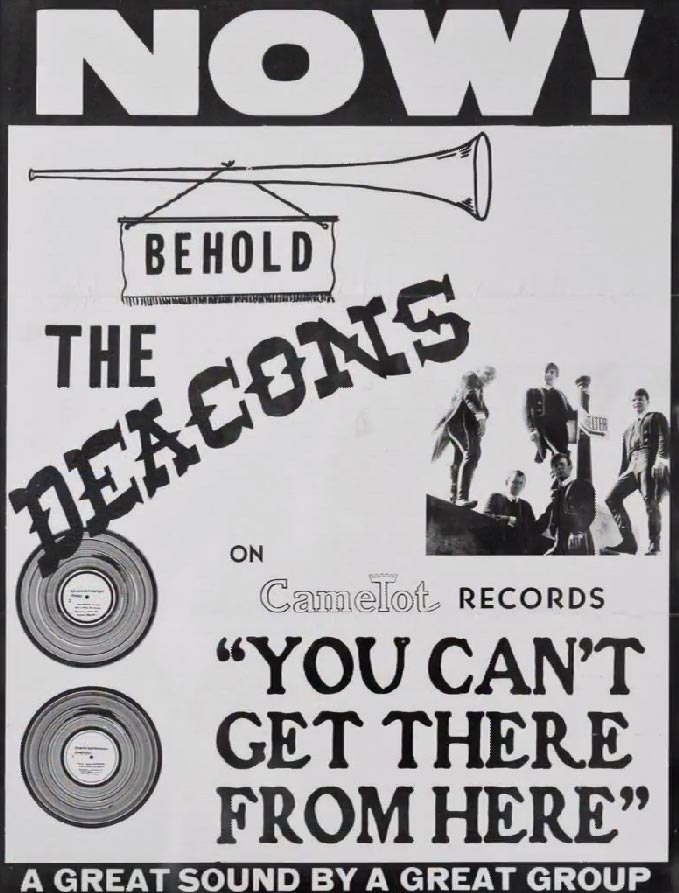 The set list is, well, set, Sandvig said. "They'll know it," he promised. "It'll be like listening to classic rock and/or Top 40 (You Can't Get There From Here, Grizzly Bear, Louie Louie, Mustang Sally and dozens more). When we start playing, they are going to want to dance!"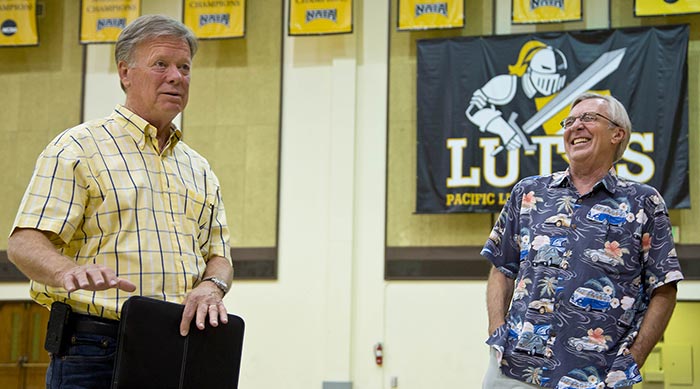 The band is planning—and choreographing—two 45-minute sets, with a little catch-your-breath break in between.
"There will be a point when we will have to stop," Sola laughed. "Plus, if you get people here from the Class of '68, they will be ready to leave."
The Deacons have reunited to perform twice since leaving PLU, Sola said: first in 1988 at the Happy Valley Grange in Redmond ("It was jammed, and we sounded really good!") and again in 2003, also in Redmond. Sure, it's been a while, but musical magic—just like half-a-century of Lutedom—doesn't just disappear.
"This is a band that rises to the occasion," Sola said. "We have been blessed with unity and purpose."
"And friendship," Sandvig added.