Each year, PLU's Alumni Association presents awards to deserving alumni, friends and students of the university to honor them for their outstanding achievements or years of service to PLU.
The Awards and Nomination Committee of the Alumni Board met in the spring to select this year's award recipients.
Jen (Smith) Cohen '94
DISTINGUISHED ALUMNA AWARD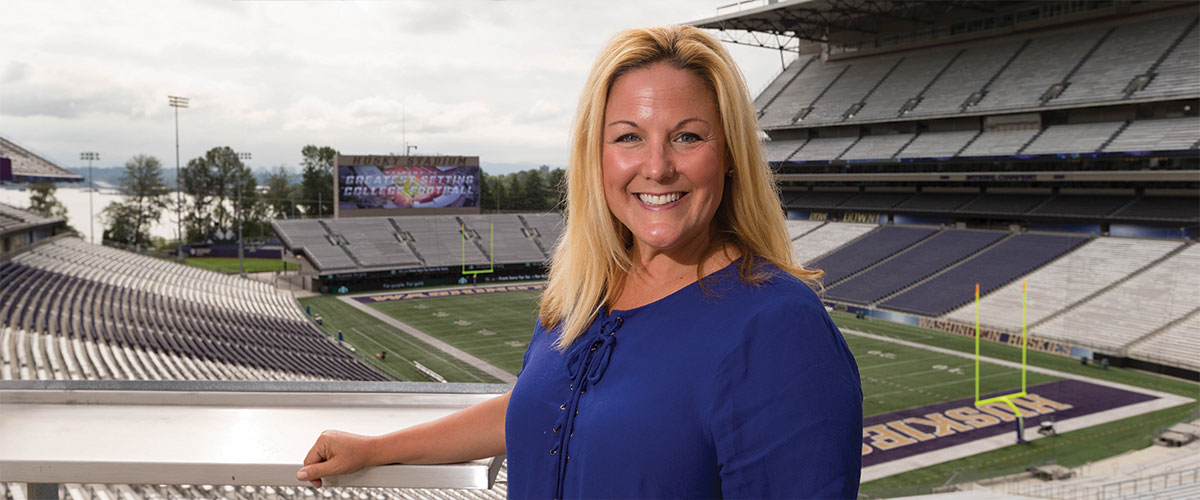 Jen (Smith) Cohen '94 puts students first in her role as University of Washington Athletic Director – a job she has held since 2016.
"There is nothing more rewarding than helping people become better versions of themselves through education, leadership and sports," she said.
As a girl, she grew up attending Husky football games with her family. The experiences inspired her.
"I fell in love with the competition and the unique ability sports has to build community and to connect us with something larger than ourselves," Cohen said.
But she sees her work differently now.
"The main driver for me is the ability to change and transform the lives of our students," she said. "I believe we are in the people development business, and that we get this incredible privilege of using sports to teach highly talented people how to grow all aspects of themselves."
The goal is to have them leave the university better prepared to make a difference in the world, Cohen said.
When she was named athletic director at UW in 2016, she was the only female athletic director in the Pac-12. She still holds that distinction.
"I rarely thought about my gender until I became more of a visible leader and role model for other women," Cohen said. "I am not sure if I can attribute my leadership to my gender, because it's influenced by so many things – my experiences, my failures, my values – which expand well beyond the fact that I am female. If there is one thing I can attribute to gender that plays a role in my work, it's that I am a mother. I genuinely care about our students like they are my own children."
Before she took charge of the UW's athletic program, she served as a graduate assistant and assistant volleyball coach during two years in graduate school at PLU, from 1992 to 1994. Her undergraduate work was at San Diego State University, and she earned a master's in physical education with an emphasis in sports administration at PLU.
"I am so grateful to PLU for the education, the experiences and, most important, the people that I met through being a Lute," she said. "There is so much pride within the PLU community. It's an honor to be associated with a university that cares deeply for its students and alumni."
Dr. Munro Cullum '81
DISTINGUISHED ALUMNUS AWARD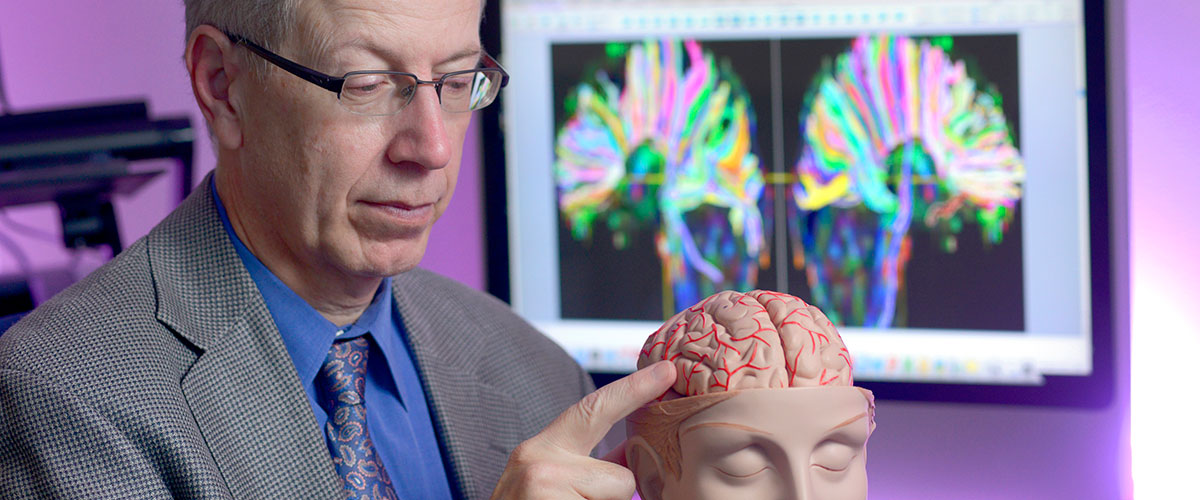 A couple of PLU undergraduate courses "just clicked" for Munro Cullum.
"I had been thinking about pre-med," he said.
But two courses in particular, an introductory psychology class taught by Dr. Erv Severtson '55 and a neuropsychology course taught by Dr. Jerome LeJeune, made the field of psychology sound exciting. Severtson's course "piqued my interest," Cullum said.
"The course taught by Jerry LeJeune taught me that I could use neuropsychology to study and probe human brain functions." he added.
Today, Cullum is a professor, researcher, clinician and administrator who chairs the Division of Psychology at the University of Texas Southwestern Medical Center in Dallas. He's authored nearly 200 peer-reviewed articles, contributed to 35 books and written two of his own.
But he is perhaps best known for his work in sports neuropsychology. He oversees concussion testing programs for the Dallas Cowboys (NFL) and the Dallas Stars (NHL). Both sports leagues require their teams to have a consulting neuropsychologist on board. He also leads several research studies with an emphasis on sports-related concussion across the lifespan.
Concussion is not a new issue in the sports world, although it has gotten a lot of attention in recent years, Cullum said.
He is involved in baseline testing and evaluation of each athlete prior to the start of a sports season. If an athlete is injured, the testing is repeated and compared to baseline. The tests measure concentration, memory and other cognitive functions.
"Some individuals are more susceptible to lingering effects (of concussion)," Cullum said. "That's where the research is today — figuring out who is at risk."
Cullum gives a lot of talks around the country on the subject of concussion, and he said audiences are sometimes surprised to learn that what they think they know about the subject isn't always true. Example: Around 90 percent of concussions do not result in a loss of consciousness.
In addition to his work with athletes, Cullum is also involved in the study of Alzheimer's disease and other dementias.
He's looking at early detection, and at discerning differences between the results of normal aging and diseases such as Alzheiemer's.
Cullum counts his years at PLU as among the most important in his life. He met his wife of 37 years, Heike (Wilhelm) Cullum '81, in Spanish class when they were freshmen and made lifelong friends in a supportive, fun environment. He noted that a number of professors became important role models for him.
"Looking back, I appreciate the real liberal arts education," he said. "It gave me a different way of thinking and helped provide me with skills I would need throughout my career. Learning in that rich environment taught all of us about understanding different perspectives."
Samuel Torvend '73
PLU MISSION AWARD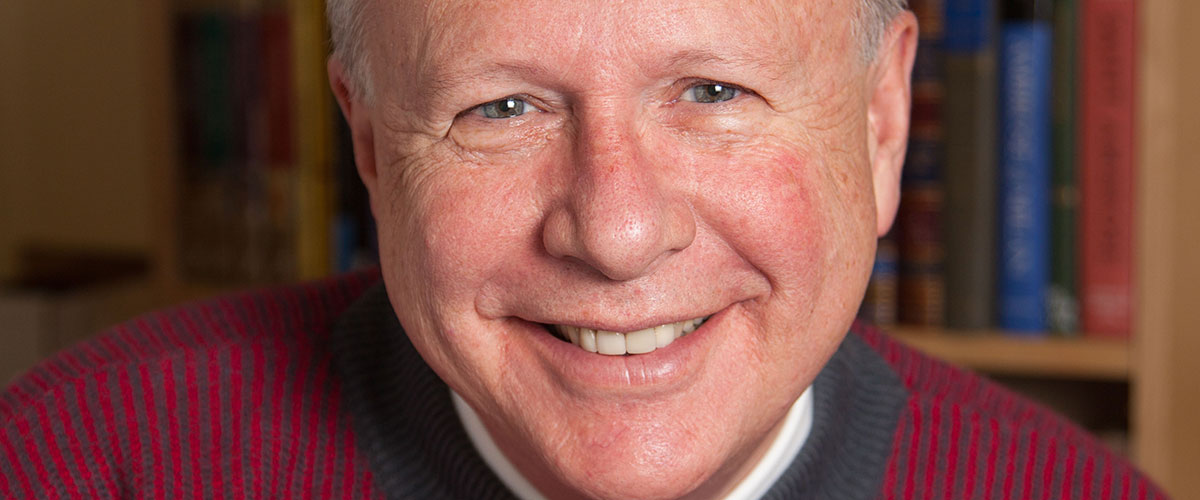 Samuel Torvend '73 wants his students to know that the purpose of religion courses at PLU is not to make them "religious," in the traditional sense, or to convince them to accept the religious views of their professors.
Once students grasp that intention, he says, they are ready to understand why the study of religion is an integral part of a liberal arts education at PLU. "After all," he noted, "Lutheran higher education began with the critical study of religion in the classroom and revolutionized university education."
"I don't know how you could understand pressing issues in the world today without a nuanced study of religion," he said. "Eighty-seven percent of the people on Earth self-identify as religious. It would be unfortunate, if not foolish, to overlook that statistic. Many of the people you and I encounter in life are part of that large number."
Torvend, the son of a Lutheran pastor and a priest in the Episcopal Church, has dedicated his career to PLU, teaching here for the past 21 years.
He serves PLU in multiple ways. He is a professor of the history of Christianity, and has served twice as the director of the Wild Hope Center for Vocation as well as its director of vocational reflection. He directs the Center for Religion and Culture in the Pacific Northwest and he was appointed by the PLU regents to the first endowed Chair in Lutheran Studies.
An internationally recognized scholar, Torvend's most recent book is "Still Hungry at the Feast: Eucharistic Justice in the Midst of Affliction."
Torvend studied at PLU in the early 1970s, when the world was still reeling from the societal upheaval and tragedy that had marked the decade before.
"The primary question that my generation asked in the classroom was this: 'Is our study politically and socially relevant?' " Torvend said. "Today, I find a good number of students wondering if the courses I teach will be 'fun' while some students, aware of global warming, American racism, and income disparity, are really searching for ways to engage in the work of social justice."
The most significant part of his PLU education involved working with his professors.
"They turned out to be remarkable mentors who really challenged my assumptions," Torvend said.
Nai-Nai Watts '19
THE BRIAN C. OLSON STUDENT LEADERSHIP AWARD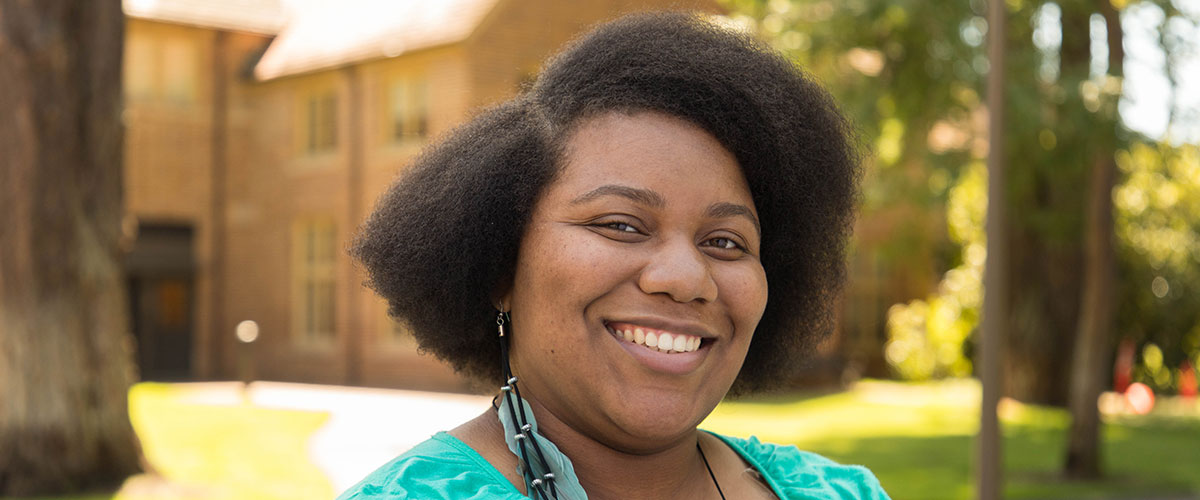 Nayonni "Nai-Nai" Watts '19 wanted to document the history of Black students at PLU because "it could so easily be lost."
So when Melannie Denise Cunningham, PLU director of multicultural outreach and engagement for campus ministry, asked her to research the subject, Watts dug deep into the university archives to create a display documenting that history, starting in 1960.
As a result of her historical documentary work, the university's Archives and Marketing and Communications departments developed an online project to further document the Black experience at PLU.
Searching for a way to communicate what it's like to be a Person of Color on the Autism Spectrum, Watts wrote and produced a play, "Spectrums of Color."
"I think my years at PLU helped me realize what it's like to be a Person of Color at a predominantly white institution," she said. "But it's important to me to say I'm Autistic first – that dominates how I interact with my other identities."
It's also the part of her that presents the most challenges, as well as unique opportunities, Watts said.
"My Autism can be both a blessing and a curse," she said. "I get to have a different perspective. If others are thinking about option A or option B, I'm on option M."
Watts took an active part in programming for Autism Awareness Month to educate the campus about life on the Autism Spectrum.
Watts grew up in Las Vegas, and came to PLU thinking she would major in Chinese studies.
But a summer workshop at the University of Maryland, prior to the start of her first year at PLU, pointed her in a different direction.
"I wanted to do something creative," she said.
Her creativity blossomed at PLU, where she graduated this year with a degree in theatre.
Although her degree carries a concentration in acting and directing, Watts continues to write because she sees a need for more diverse characters in the entertainment world.
One of her latest creations is a "non-binary character who uses a prosthetic leg."
She's grateful for all the support she received during her PLU years and thankful for her "inner PLU communities, such as the Diversity Center, Campus Ministry and Hinderlie Hall."
"It's really cool that PLU acknowledges all the work I've done," Watts said. "I want to thank everyone I interacted with at the university, if it was just for a moment. I love them all so much."