When a 23-year-old Katherine Wiley first went to Kankossa, Mauritania with the Peace Corps, she didn't know what to expect. A small-town kid from northern New York, she'd studied abroad in Europe, but knew little about Africa or Islam.
"My world view was very narrow," she admitted. Mauritania expanded it, rapidly. "It was a fantastic experience," she said, "which I benefited from way more than the people I was quote-unquote 'helping.'"
Wiley's new book, Work, Social Status, and Gender in Post-Slavery Mauritania (Indiana University Press), is based on anthropological research she conducted on a return trip years later. It focuses on women who are Haratine — a term that refers to former slaves or their descendants.
In 1981, Mauritania legally abolished slavery—the last country in the world to do so. Slavery took on different forms in different places, however, and the plantation system that US readers typically picture didn't exist in the Sahara desert. "Slaves carried out a lot of roles, and arguably had a lot more autonomy," Wiley said. Because the slave-owning population was historically nomadic, some slaves in farming communities only saw their masters once a year. Others did domestic work, or other forms of manual labor.
Like in the US, however, slavery in Mauritania was racially marked — Haratine are typically of black African descent, while slaveowners claimed Arab or Berber lineage — and its legacy endures in present-day discrimination.
When Wiley began her research, she thought she'd study dress and clothing — particularly the malahfa, a Mauritanian veil — but the women she met didn't find the topic as interesting as she did.
What aspect of their lives did they think deserved to be studied? "When I asked, every woman said 'work,' " she said. "Why is work so important for them?" she asked herself. "Why is this what they wanted me to look at?"
As Wiley learned, the importance of work in these women's lives has grown. Increasingly, men in the rural areas have been forced to seek work in urban areas, or outside Mauritania, as women stay behind. Even husbands who have remained are often unable to support their families.
For Haratine women, these changing conditions can be painful, but also empowering. Their economic activity, which includes dyeing cloth and selling vegetables in the market, is a source of power as well as income. Through work, they are able to build social networks — giving gifts, offering credit in the market, supporting each others' businesses, and going into business together. As Wiley's book shows, work allows these women of slave descent to raise their position in a changing social order.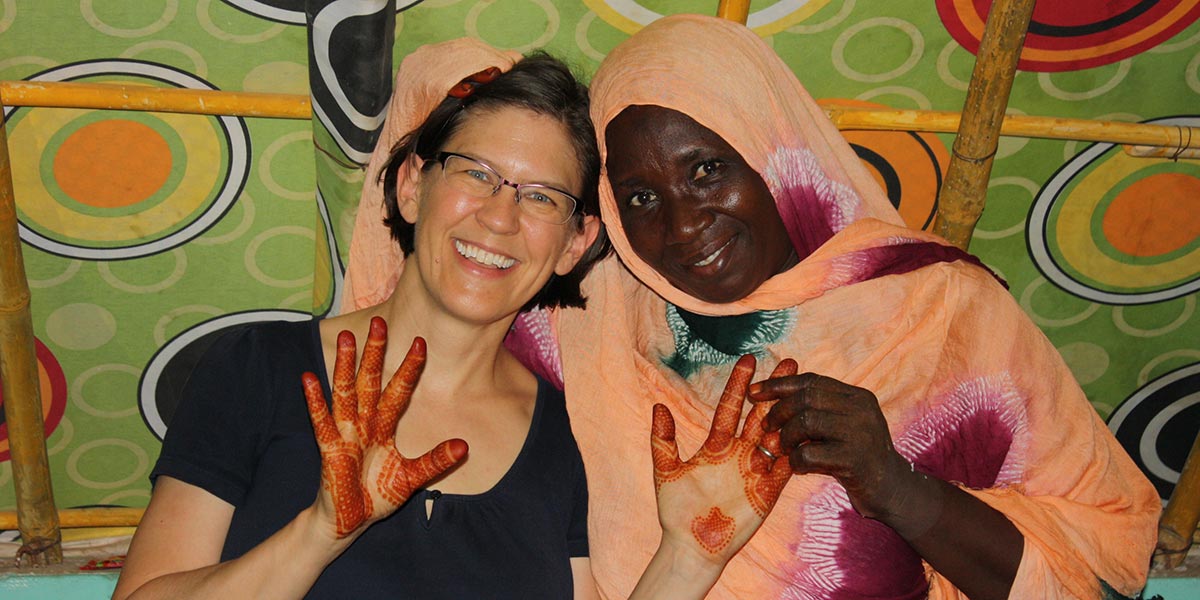 These days, Wiley's research is finding a number of different audiences. Since the book's release last fall, Wiley has spoken at the World Affairs Council of Tacoma and participated in a panel discussion on her work with other PLU faculty.
For anthropologists and scholars of slavery, the book expands the research on Haratine people beyond a focus on major public figures, by showing how women are transforming their status in their everyday lives. Wiley also hopes non-governmental organizations and people working in Mauritania might benefit from its nuanced understanding of Haratine diversity.
For general readers, the book portrays Muslim women who refute prevalent stereotypes. Just like Christianity, Islam takes a variety of forms, Wiley points out. Haratine women, whose lives are defined by much more than religion, often find Islam empowering. "It supports their economic endeavors," Wiley said. "In Islam, a woman controls her own money."
"They are smart, savvy, bold, outspoken, entrepreneurial," she said, "the funniest women I've ever met." An entire chapter is dedicated to their jokes, which, Wiley argues, air views that might otherwise be hard to speak publicly. In the market — "a de facto women's space" — they can joke loudly enough that others have to listen.
And they are seriously funny, she added. "I often left the market with my cheeks hurting from laughing," she said,
Living among these women just after college, as the 9/11 attacks gave way to US wars in Afghanistan and Iraq, transformed Wiley's understanding of the world and of US power. When she returned as a graduate student, and again as a professor, she'd changed a lot.
These days, she directs Peace Corps Prep, an undergraduate certificate program. In 2019, PLU made the Peace Corps' list of top volunteer-producing colleges and universities — the fifth highest among smaller schools — but the program serves students pursuing a wide range of post-graduate opportunities in service.
Along with her colleagues Ami Shah and Giovanna Urdangarain, Wiley also recently participated in a fascinating podcast hosted by Angie Hambrick, associate vice president of diversity, justice and sustainability, on the ethical and practical complexities of service abroad. "I hope our students will be better prepared than I was for international service," she reflected.
Kankossa has changed a lot, too. It was largely off the grid on Wiley's first visit, but when she returned she found running water, cellphones, and everyone watching TV — movies from Bollywood, China, and Turkey, international soccer matches, and news from around the world.
These days, Wiley can exchange smart phone photos and text messages with the children of the women she first met. Last year, when she had a child, she says, her former host mother replied, "When are you having another?"
"I can never make you happy!" Wiley joked, with an ease that bespeaks years of shared laughter.