B
y her own admission, Samantha Potter '14 used to be a dress-every-day "girly girl," but for the last four years, she's probably worn more sports uniforms than anything else.
Potter is a double athlete at Pacific Lutheran University, where she competes on the women's basketball team and the track team.
"It makes for a busy year," Potter said, perhaps understatedly.
It's also been an especially successful year. On May 24, Potter missed Commencement to wrap up her PLU career by competing in the NCAA Division III Track & Field National Championship at Ohio Wesleyan. Heading into the competition, Potter ranked ninth in the nation in the discus (she also ranked 21st in the shotput but did not qualify in that event). At Nationals, Potter moved up one spot from her 2013 15th-place finish in the discus to take 14th.
As for basketball, this season the PLU women beat two Division II schools for the first time in Potter's career.
No wonder, then, that Potter received the Lute Career Athletic Achievement Award at the 44th Annual PLU Athletics Awards Dessert on May 4.
Potter grew into her athleticism naturally—her dad is a football coach, and her uncle coaches boys' basketball at a school in her hometown of Portland, Ore.
"Competitive juices run in the family," Potter said. "Sports became a bigger deal as I got older."
Potter picked up basketball in fifth grade but didn't begin track until her teens.
"In high school, it was for more of a social aspect," Potter said. "But I have gotten more competitive with it and have taken it to a higher level."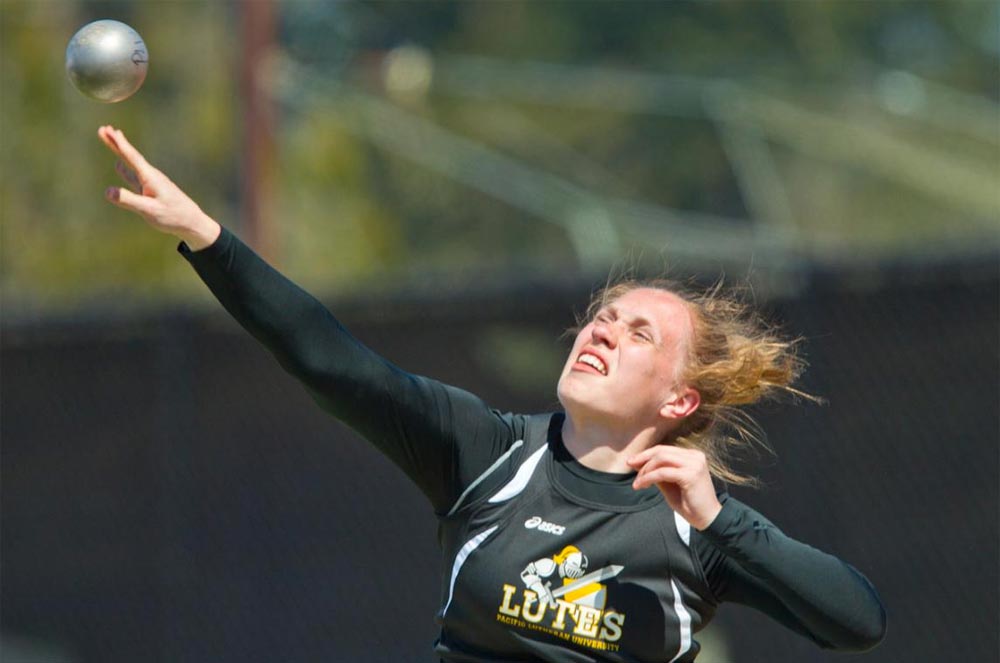 And that she has. During her junior year of track, Potter scored the most points for a female, earning the title of team MVP and a spot at Nationals. She also won Conference in discus the last two years and second in shotput her junior year.
Potter's top basketball highlight came this season, her last on the team: A new coach came on board and changed the program, Potter said, and the PLU women beat two Division II schools for the first time in Potter's career.
"Being part of a turning point in the program was great, and I cherish it," Potter said.
Potter, a Financial Math major and a Statistics minor, says her dual athletic demands actually help her manage her packed life.
"It is definitely a balancing act, but I think sports keeps my schedule more structured and helps even though I am more busy," Potter said.
During the summer off-season (for sports and studies), Potter worked as an intern at Liberty Mutual and will begin a full-time job at the Seattle insurance company upon graduation.
It's a job that could signal a return of the dress—and maybe even some professional accessories.
"I am excited to take that next step and put my big-girl shoes on," Potter said. "These last four years have really shaped me into who I am today and who I will be. I am so thankful, and PLU was the perfect fit. I couldn't have made a better decision."