And One, Adam Utley '04, Performed at TEDxTacoma
Drastic budget cuts have wreaked havoc on arts programs in schools across the nation. But in Tacoma, a collection of passionate people at the Broadway Center for the Performing Arts has come together to keep the performing arts alive and well.
Five of these passionate people are Lutes: Associate Director of Events Leilani Balais '99, Education and Events Associate Adam Utley '04, Marketing Coordinator Mariesa Bus '06, Marketing Manager Jared Wigert '07 and Assistant Educational Manager April Nyquist '09.
The Broadway Center oversees the Pantages Theater, Rialto Theater and Theatre on the Square and is widely known for presenting world-class performing artists and providing one of the largest performing-arts education programs in the state, serving 51,000 students, parents and teachers annually in the South Sound.
It also hosted TEDxTacoma, held Feb. 28 at Theatre on the Square—where Utley and his Lute-laden improv group, Muh Grog Zoo, performed.
From PLU to the Broadway Center to TEDxTacoma, it's all come together for Utley like, well, a carefully crafted script—complete with a couple of fateful plot turns.
At PLU, Utley studied Theater and spent a good deal of time with the Music program.
"My education in the undergrad program and the things that I was involved with … made me realize that music and theater and the arts aren't just a hobby; they aren't just something you do for fun to entertain people," said Utley. "They made me love the ability to connect with people on a much deeper level."
Nyquist, who earned her BFA at PLU in Three Dimensional Media with an emphasis in Sculpture, had a similar experience. She said her undergraduate experience at PLU greatly influenced the pursuit of her dreams through the Broadway Center.
"PLU definitely sets people up to be those mindful and vocation-driven people," she said.
After Utley graduated, he decided to pursue graduate school in Theater but was not accepted. Taking that in stride, Utley worked as a cook, but never forgot his goals.
"I was very determined to still work in the theater," Utley said.
Around this time, he began doing short-form improvisational theater, which inspired Utley to take action and do what he loved.
"I sold my car and basically started my own masters program in improv theater," he said.
Utley went from school to school, doing anything he could to get into the education system and discover how to implement improv teaching into curricula.
After a while, though, Utley was running out of money and needed to adjust his plans.
In 2007, he returned to PLU and started the improv program the university has today.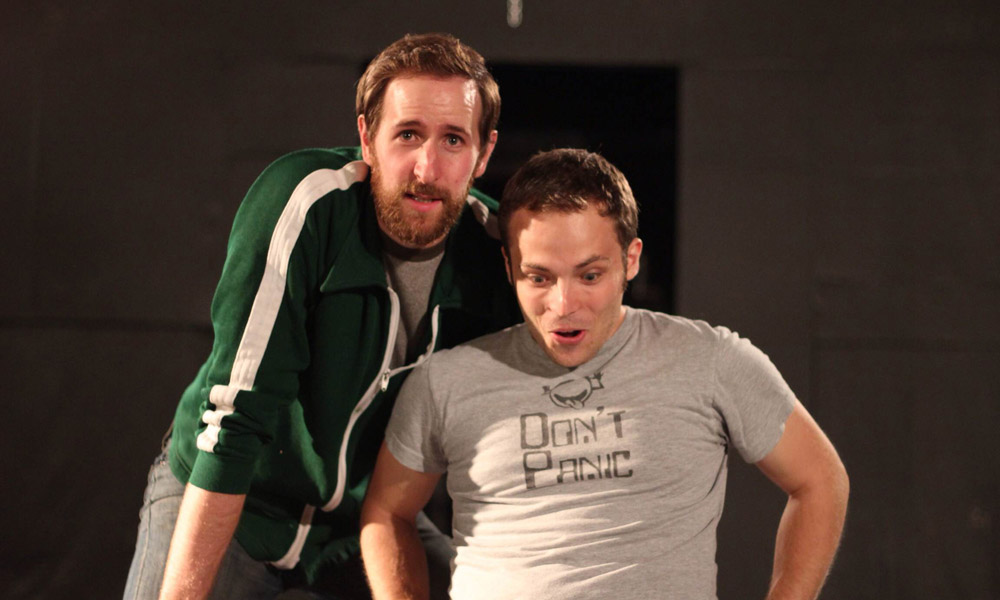 "That was something I wanted to give back to PLU because they didn't have it," he said.
Gaining ground from his volunteer work at PLU, Utley initially was hired as a Teaching Artist with the Broadway Center. (He's since been promoted.)
Utley considers the Broadway Center the heart of the arts in Tacoma. With programs in so many schools, it helps supplement kids' educations with the art that often has been cut.
Utley's primary teaching focus is Improvisational Theater, primarily working with his students on "the improvisational mindset."
"It's the complete acceptance of your own spontaneity, while committing to utilize everyone's everlasting brilliant ideas," Utley said.
Operating under the motto, "Yay for failing!" Utley works with his students to fully embrace this concept.
"I'm a strong believer in, 'If you understand what it means to fail, in conjunction with your self education, you can take the pressure off yourself and your experiences will get richer,'" said Utley. "Every time you fail, you learn."
Utley hones his improvisational skills as part of the four-man group Muh Grog Zoo, while working full-time for the Broadway Center. Group members Paul Richter and Dylan Twiner also graduated from PLU, both in 2010, while fourth member Sam Duchin graduated from Bowdoin College in 2010. They all met during Utley's volunteer days and have been performing together since 2010.
As part of Muh Grog Zoo, Utley's artistic goal is, "to keep doing shows and keep pushing boundaries of what improvisational theater can do, for the connection between not only ourselves and the audience, but also people's perceptions of life in general."
At TEDxTacoma, the group gave a 15-minute educational talk and improv performance around the theme of the event, which was, perfectly, connectivity.
"We are thriving in our ability to build on those human emotions to create a pretty incredible connection with not only ourselves, but also with our audience," Utley said. "We believe that audiences are incredibly smart, and they are looking for that kind of connection when they go to the theater."