It's A Great Day To Be A Lute.
Hall of Fame tennis coach Mike Benson – the man who coined the phrase "It's a GREAT day to be a Lute!" – passed away Nov. 17. He was 68.
Benson coached the PLU men's tennis program for 30 years, winning at least a share of 24 Northwest Conference championships and appearing in 20 NAIA National Tournaments during that stretch. He compiled a 400-196 record, and he added 90 wins during six seasons as head coach of the Lute women's team. That on-court success, however, was secondary to the impact he had off the court.
"Mike was a guy who didn't coach the X's and O's as much as he coached the person, and that really at the end of the day is what made him successful," said former women's tennis coach Rusty Carlson, who played for Benson in the 1980s. "You knew he cared about you. A lot of that translated into wins, but that's not because that's what he was after. He was after your character and your heart."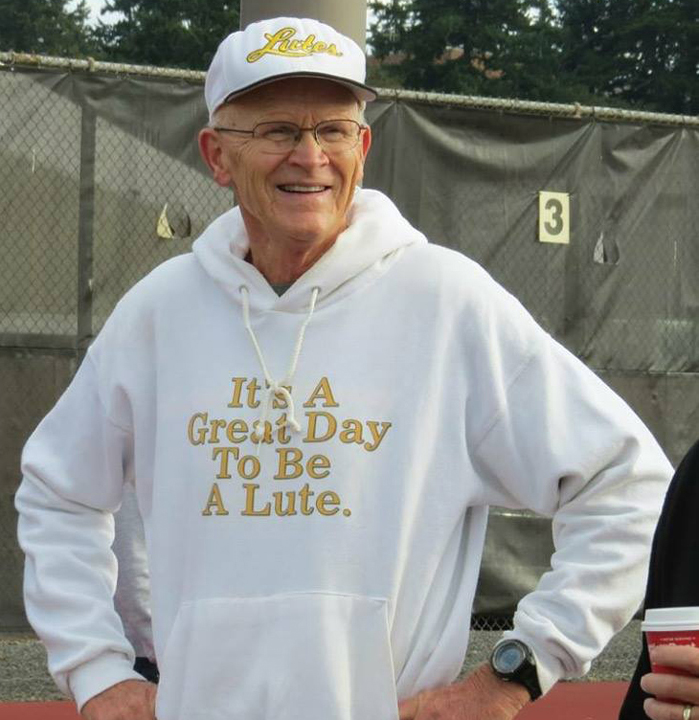 Benson was born March 12, 1947, in Miles City, Mont. He grew up in LaGrande, Ore., Yakima and Spokane. He came to PLU in 1965 as a men's tennis player and helped win the 1967 district doubles championship. Benson took over the program in 1970, and his team first won a conference title in 1972, which sparked a string of 14 titles in 15 seasons. The Lutes did not lose a conference match from 1974 through 1985, winning 60 consecutive matches. His team would repeat that feat by not losing a match between 1992 and 1998.
"He was always more excited about the success of other people than himself," said Craig Hamilton, fellow PLU Hall of Fame tennis player and coach. "He was very authentic. He was real. He loved to win, but he was a gracious winner and a gracious loser. And he was also a wonderful, Godly husband, father and grandfather."