Every summer, PLU men's basketball coach Steve Dickerson assigns his team a book to read – usually something sports-related and always one that provides a literary lesson that instills the power of collective responsibility and embracing the grind. If there is a history lesson woven into the book, it's a slam-dunk pick for Dickerson.
This year his team read The Boys in the Boat, an award-winning book by Daniel James Brown that tells the story of an underdog U.S. Men's Olympic rowing team from the University of Washington whose hard work and determination helped team members capture gold and worldwide admiration during Hitler's 1936 Berlin Games.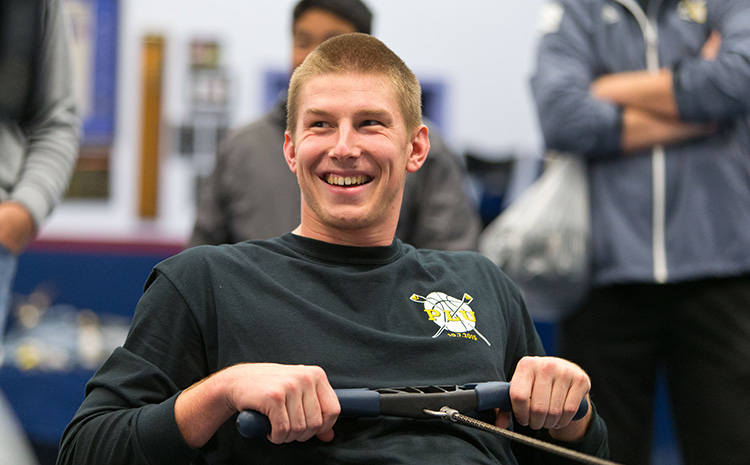 After his team read the book, Dickerson took this year's reading assignment to another level. Instead of simply giving his team a quiz on what they had read, Dickerson teamed up with PLU women's rowing coach Andy Foltz to bring the book to life by getting the basketball team on the water. The collaboration created a ripple effect far beyond the waves that formed that morning the players' blades cut through American Lake – especially for senior basketball player Bryce Miller.
Miller proudly sported a 1980s PLU women's crew jacket, the bottom of which grazed his bellybutton thanks to his 6-foot-6-inch frame. Inside the jacket was the name Connie Eliason, Miller's mom. Miller had been by her side when she beat breast cancer when he was 5. Then, when he was 8, leukemia took his mother away. Connie was 37 when she died, a beloved elementary school principal, wife, daughter and mother of two. Now on this cold October morning, her son says he felt like she was there.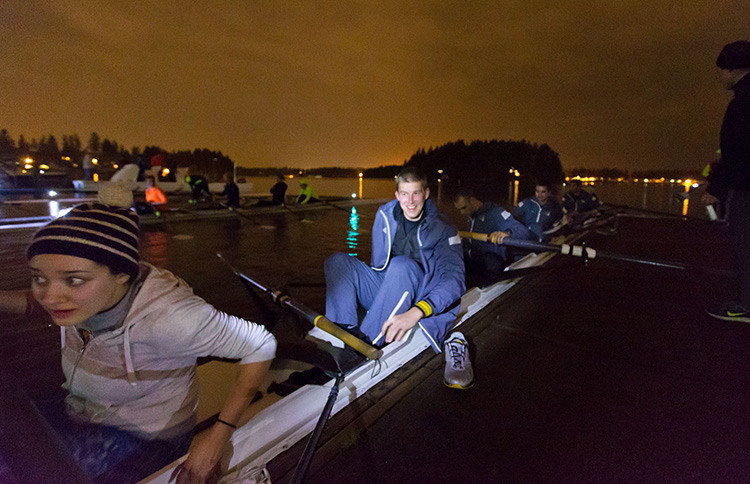 "I know she was smiling down on me like she always did," Miller said. "But I won't lie to you, when I first got in the boat I was worried about staying dry … but then when we finally got our swing … I (thought), 'I would do anything to be rowing with her.'"
Miller's parents met decades ago at Washington High School in Tacoma. His dad, Mark Miller, played basketball and football at PLU from 1984-1988 and his mom graduated from PLU in 1986. Getting up early in the morning for crew perked Connie up more than the strongest cup of coffee ever could, said Bryce's grandmother, Camille Eliason, who's also now reading The Boys in the Boat.
"She was just tickled, even though her hands looked like hamburger, she would still be up at 4:30 at American Lake and loved every minute of it," Eliason said. It takes drive and discipline to be a rower. It's taxing mentally and physically. Eliason sees her daughter's drive in both Bryce and his younger sister, Marissa, who is a sophomore at PLU and also on the softball team.
Coach Foltz said rowing teaches resilience, toughness and a drive to be part of something bigger. He believes everyone can learn something from the sport – from kids on the court to employees in the boardroom.
"You have to work together. If you're not all on the same page, the boat won't move forward," Foltz said. "That's the truth. You get out in the middle of the lake, and if you are struggling to move together, you have to fix it. Because if you don't, you're not going to get back to the dock."
Before the basketball team took to the water, the women helped familiarize them with the equipment, and they all carried it from the boathouse to the dock. They talked about safety. They also practiced strokes on rowing machines first. The screens on the workout machines showed how fast they were going.
"I said, 'Guys. What you're pulling now is about what we do when we're resting,' " Foltz said. The women train about 19 weeks during the academic year. The rest of the time they work out on their own – the rowing machines are where they push their bodies. They showed the men how to row with a purpose, incorporating their legs, backs and cores into every move along with their arms.
"Every time you put that blade into the water you have to make the decision that you are going to push yourself," Foltz said, adding that when you are on the water there are no breaks while paddling.
Miller said the entire experience was both intense and amazing – and it gave him a better understanding of his mom. If he rows again, he'll also have pain relievers ready. "I was sore!"
The timing of this particular assignment could not have been more serendipitous. As Miller was reading the book this summer, his dad and his stepmom, Chelle, were getting ready to move into their new house. That's when Miller saw the box with the words "PLU memorabilia" on it and found his mom's crew jacket at the bottom. "When I tried it on, my sister and dad got a laugh," Miller said.
When he learned the team was going out on the boat, he knew he had to wear it. The jacket's arms were "surprisingly comfortable," he said. As dawn turned to day, the old-school jacket got quite a bit of attention and questions.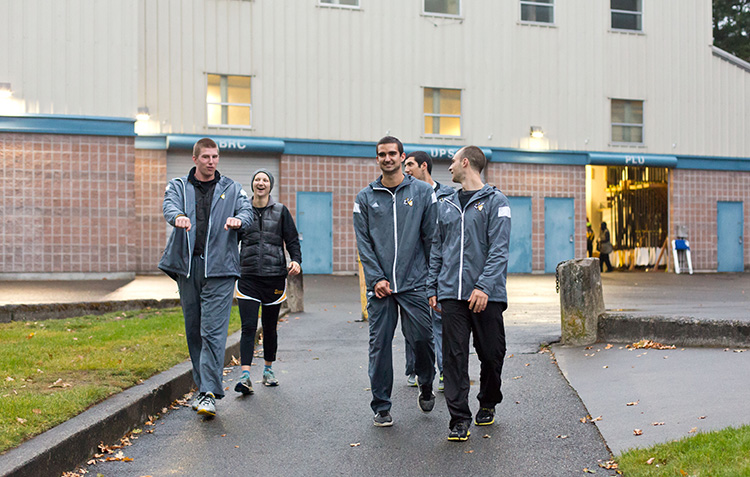 "I had no idea that his mom rowed at PLU. Life has a funny way of taking all kinds of twists and turns," Dickerson said. "That was one of the cool parts about this whole story. That he was able to get in the boat and wear his mom's jacket, it just worked out above and beyond anything I had thought."
Miller and his entire team now have a new appreciation for the women's rowing team, and Coach Dickerson's assignment continues to unfold in other ways, too.
Legend has it that the boat used by the inspirational subjects of The Boys in the Boat was on loan to PLU for many years, and used on American Lake until it was returned in the 1990s, Dickerson said. Coaches are starting to call to learn more about this cross-training/book reading assignment and are considering doing something similar. The women's rowing team is supporting the men's basketball team and vice versa.
And by happenstance, with every flip of a page and row of an oar, the bond between mother and son and team strengthened. Those ripples now have turned into full circles.
View more photos of the men's basketball team