Marketing and Communications

Kari Plog '11, senior editor
Kari returned to PLU in January 2016. She previously spent five years working in nearly every corner of the newsroom at The News Tribune in Tacoma. Her experience spanned from sports and news copy editing and pagination to local government, communities and breaking news reporting.
In addition, Kari's investigative stories earned her multiple awards, including New Journalist of the Year in June 2015.
During her time at PLU, the 2011 graduate also contributed to many media and leadership organizations on campus, including The Mooring Mast and MediaLab.
Kari also works part-time as an adjunct faculty member at the University of Puget Sound advising the student newspaper, The Trail.

Rustin Dwyer, videographer
Rustin Dwyer joined the Marketing and Communications department in December 2014 in a desperate bid to avoid another bitter winter in New York City. He spent his last eight years there working as the staff videographer at The New York Botanical Garden in the Bronx. He has also worked with Disney, ESPN and the International Federation of Competitive Eating.

John Froschauer, photographer
John will soon hit his sixth year at PLU. Prior to his time at the university, he spent 15 years working for himself with a main client, Associated Press and APImages, but also worked with regional and international news outlets along with corporate clients.
Way back when — in 1977 — John graduated from Ohio University with a B.F.A. in photography and an emphasis on photojournalism. John mostly spent his working life as a photojournalist with newspapers or news agencies.

Zach Powers '10, media and content manager
A proud graduate of PLU '10, Zach previously served as the director of marketing and communications for The Grand Cinema and Tacoma Film Festival, managed political campaigns for State Senator Jeannie Darneille and State Representative Jake Fey, worked as a legislative aide in the Office of State Senator Christine Rolfes and contributed as a freelance journalist to the Weekly Volcano, Tacoma Weekly, South Sound Magazine and Anchorage Daily News.
Zach is also an active volunteer in Tacoma's advocacy and arts communities, currently serving as chair of the Metro Parks Tacoma Culture & Heritage Advisory Council, on the Broadway Center for the Performing Arts Programming Committee, and formerly on the Tacoma Art Commission.

Simon Sung, executive creative director
Simon Sung graduated in 1990 from the University of Washington. During his tenure in the design field he has worked for various clients including Simon and Schuster, Random House, Crown, Disney, Chronicle Books, Starbucks and the National Baseball Hall of Fame in Cooperstown.

Lace M. Smith, executive director of content development
Lace is responsible for curating adaptive and sharable content on PLU social media. Starting in PLU's Student Involvement and Leadership in 2005, Lace has a rooted background in connecting technology, marketing and communications with the concepts of student development.
Lace has been a facilitator for the Student Social Justice Training Institute, at multiple queer student leadership retreats and has presented at both National Association of Student Personnel Administrators conference and NASPAtech.

Donna L. Gibbs, vice president of marketing and communications
Gibbs most recently served as managing director, and helped establish the west coast operations, of Bluetext, a Washington, D.C.-based digital marketing and strategic communications firm that counts among its clients Google, Adobe, Cisco and Intel. Before joining Bluetext, Gibbs lived and worked in Malta and Barcelona, Spain, where she served as chief marketing officer for emerging mobile media companies.
Prior to moving abroad, Gibbs served as senior vice president for consumer marketing and ecommerce at PlanetOut, a leading media and entertainment company based in San Francisco. She also helped lead the company to a successful IPO in 2004.
Earlier, Gibbs was executive vice president at The Weber Group (later Weber Shandwick Worldwide), where she managed six offices and participated in managing key enterprise accounts including Adobe and Gateway Computer.
Gibbs has also served as vice president of corporate communications at Nike, where she was chief communications strategist and spokesperson on a wide range of issues including regulatory concerns, production sourcing and labor practices, mergers and acquisitions and financial performance during one of Nike's most rapid periods of global expansion.
Prior to Nike, Gibbs was director of public relations at Mattel, Inc., where she was a member of an integrated brand marketing team devoted to reaching the billion-dollar milestone for Barbie worldwide sales. Gibbs began her corporate career at Apple as a public relations manager.
Gibbs graduated with a bachelor's degree in communications arts and sciences from Michigan State University. Gibbs and her husband live in Gig Harbor with her spoiled standard poodle. She is a longtime volunteer for Meals on Wheels and National Public Radio.

Chris Albert, director of web development
Chris currently leads our web team in planning, designing, developing and implementing the PLU website. He started at PLU in 2008 as a content development specialist creating different ways to tell the PLU story. Before that he spent more than two years as a reporter at the Pierce County Herald, covering Bonney Lake and Puyallup.

Logan Seelye, senior web designer
Logan graduated from Central Washington University in 2009 and did freelance work for several years. He started working at PLU in 2012. Since then, he's been responsible for completely redesigning the university's website, and was a huge contributor ahead of an award for outstanding design and functionality in 2015. He is also the author of the book, 10 and 90: The Tackle That Changed Everything, and an inspirational speaker. He is on a mission to share his story and positive attitude after a spinal cord injury in high school left him in a wheelchair and derailed his dreams of playing professional football.
When he's not designing, writing or speaking, Logan enjoys going to the gym and relaxing at home with his wife, daughter and dog. They currently reside in the beautiful Pacific Northwest, and are lifelong Seattle Seahawks fans.

Sam O'Hara, visual/UX designer
Sam O'Hara graduated in 2003 from Western Washington University. She is currently pursuing her MBA at PLU, and has worked for past clients including Disney, Nickelodeon and McDonalds, and was Stephanie Anne Johnson's manager and publicist during her time on The Voice.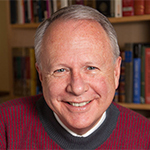 Samuel Torvend, Ph.D.
Samuel Torvend, Ph.D., is professor of the history of Christianity and currently serves as the university chair in Lutheran studies. As a historian of Christianity, his research focuses on the history of religious responses to poverty and food insecurity. He also teaches courses on religious art and architecture and their role in reforming movements. Among his published works are Luther and the Hungry Poor: Gathered Fragments.

Kevin J. O'Brien
Kevin teaches courses in Christian ecological ethics, religion and environment. He also teaches comparative ethics and Christian ethics in the religion department. His research focuses on the interconnections between religious faith and social justice, human ethics and environmental concerns, scientific data and moral commitments.

Lisa Patterson '98
Lisa Patterson is the editor in chief of South Sound magazine and 425 magazine, both regional, award-winning lifestyle publications. She graduated from Pacific Lutheran University in 1998, and enjoys coming back to campus to talk to students about media-related topics.
Kevin Knodell '11
Kevin is a freelance multimedia journalist and comic writer. He's currently a senior contributor at the digital military affairs publication War Is Boring. He was the editor for WIB's Iraq field coverage from 2014-15. His work has also appeared in Vice, The Week, Soldier of Fortune, The News Tribune, The Fort Lewis Ranger, DiscoverParkland.com and others. As a member of PLU's class of 2011 he was active in student media, where he was a photo editor at The Mooring Mast, a volunteer multimedia specialist for PLU ROTC and the assistant media officer for the PLU Student Veterans Association.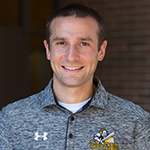 Mark Albanese
Mark joined the PLU athletic department in 2016, escaping the grueling winters of the upper Midwest. Part owner of the Green Bay Packers, Mark spent four years living on the frozen tundra as the assistant athletic director at the University of Wisconsin-Parkside while also working stints in athletic departments at North Central College (Illinois) and Edgewood College (Wisconsin).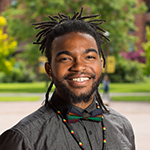 Jonathan Adams
Jonathan is a 2016 graduate from PLU and is currently working toward his Master of Social Work at the University of Southern California. During Jonathan's time at PLU, he worked to establish a late-night program for Parkland youth with the Center for Community Engagement and Service, held multiple positions in Residential Life, participated in student activism and spent two years as a dance choreographer with dance ensemble.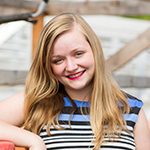 Natalie DeFord
Natalie is a recent PLU graduate on the hunt for journalism jobs. She double majored in communication and German, with a minor in Holocaust and genocide studies. While at PLU, she interned for The Olympian, KPLU, The News Tribune and Premier Media Group. She also worked extensively with student media and MediaLab, where she edited an award-winning documentary about higher education in America titled "These Four Years." She loves cats, science fiction and a good cup of coffee.