Students, faculty, staff and alumni share experiences, offer insight on improving sense of belonging for all
Josh Wallace '19 already knew that growing up black meant his life experience was strikingly different than that of his white roommate.
And Wallace also knew that both Pacific Lutheran University students likely viewed the narrative behind recent cases of police brutality differently, as a result. He used their conversation about the nation's racially charged incidents as a teaching moment for his roommate, who Wallace says never needed to think about how their upbringings contrast.
"We're taught two different things when we're growing up," Wallace recalled explaining to his friend, who he fondly calls "the best guy." As a white kid, he said, his roommate never needed a talk from his parents about interacting with police officers. "I had to have a special conversation."
For people of color, Wallace stressed, reaching for vehicle registration during a traffic stop isn't just a silent, standard procedure — it's a carefully calculated process that involves telling the officer every move you plan to make.
"We have to do these special things to make sure our lives aren't in danger, that our lives aren't at risk," Wallace explained at the time. "And sometimes it doesn't matter what you do."
Wallace believes his roommate took the new-found perspective to heart. He credits it to a practice that is often taken for granted — listening.
"Listening and hearing are two totally different things," Wallace said. "Hearing, you're talking to me."
But listening, he said, is processing that information. And doing something with it.
Conscious listening often means being uncomfortable. It means struggling to set aside biases and being open to the opportunity to learn something.
Listening is active, says Tolu Taiwo, outreach and prevention coordinator for PLU's Center for Gender Equity. It's about asking questions and reflecting back, she said.
"Listening isn't just a one-and-done process," Taiwo said. "There's something really powerful about being able to tell your story. It makes you more human. Often times, we don't allow people to do that."
Amid divisive, vitriolic rhetoric that is poisoning public discourse in recent months, PLU is launching an institution-wide educational campaign to promote active listening in academic spaces and beyond. The university's primary goal for this academic year, to be carried throughout the years that follow, is to move PLU's campus from a place of welcoming to a true place of belonging for students of all backgrounds.
PLU strives to be a place where people of color, people of all sexual and gender identities, people of all faiths, no faith and more feel a sense of belonging. Honest introspection is vital to achieve this goal.
In a rare public acknowledgment of institutional oppression, Hillary Clinton recently called for that sense of belonging on a national scale.
When Clinton made history and became the first woman to formally accept a presidential nomination for a major party, she underscored how to mend the dire state of this nation: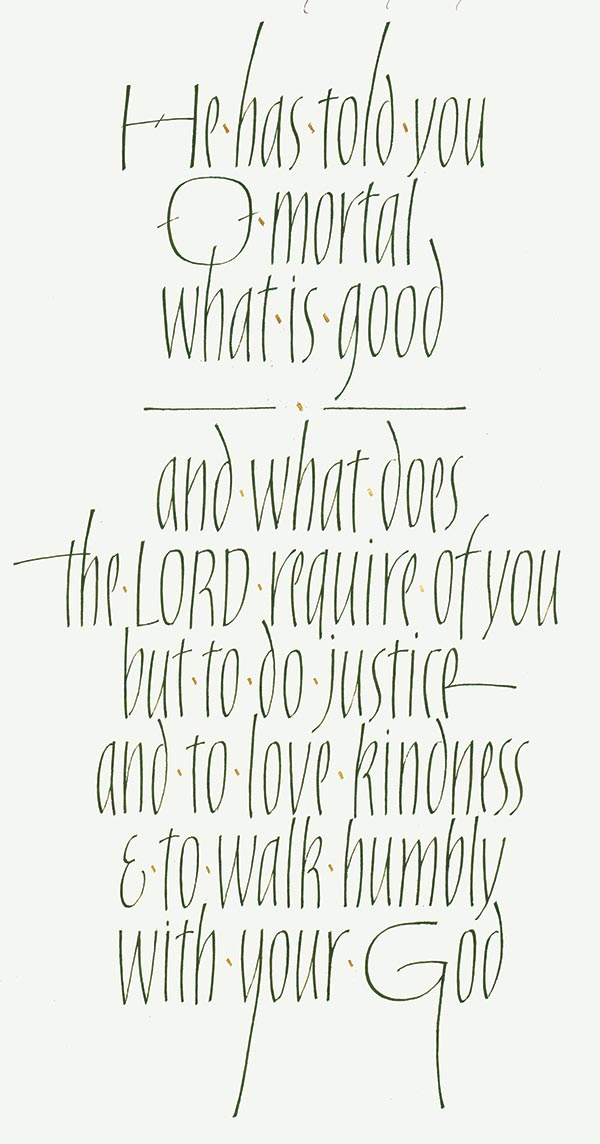 "I refuse to believe we can't find common ground here. We have to heal the divides in our country. Not just on guns. But on race. Immigration. And more. That starts with listening to each other. Hearing each other. Trying, as best we can, to walk in each other's shoes. So let's put ourselves in the shoes of young black and Latino men and women who face the effects of systemic racism, and are made to feel like their lives are disposable."
Clinton's words echo the goal of PLU's Listen campaign — confronting the important question, "what happens after laying out the welcome mat?"
CREATING A SENSE OF BELONGING
The difference between welcoming and belonging is distinct. It's the difference between being invited into someone's home and feeling comfortable enough to walk into the kitchen and pour a glass of water, in the words of Rose McKenney, PLU's chair of geosciences.
Wallace said welcoming invites students to come to campus. Belonging means checking up on students after they're invited to come to campus.
"PLU could do a little bit more outreach," Wallace said. "PLU could have staff and faculty check up on students a little bit more often."
Belonging is about all students from all walks of life feeling ownership over their spaces on campus, said Angie Hambrick, PLU's assistant vice president for diversity, justice and sustainability.
She said students of color at PLU are "hypervisible" and sometimes they want and need to be in a space where they are like everyone else. It's how they recharge, she added, in order to bear some of the big questions about social justice that they have no choice but to confront on a daily basis.
PLU is having an ongoing conversation about trying to create more of these spaces, Hambrick said. In addition, Taiwo said PLU must hire more staff and faculty of color who understand students' struggles.
"To truly feel that I belong or students belong, it isn't just welcome to PLU," she said. "It is 'welcome, we've carved a space for you.'"
Kiana Norman-Slack '17 echoed Taiwo, stressing that PLU must have professors who can facilitate discussions about race in the classroom.
"Multicultural sensitivity is a big thing to possess as faculty," Norman-Slack said. "PLU is predominantly white, so it's harder to have these discussions when there's only one or a few people of color in the classroom."
Jes Takla, director of residential programs, said it's important to use students' first names to build a sense of belonging. Authentic listening must be the goal.
"Listening is the act of receiving the information with an open heart, open ears and an open perspective," she said. "Being heard is the acknowledgment that comes back."
FACING MICROAGGRESSIONS
Many people from diverse backgrounds at PLU recognize the systemic challenges that minority groups face in society and on the university's campus. They also recognize the need for change.
Confronting microaggressions remains a primary challenge. Microaggressions are subtle, often unintentional, comments or actions directed at a minority or marginalized group that may cause offense or reinforce harmful stereotypes. Some examples from the mouths of PLU students, faculty and staff include:
"You're pretty for a black woman."
"You don't look or sound Hispanic."
"You look like a girl."
"What are you?"
Wallace says he always reminds himself that microaggressions aren't intentional.
"When I respond to microaggressions, I try to educate," he said. "A lot of times, people aren't trying to send microaggressions on purpose."
Still, the impact is there, Hambrick says. She describes microaggressions as "death by 1,000 papercuts."
"The intent doesn't diminish the impact," she said.
Hambrick said microaggressions exist in all spaces on PLU's campus, just as they do in all spaces off campus, most prominently around race and gender identity. For example, the refusal to use preferred pronouns when talking to transgender students.
The silver lining at PLU is the university's commitment to caring for others, Hambrick said.
PLU has always touted a mission of inclusion; the next step is making real progress toward modeling the type of inclusion it describes in its mission, Hambrick said. In other words, moving from a campus that welcomes diversity to a campus that creates an authentic sense of belonging for all students, regardless of race, religion, sexual orientation or gender identity.
Tyler Dobies '16 said it is difficult to face microaggressions every day. As a person of color at PLU, Dobies felt as though he had to raise his hand to be heard in class discussions, despite fellow white students "speaking out of turn, half raising their hands or interrupting people."
"That's not to say they're rude people," Dobies said. "But I think that they've grown up with the idea that everyone who speaks will be heard, but that everyone does not include everyone. It only includes a certain group of people."
While it made college more challenging, Dobies says he tried to avoid letting it dictate his student experience.
"I don't go home after class and mope. Not because I don't feel bad," he said. "I have to set aside those feelings so I can continue to learn and grow."
Still, Dobies said people must not remain silent and allow microaggressions to continue.
"If we don't take the time to educate," he said, "it won't necessarily get better."
Hambrick said the university is trying to take proactive steps to get ahead of national conversations surrounding social justice. That shift in philosophy creates an intentional, proactive approach to improving students' sense of belonging, particularly those who have felt marginalized in the past.
"It's not something we're whispering about anymore," Hambrick said.
Widespread participation is key, Hambrick added. Issues of inequity, such as the use of microaggressions, aren't just for marginalized people to bear. Privileged people created systems of injustice, she stressed, and therefore they need to be actively involved in tearing them down.
"The default is always for people of color to solve the problems," Hambrick said. "We didn't create this system of privilege."
In order for people from all backgrounds to work in coalition to dismantle institutional inequities, people must not fear their privilege, she said. Too often people are scared of saying or doing the wrong thing, she said, so they don't speak out at all.
Hambrick said that must change. "All I care about is that the effort is there," she said. "The learning will come. This work is hard and it's messy."
Wallace welcomes the messiness. He says if the learning feels forced one day, he saves the conversation for another day.
"I don't like to give up on people and I don't like to give up on things," Wallace said. "It all goes back to listening. Growth requires you to listen."
Jonathan Adams '16 has worked hard to help improve the university's approach to inclusion. Among other efforts, he was heavily involved with a video project as part of the Listen campaign, documenting people's raw feelings about confronting microaggressions and how to overcome them.
Adams said this campaign is PLU's chance to get it right.
"This is it," he said. "Nobody's asking for perfection. It's asking for active acknowledgment. We need to actualize our 'now what?'"