LUTHERAN HIGHER EDUCATION
Service
Kristina Walker '02 first discovered the wonders of Copenhagen — its dedication to sustainability, manifested in hundreds of kilometers of bike routes —when she was a PLU study-away student.
"They have the best bike network in the world," she said of Denmark's capital city, where cycling is part of the culture. During commute times, Copenhagen's bike lanes can fill up as quickly as vehicle lanes in other cities.
When she returned to Denmark in 2018, it was as executive director of Downtown on the Go, a nonprofit organization that advocates for transportation alternatives in and around the heart of Tacoma.
Walker and other regional leaders, including Tacoma Mayor Victoria Woodards, visited Copenhagen to glean ideas for innovative transportation projects, such as the planned Tahoma to Tacoma Trail Network. The region-wide system would connect communities from Mount Rainier National Park to Commencement Bay.
Some segments of the trail already exist, but more investment is needed to create the kind of network Walker dreams about.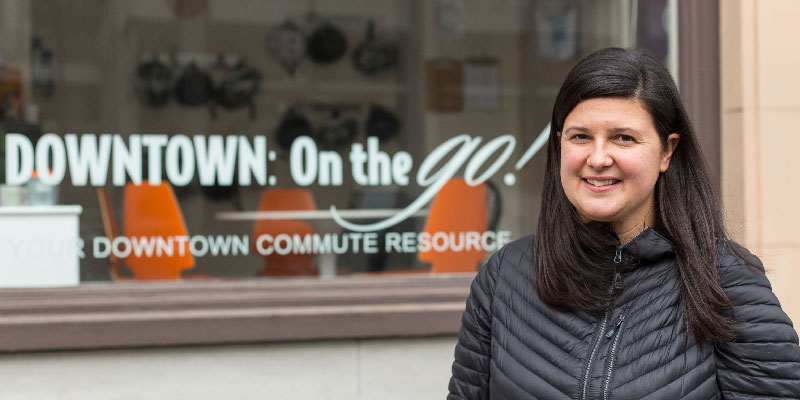 She and others want it to function as an actual transportation system — offering alternatives like biking or safe walking routes to people who don't have access to a car or who want to leave their vehicles at home.
Walker is a passionate advocate for transportation and expanded mobility options.
"Transportation underlies everything," she said. Those who can afford a car may not give it much thought. But without reliable and affordable transportation, people lack economic opportunity.
Considering the needs of others was a concept ingrained in Walker when she was growing up in the small town of St. Peter, Minnesota.
"Part of my experience that was so formative was my parents," she said. "They live life to give back to the community."
The philosophy is part of what drew her to study at PLU.
"There were so many opportunities to give back," she recalled. "There was a culture of getting out and getting to know the community. That's part of why I loved it there."
Walker sees college campuses like PLU setting the "gold standard" in car-free living for resident students.
"You live close to where you work and you live close to where you go to school," she said.
Her first time on the Pierce Transit Route 1 bus, which links the PLU campus area with downtown Tacoma, was a big-city adventure for a small-town girl. But she figured things out, and today her work helps others do the same.
She's convinced that building a bike and transit network to benefit the larger Pierce County community will also help students.
At PLU, Walker majored in communications and minored in music, playing flute in the University Symphony Orchestra. Her first job after graduation was with Symphony Tacoma, where she worked on everything from ticketing to marketing.
She and her husband decided they wanted to live abroad, so they earned certificates in teaching English as a foreign language and moved to Prague, in the Czech Republic, where they taught. The Czech capital is also renowned for its transit system.
Neither Walker's experience as a student in Copenhagen nor her time teaching in Prague were designed as formal studies of transportation.
Instead, she lived it.
"My study abroad experience was really fundamental," Walker said. "It was experiential. I wasn't there to study biking."
But when she moved in with a Danish family, they provided a bike. She took the train or a bike everywhere.
"It's part of what you do there," she said.
Prague also boasts "an amazing transit system," Walker said.
She brought both her European experiences to her work with Downtown on the Go. Walker joined the organization in 2011, and she oversaw its transformation to a nonprofit in 2014.
On her recent trip to Copenhagen, Walker and other leaders from Tacoma, Fife and Pierce County brainstormed as they navigated the city's bike system.
She's an experienced bike commuter in Tacoma, but others on the trip were not.
"For a lot of people, it was experiencing bike riding outside of a recreational sense," she said.