LUTHERAN HIGHER EDUCATION
For the Earth
For today's PLU students, the university's Outdoor Recreation program is a reliable portal to the Pacific Northwest's endless natural bounty.
A quick signature on a disclaimer and you're off on a weekend adventure in the great outdoors: hiking, rock climbing, skiing, kayaking. For some students, it's a transformative experience that can change the trajectory of their college experience and future careers.
Back in 1996, however, Outdoor Rec was in trouble. A lack of organization, leadership and interest meant the program was little more than an informal club, struggling to survive out of a storage room with some mismatched cross-country skis, moldy tents and battered snow shoes. So two students, Eddie Espinosa '96 and Matt Wade '98, set out to save it.
"It was just a line in the (Associated Students of Pacific Lutheran University) budget," Espinosa said. "There was nobody really running it."
Espinosa, an exercise science major with a passion for climbing, vowed to rectify that problem. But, as a senior, he needed someone to partner with who could take the reins on this project after he graduated. Enter Wade, a detail-oriented friend with similar interest in the outdoors.
"I was out of there," Espinosa said. "Matt and I had gone on some adventures together. He was pretty keen on the same ideas."
What where those ideas, exactly? Both Espinosa and Wade had deep ties to the outdoors, climbing specifically. Espinosa, who'd discovered his passion for scaling rocks and boulders after following a friend into a mountaineering class, hung out with a crowd at PLU that loved exploring Washington's natural attractions.
"We live in the best place to enjoy the ocean, to enjoy rivers, to enjoy rock climbing and mountains and skiing and hiking," he said.
"For me, if you're going to be in the state…it's something you should experience."
Wade, a Minnesotan who spent his last few years of high school on the flat plains of Kansas, was drawn to PLU by the allure of climbing the state's signature peak.
"I was thrilled to be in the mountains," he said. "I really wanted to climb Mount Rainier, along with just about everything else in the Cascades."
The importance of preserving Outdoor Rec and what it represented to the PLU community, then, was a powerful motivator for the pair.
"We had a little bit of a scaffolding of a plan in our minds of what (a revitalized Outdoor Rec) would look like," Wade said. We were just going off of a dream to make this kind of opportunity available to students."
"Outdoor Rec has always had this strong affinity group, a niche group of people."
To make that dream a reality, Espinosa and Wade needed funding. To get funding, they needed to generate some buy-in from other students. So the two drew up a comprehensive financial path forward and went before the ASPLU budget planning committee to plead their case in the spring of 1996. Exhibit A: The dilapidated gear the program was using to get by. Espinosa and Wade presented the molding tents and ancient skis to the committee, and declared that Outdoor Rec was going to be the next big thing in college programming if it was just given a fighting chance. At this point, it was really a last chance. The future was bleak if their arguments fell short.
"It would have been the institutional end of the Outdoor Rec program," Espinosa said.
Fortunately the ASPLU was won over by the pair's prospective budget plan and trip ideas, approving a $10,000 commitment to revamp the re-envisioned project during the following school year.
"Outdoor Rec has always had this strong affinity group, a niche group of people," said Eva Frey '95, an ASPLU member during that time period and now PLU's Dean of Students. "They almost went under. We almost closed it all down. (But) ASPLU chose to fund them."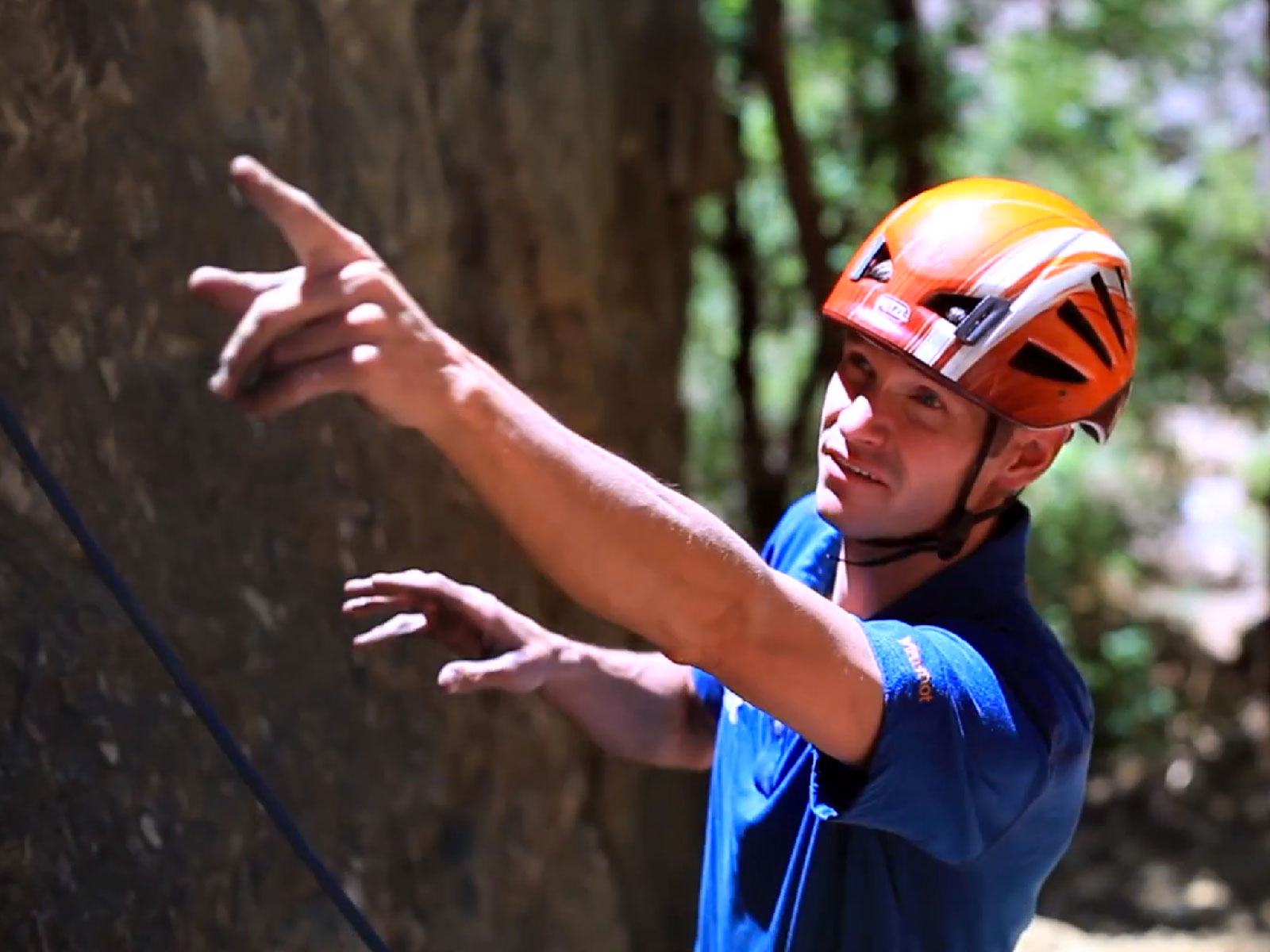 The program had found its champions. Outdoor Rec once again had a future and, more importantly, a sense of purpose.
"We were both thrilled about that. And (then) Eddie graduated and said, 'Good luck,'" Wade said, laughing.
With Espinosa off to work at an internship as a climbing and sea kayak guide, Wade spent the summer organizing OR's new space behind the ASPLU office ("It was really just a utility room," he says now), coming up with trip ideas and recruiting other students on campus who were excited to see it all come together. The program's rebuild was officially underway.
"There was no money, there was no interest," Frey said of the program before Espinosa and Wade rescued it. "They literally changed the shape of what Outdoor Rec would become."
Outdoor Rec did about 10 trips to destinations such as Ape Caves and the Olympic Peninsula over the course of that first year, tabling a sign-up list in the early fall to drum up interest and make sure students from all walks of life didn't miss out on the opportunities the program offered. The mission: provide trip access to people who knew where to go, how to get there and how to organize it.
"We started to get the word out," Wade said. "It turned out it was very well received."
Over the course of Wade's two years at the helm of Outdoor Rec, the program continued to grow and evolve. During the '97-98 school year, OR expanded to weeklong trips, one to Montana for skiing and another to Oregon's Smith Rock for climbing. Wade also began running a basic staff training that discussed risk management in the outdoors, and he held periodic wilderness medicine mini-seminars that addressed what incidents could arise outdoors and how to handle them.
"For a lot of us, it was our first foray into real leadership," Wade said. "It was a tremendous learning opportunity. It gave us the sense that we were charting a course."
When he graduated, Wade left OR with 10 trained volunteer trip leaders – the next generation of caretakers for a program finally starting to flourish.
Twenty years later, the modern-day version of Outdoor Rec is still going strong. Now under the umbrella of PLU's Department of Recreation, it remains a student-run organization from pretty much the top down. That's key, and something that makes the program stand out as more and more universities choose to contract out to professionals.
Student directors Britt McCracken '19 and Isaiah Scheel '19 are running OR this year, coordinating a crew of 13 trip leaders and organizing at least one different trip each weekend. Rob Thompson, PLU's assistant athletic director for recreation over the past five years, works with the student directors and manages the finances but maintains a hands-off approach when it comes to day-to-day running of the program.
"My exact role is more of a club adviser," Thompson said. "My role is really just overseeing and helping out. A lot of it is just coming from the students and what they really want to do."
Trip leaders are OR's ambassadors to the great outdoors and a crucial component in the entire process. Leaders are part recruiter, part wilderness expert, part organizer, part life coach.
"They make the whole experience more enjoyable and fluid," Scheel said. "Like, if you went out on your own you might forget something, you might get into a situation where you're not comfortable, or you might not know how to do the research to make a trip happen. That's all on the shoulders of the trip leader."
McCracken and Scheel come up with a list of destinations before each semester and divide them among the trip leaders. A standard trip size is 12 people — 10 students, two trip leaders.
"A typical trip is a day hike in the area, probably an hour to two hours away," Scheel said. "Something that you can just do and get back before dinner time."
A trip leader drums up enough interested students to "fill" a trip, transports the group by van to the chosen location and then guides the group over the terrain of the selected hike or other outdoor adventure before returning everyone safely to campus.
"Most of our students have never even thought of going on a hike," McCracken said. "(Trip leaders) make sure that you have a fun time and share the outdoors with you."
Successful steps have also been made over the past few years to modernize OR: the program moved into a new space in the Columbia Center last spring, and has purchased three new vans to more reliably transport students. The rollout of an Outdoor Rec app this year has streamlined the process of signing up for a trip, making it easier than ever to take advantage of the opportunities OR offers.
"Out here in the Pacific Northwest, it's just like a giant playground," Thompson said. "I really feel like every student should attempt to go on one of these trips at least once."
These days, Espinosa and Wade only get to admire from afar the continued success of the program they first salvaged, then recreated. But the impact they had on it – and that Outdoor Rec has had on them – lives on.
Espinosa has never stopped climbing. Still based out of Seattle, he now works for American Alpine Club, managing the organization's national volunteer network of more than 70 chapters and conducting climbing events across the country. He also gets to advocate for what he loves.
"I've spent time in Sen. Maria Cantwell's office, I've spent time on Capitol Hill in Washington, D.C.," he said, working to protect public lands at the local, state and national level. It's one of the reasons he believes that the Outdoor Rec program at PLU must go on.
"It's an outlet for people to get into nature, to appreciate the wild and beautiful places in our state," he said. "And that's a really important first step in becoming an advocate for the environment."
Wade, too, remains deeply rooted in the lifestyle he forged through his years of work in that little utility room behind the ASPLU office. After graduating from PLU with a degree in biology, he leveraged his experience with Outdoor Rec into a job with American Alpine Institute as a climbing guide before moving on to work for Cornell Outdoor Education as the manager of the climbing division.
"It really laid the groundwork for me to get into the outdoor industry," he said. "My work at PLU Outdoor Rec was a big part of why I was offered that position at Cornell."
Now he lives in Colorado after taking a position with American Mountain Guides Association, where he does policy and advocacy work. That entails working on a national level to ensure climbers, guided groups and university programs can get access to public lands. He echoes Espinosa's sentiments about the value programs like PLU OR offer, and the importance of their preservation.
"It provides a tremendous opportunity to teach leadership skills," Wade said. "Those skills are transferable to whatever somebody wants to do next, whether it's related to the outdoors or not.