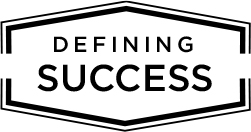 Guiding her audience through a complex research talk, Cynthia Waite '20 projects charisma and confidence. It's hard to believe this self-described introvert arrived at PLU from Tacoma's Mount Tahoma High School two years earlier, determined to break out of her shell.
"I didn't want to miss out in college," she explained. "I wanted something to pull me out of my comfort zone, and help me grow more skills."
Presenting at this year's Dr. Rae Linda Brown Undergraduate Research Symposium was just the challenge Waite was looking for. Named in honor of its late founder and PLU provost, the event brought over 100 students, faculty, and observers to a program of talks and poster sessions at the Anderson University Center in April.
"We wanted an event that everyone was invited to — not just a certain set of people," said Jan Lewis, associate provost for undergraduate programs. "There's some great project stories of what students and faculty do. We want to be able to tell those stories."
The symposium promotes student-faculty cooperation and partnership across the university.
Lewis says emphasizing students' working relationship with faculty members helps students become entrenched in their studies. Through student-faculty research, students incorporate their own experiences with academia in a way that Lewis says improves critical thinking, writing and understanding of students' subjects of interest.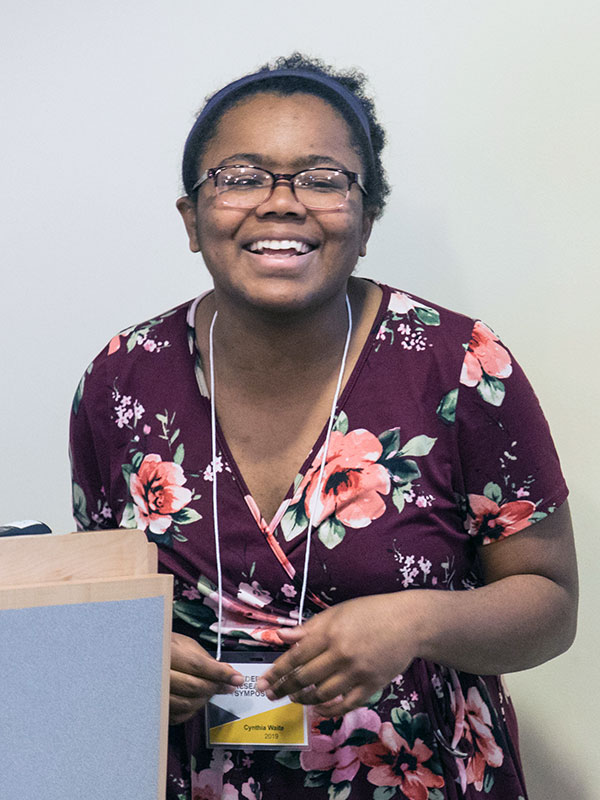 Waite's project, a study of faculty-student mentoring, caught the spirit of the day. Psychology Professor Wendelyn Shore, an expert on the topic, was Waite's mentor, and was intrigued to hear Waite characterized herself as an introvert.
"Cynthia is a natural presenter," she commented. "Once she got started, she took fire."
Shore praises her student's enthusiasm, poise, sophistication, and ability to see the big picture. "I hear a sense of pride in her voice," she said, adding, "It's well deserved."
Waite's research, based on in-depth interviews with a dozen current students, sought to learn more about how mentoring relationships are established. As a first-generation college student and a person of color, this question resonated with her; mentoring is a particularly urgent issue for students from underrepresented backgrounds.
Based on her interviews, Waite found that most students didn't feel that they or their professors made a point of initiating a mentoring relationship. Instead, they "just clicked." The students also felt similar to their mentors, in personality and interests.
"We're two introvert nerds," one interviewee reported.
Face-to-face contact was important in establishing and maintaining these relationships, Waite's subjects told her. A wide-ranging conversation during a professor's office hours beats email, precisely because of the opportunity to go off-topic. Classes, of course, played a crucial role in making these connections.
Waite's own experience followed a similar pattern.
"I never set out to look for a mentor," she said, but her professors "simply took an interest in my academic success, and I took an interest in them."
She took three classes with Heidi McLaughlin, assistant professor of psychology, who helped her declare a psychology major, and recommended her to Shore as a research assistant.
Studies show that having multiple mentors is especially important for underrepresented students, Shore explained.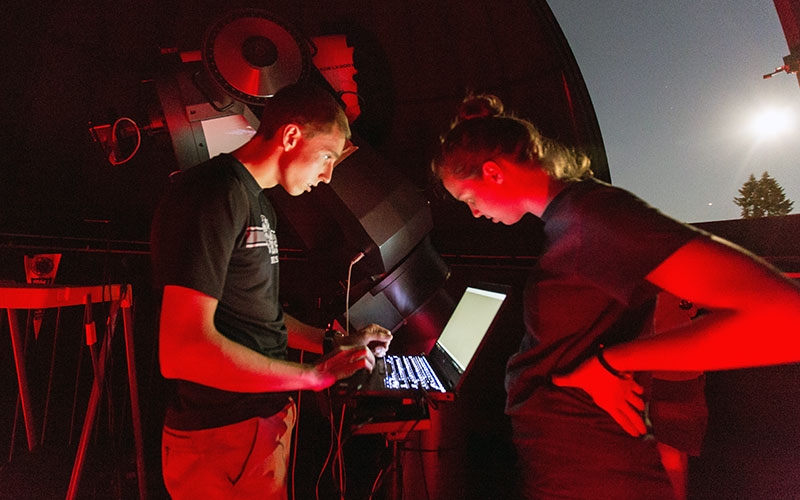 Waite insisted on giving McLaughlin plenty of credit: "She always believed in me and maintained such a positive attitude towards me, even when I was struggling in class."
Other students presenting at the research symposium backed up Waite's findings on mentoring. Megan Longstaff '19 and Justin deMattos '19 conducted observational astronomy research with Katrina Hay, associate professor of physics, and Sean O'Neill, visiting assistant professor of physics, at the W.M. Keck Observatory. They found that they shared their mentors' passion for bringing science to wider audiences.
"We loved the precedent that had been set for us," Longstaff said, explaining that Hay has published a children's book about astronomy. At their professors' suggestion, they posted videos and blog entries about their research on a website. "I love film and design," Longstaff explained, "so I was really happy."
"Working in the Observatory was SO much fun!" deMattos added. "Fun" was a word that came up repeatedly in student descriptions of both their academic research and their mentors.
O'Neill agreed. "Frankly, it has been both easy and fun to work with two such talented and self-motivated students," he said.
Kiyomi Kishaba '21 felt the same about her mentor, Rona Kaufman, associate professor of English. "We can accomplish our goals and have fun at the same time," she noted.
But fun opened doors. Kaufman encouraged her to apply to be an editor at the PLU literary magazine Saxifrage, and she encouraged Kishaba to participate in the Raphael Lemkin essay contest, which she won.
A first-year class on writing brought Kishaba to Kaufman's attention. "I'm not usually aggressive in trying to get first-year students to see themselves as English majors," she explained, "but in Kiyomi's case, I was, because it was so clear: she's a writer."
Tina Saxowsky, the chemistry professor who mentored Tran Hoang '20, said working with students on research was a big part of her decision to come to PLU. Participating in undergraduate research was a transformative experience that she's eager to pass on.
"I love the opportunity to introduce students, just starting out, to the big questions," Saxowsky said. "It's fun to be able to watch students and see the light bulb come on."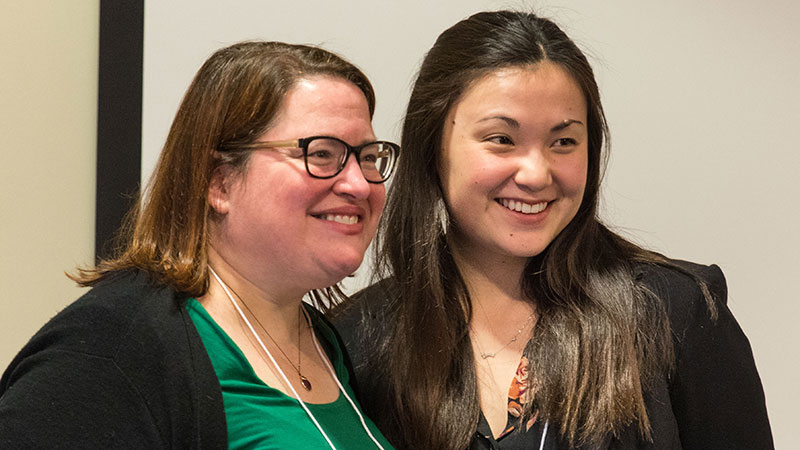 Sometimes mentoring students involves slowly building up their confidence, she explained, but that wasn't the case with Hoang. "She's highly motivated, with an independent streak," Saxowsky said. "Tran just says, 'I want to do that!' "
For Hoang, Saxowsky's approach paid off. "Given that it was my first formal research experience, she was very supportive and helpful in the entire process, allowing me to have my own autonomy in running the experiments but also offering me guidance when I need help," Hoang said. "I gained the independence and confidence to tackle future complex projects."
As a first-generation college student, Hoang was unusually proactive in seeking out opportunities. She advises other students interested in research to find projects they are interested in and contact the professors, and to attend presentations by student researchers working in those labs and talk to them too.
When talking with prospective mentors, she recommends asking questions about their research, but also to go beyond the research. "There's a lot of advice and insight the professor has to offer, and it only takes the act of initiating that conversation to share all of that," she said.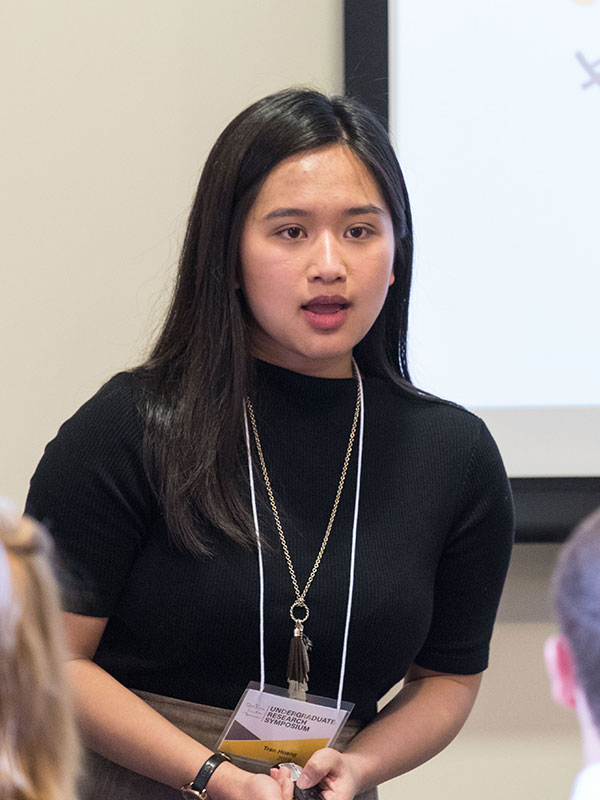 Hoang's advice echoed Waite's conclusions. "Being first-gen, I kind of felt more alone my first year or so here, until I began receiving support from my awesome professors like Dr. McLaughlin," she said.
Shore draws on her own background when mentoring first-generation college students, because she was one herself. When her students tell her about having difficulties explaining the choices they face to their parents, she can identify. "I remember having the same conversations with my dad," she said. "'What do you mean, you want to go to graduate school?'"
For her star student, these conversations might go a little easier. Waite's parents attended the symposium, and beamed with pride afterwards. Asked how they felt about trusting PLU with their child, they were effusive.
"She's had good mentors," Mary Waite said. "I've come to believe it's the perfect combination," Chris Waite added.
And their daughter? "She knocked it out of the park," he said.
Meet the student researchers
In addition to being a talented young researcher, Tran Hoang '20 excels in translating complex scientific concepts into plain language. That's good, because her presentation for the 2019 Dr. Rae Linda Brown Undergraduate Research Symposium was a mouthful: "Using Mutational DNA Strand Bias to Link Transcription to Adaptive Mutagenesis in Saccharomyces cervisae."
"Sounds like a lot," she joked. Simply put, she looked at how genetic mutations are produced in yeast cells, a task that might one day lead to pharmaceutical innovations to counter drug resistance.
Hoang's mentor, chemistry Professor Tina Saxowsky, loves showing undergraduates "what an actual research scientist does," outside a classroom lab setting.
"We don't know the answers in advance," she said. "Our job is to figure out how to ask the questions."
For Hoang, doing science can mean embracing failure, because it's part of the process.
"Conducting research allowed me to appreciate failed experiments," she said. "This actually helps me become more problem-solving savvy."
For Kiyomi Kishaba '21, studying Jewish immigrants in South America resonates with her own family history. Her father's side is ethnically Okinawan, and Kishaba recently joined them on a pilgrimage to Heart Mountain, WY – where 120,000 Japanese Americans were detained and held during World War II.
Rona Kaufman, associate professor of English, encouraged Kishaba to tell this story in a 2019 Raphael Lemkin award-winning essay. And Kaufman remembered her when she began a project interviewing residents at a Jewish nursing home in Uruguay, with Giovanna Urdangarain, associate professor of Hispanic studies, and Riley Dolan '19
Although Kishaba's swim team schedule kept her from traveling to Montevideo, she conducted historical research and wrote the interview questions. Her presentation, "Situating the Stories: History of Jewish Migration in Uruguay," explored the forces shaping the interviewees' lives. Watching their video testimonies afterwards, Kishaba found their personal perspectives especially meaningful, drawing parallels with her own grandparents.
Being part of a team suited Kishaba. "I learned to trust my own instincts," she said.
If late nights collecting data in the W.M. Keck Observatory aren't your idea of fun, you haven't met Megan Longstaff '19 and Justin deMattos '19, whose presentation was titled, "Observational Astronomy in Tacoma: Analyzing Jupiter's Rotation and the Brightness Profile of Saturn's Rings."
Longstaff, a morning person, worried about the hours at first.
But "our projects were so fascinating that it was easy to stay up until 2 AM," she said.
DeMattos, a night owl, wasn't fazed, but said the energy was often so high, "it seemed as if nobody wanted to leave."
Katrina Hay, associate professor of physics, and Sean O'Neill, visiting assistant professor of physics, have been mentoring summer research for several years. While both have astronomy research backgrounds, neither had worked much at an observatory before the program – a challenge they embraced. Longstaff was a convert: "I had never done observational astronomy before, but within the first week I was obsessed."
Her project, tracking the differential rotation of Jupiter's Great Red Spot, and deMattos's study of atmospheric effects on observations of Saturn's rings, both focused on features of the solar system popular with kids and amateur enthusiasts.
Don't mistake accessibility for a lack of substance, though. DeMattos is currently deciding between two doctoral programs, and Longstaff will be moving to Los Angeles after graduation for her dream job: systems engineer at Raytheon.