Dr. Rae Linda Brown Undergraduate Research Symposium
Abstract submission form opens December 1, 2019. Symposium held Saturday, May 9, 2020



2020 Dr. Rae Linda Brown Undergraduate Research Symposium
Saturday, May 9, 2020 
Abstract Submission form opens December 1, 2019
Early Submission Deadline is February 14, 2020
Submission Deadline is April 3, 2020
The Dr. Rae Linda Brown Undergraduate Research Symposium is a showcase of the university-wide undergraduate research and creative activities of PLU students bringing together the exciting work occurring across campus in multiple inter-disciplinary sessions. The symposium is a great place to share both completed and in progress research and creative projects and gain valuable experience!
Interested in starting your own research? Attending the Symposium as a student is a great way  to discover opportunities available at PLU and to take steps to begin your own research journey!  Involvement in faculty-mentored research early in your undergraduate studies has many benefits and will help you to explore and learn more in-depth about an area of study or future career path that interests you, gain invaluable hands-on experience and organizational skills, and learn to balance independent and collaborative work. The connections made with faculty mentors will enhance your undergraduate experience and likely extend well beyond into your professional career.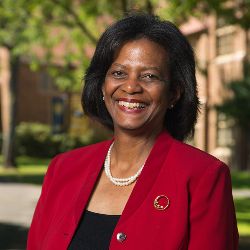 Dr. Rae Linda Brown
PLU's annual Undergraduate Research Symposium is named in honor of Dr. Rae Linda Brown, PLU Professor of Music and former Provost and Senior Vice President for Academic Affairs. During her brief tenure as PLU's provost, Dr. Brown launched the first campus wide Undergraduate Research Symposium in 2017. After her passing in August 2017, the symposium was renamed the Dr. Rae Linda Brown Undergraduate Research Symposium. Dr. Brown believed deeply in the importance of faculty-mentored student research, and especially in the benefits of students engaging in this work early in their undergraduate careers.