Department of Human Resources
Welcome to Human Resources
HR Mission Statement: We are a team of HR professionals, who promote an exceptional work environment for the PLU community, in order to provide a premier educational experience.
Spring Wellness
Sign-up for Spring Wellness classes.  The following classes will be offered: Core Fitness, Walk Live, and Cardio Kick.
PLU Christmas Celebration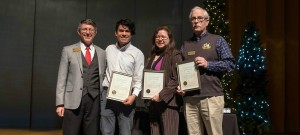 The annual Faculty and Staff Christmas Celebration was Thursday, December 15th.  To view the recipients of the 2016 Distinguished Staff Awards please click here.
Performance Management Training
If you are still interested in attending a training session to help you get ready to use the online performance management system please contact Gretchen Howell at crosgrgm@plu.edu or x7185 .