Make 2019-2020 A Successful Year!
Has your club re-registered/renewed their club for the 2019-2020 school year? Here are some quick tips to make sure your club is good to go!
Fill out the 2019-2020 Registration Form (can also be found in Quick Links on the right)
Be sure that at least one officer from your club attends a required Clubs & Orgs training. (We will add more training's later this month)
Make sure that Clubs & Orgs has all necessary documents on file:

Advisor Agreement
Up-to-date Club Constitution

Check back on our website often for the most up-to-date information!
Browse our list of clubs
Looking for a specific club? Curious about what clubs are available? Browse our club listings here--you'll find club descriptions and how to contact them for more information.
Browse
Like our Facebook Page!
Clubs and Orgs now has a Facebook page, where we will keep you posted on the latest clubs and orgs events going on around campus!
Like
Subscribe to our newsletter
Subscribe to our bi-weekly Clubs and Orgs Newsletter, where we highlight special events by our very own student clubs, as well as departmental events such as Club Awards, Involvement Fairs, and leadership opportunities!
Subscribe
Need assistance? Here are our office hours in AUC 140: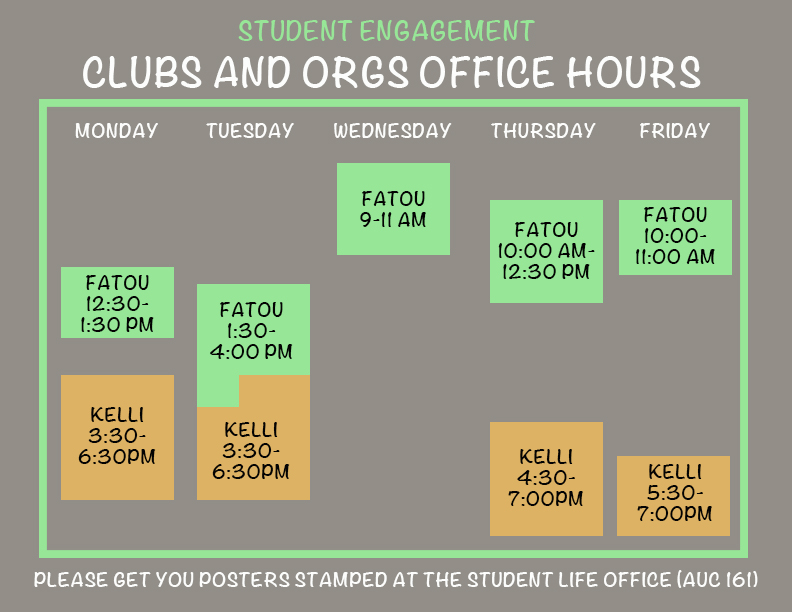 *If you would like to schedule a club training or meeting with us click here to add an appointment in Google Calendar.
Didn't find the club you were looking for?
Students are always coming up with great ideas for new clubs! You can learn how to turn those ideas into reality on the Starting a Club page.
For Club Leaders
We've made managing your club easy. Instead of having to search through several different documents, now you can just explore the club listings, check out how to manage your account, how to program, and how to advertise, all from this web site. Be sure to also check back here throughout the year for updates and changes in information and policy.
Programming
Successful programs aren't born, but carefully crafted, thought out, and revised along the way.
More
Club and Organization Awards
Every year the Student Engagement office recognize the outstanding contributions of student clubs or organizations to the PLU and Parkland communities.
More