Office Access
During Phase 2, the Campus Ministry suite will not be open for hanging out and studying.  Pastor Jen will be on campus on Thursdays and able to meet with students (following public health guidelines).
And we want to connect with you!  See below for ways to engage with Campus Ministry this fall.  We will look forward to hopefully welcoming you into physical space during Phase 3!
How to engage Fall 2020: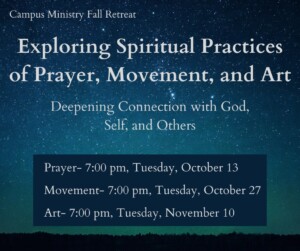 Sign up for 1 or more retreat sessions HERE.
For spiritual sustenance anytime, check out our "Moments in the Spirit" page.
++
PLU Campus Ministry is a community that welcomes, celebrates and engages the diverse spiritual and faith traditions of PLU students, staff and faculty members.