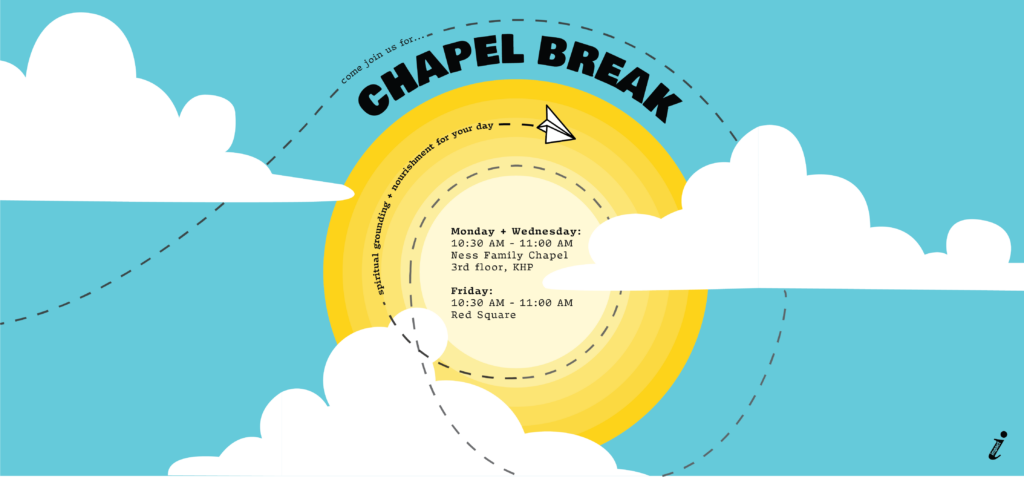 Chapel Opportunities
Monday, Wednesday, Friday 10:30 – 11:00am* 
MONDAY: Breathe and Be – Spiritual Practices in Community – a guided exploration of spiritual practices and reflection with others (in partnership with Wild Hope Center for Vocation)
WEDNESDAY: University Chapel – rooted in Lutheran traditions with music, prayer, readings, reflection, and community.
FRIDAY: Prayers for the World – spoken and sung prayers for our community and world (in partnership with Trinity Lutheran)
*Monday & Wednesday Chapel take place in the Ness Family Chapel (3rd floor, KHP); Friday Chapel gathers on the KHP porch/Red Square
We hope these Chapel opportunities will be a source of nourishment, grounding, and connection for you and for our community.
Hope to see you soon!
Sept, 13, 2021 - Episode 1 | Introducing Cece & Naomi - ASPLU Executives
Sept. 20, 2021 - Episode 2 | Introducing Quinn - BSU President
Sept. 27, 2021 - Episode 3 | Who are You Becoming?
Oct. 4, 2021 - Episode 4 | Shirley Akin '71, School of Nursing
Oct 11, 2021 - Episode 5 | Nayonni Watts, '19 - Encore presentation
Oct. 18, 2021 - Episode 6 | Shaun Bradley from Korea - Encore presentation