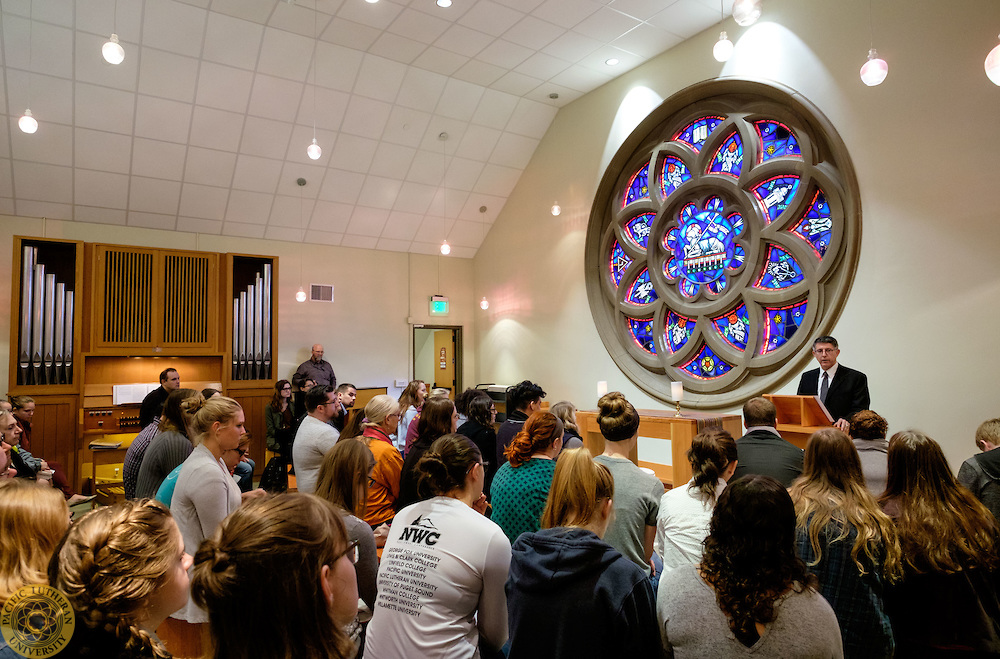 Welcome to Chapel
Mondays, Wednesdays, 10:30-11:00am.
University Chapel takes place on Mondays and Wednesdays during the Fall and Spring semesters.  It is held during Chapel Break at 10:30 am in the Karen Hille Phillips Center (Mondays on the 2nd floor and Wednesdays on the 3rd floor/Ness Family Chapel).
Monday's service ("Monday Word") is a chapel service open to all and is rooted in Black church traditions and includes praise & worship, and opportunities for prayer and expression.
Wednesday's service observes the rich liturgical and musical tradition of the Lutheran church, led by our University Organist and Chapel Choir. Faculty, staff, students, the University Pastor, chaplains, local ministers, and our resident bishop are among those who offer a brief message at these services throughout the academic year.
Our Fall 2018 theme is Life Paths: Challenging and Renewing our Faith. We'll explore this theme through the imagery of Psalm 23.
Now the Feast and Celebration
Renowned composer Marty Haugen was commissioned by the university to write  Now the Feast and Celebration, a joyous liturgy that is still used at University Chapel throughout the year, and at numerous Christian churches across the globe. Proceeds of each purchase of sheet music and recorded performances of Now the Feast and Celebration help to financially support Campus Ministry. We encourage you to purchase your own keepsake copy of Now the Feast and encourage your home congregation to purchase copies as well. Purchases should be made directly through GIA Publications, Inc.