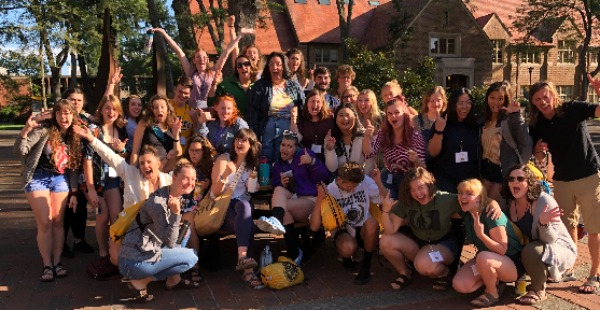 Welcome new Lutes
New Student Orientation is an exciting event designed to welcome new students to PLU's vibrant community and allow you to get connected, to be involved and to stay informed. It is a time to learn about the resources you will need to be successful during your time at PLU and to make connections with your fellow Lutes.
We look forward to meeting you
We will help you prepare for your first semester by directing you to various academic resources including your academic advisor, academic assistance, career connections, and other essential offices. You will learn about ways to become involved on campus and engage in exciting PLU traditions. We look forward to meeting you and being a part of your collegiate experience.
Schedule: February 5, 2020
| Time | Topics | Location |
| --- | --- | --- |
| 9:30 a.m. | Registration & Coffee | Anderson University Center (AUC), 2nd floor Entryway |
| 10 a.m. | Welcome | AUC Regency Room |
| 10:15 a.m. | Becoming a Lute: Diversity, Justice, Sustainabiliy (DJS) | AUC Regency Room |
| 11 a.m. | Academic Success (Gen Ed, Faculty Connections, Class Schedules, Tech at PLU: Sakai, Banner, Google) | AUC 201 |
| Noon | Academic Disciplines & Area Lunch with Faculty and Tutors | AUC Regency Room |
| 1-3 p.m. | Lute Groups: topics include Study Abroad, Tours, Commuter resources, Campus Life, Exploring Vocation & Purpose @ PLU and Student Employment, etc.) | The Cave, Nesvig |
| 3 p.m. | Farewell | AUC Regency Room |
| 3 p.m. | Military-Affiliated Session | AUC 213 |
I have registered for classes. What do I do next?
LuteCard
Once you are registered for classes, you will be able to get your PLU ID card. At PLU your ID Card is called your Lute Card.
Parking Pass
If you drive during your time at PLU, you will to register your vehicle with PLU Campus Safety and get a parking pass.