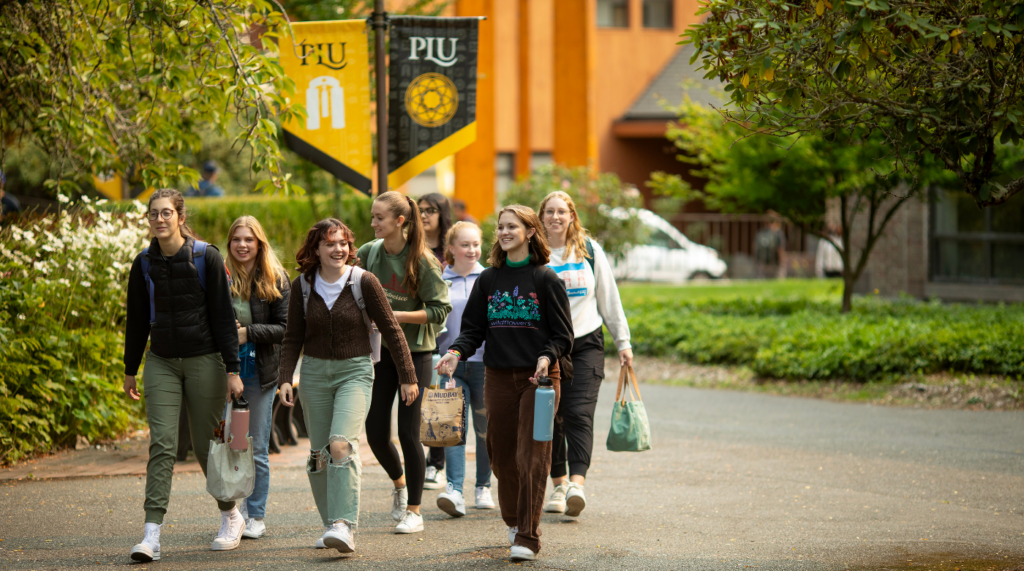 Learn how you can Recruit a Lute.
We know that campus atmosphere is the number one thing students care about, and the connections made by prospective students and their families with our current students, staff, and faculty play a pivotal role in their decision to apply. You've witnessed firsthand PLU's exceptional support in guiding students as they grow, learn, and pursue their passions while finding their calling. Join us in connecting with the next generation of Lutes.
Please fill out our Recruit a Lute Form if you have a teenage family member, a neighbor, or a family friend you'd like our admission teams to start recruiting as a first-year, transfer, or graduate student.
Visiting PLU is the best way to experience it. If a student attends an official Admission-sponsored visit to the PLU campus the year before their enrollment, they will automatically receive a $1,000 per year Visit Scholarship (a total of $4,000!).
It's never taboo to talk about finances. We want students and families to have the fullest picture of what PLU can provide before we're automatically counted out as "too expensive." Here are quick financial facts that differentiate PLU:
It is always free to apply to PLU!
Our scholarships recognize academic achievement, talent, leadership, and service, as well as the potential to continue all those things as a Lute.
PLU offers a 253 PLU Bound scholarship for students who are College Bound eligible, attend a high school in Washington state, and have a 3.30 or higher weighted cumulative GPA. Students who qualify will be awarded full tuition for their four years at PLU through a combination of federal, state, PLU grants and scholarships, and the College Bound Scholarship.
Fixed Tuition Guarantee — The PLU Fixed Tuition Guarantee ensures a student's cost of tuition will be locked in from their first day until their graduation day.
100% of incoming students receive financial aid and scholarships from PLU, including the Nurse & Educator Dependent Commitment, Alumni Referral Scholarship, the Visit Scholarship, Yellow Ribbon Program and Post-9/11 G.I. Bill®.
If your future Lute is ready to begin, encouraging them to start the application process will go a long way. They can also request information to get on PLU's mailing list.
Start a conversation with PLU gear, whether at the grocery store or flying out from Sea-Tac.
Even something as easy as sharing an article or video on social media can spark an interest that leads to a prospective student considering PLU!