Faculty Excellence Awards
The university sponsors Faculty Excellence Awards to recognize outstanding accomplishments of the faculty in five areas of faculty work: teaching, advising, mentoring, research, and service. The recipients have been nominated and selected by their peers, signifying their high regard among those who know them well.
2022 Faculty Excellence Award Recipients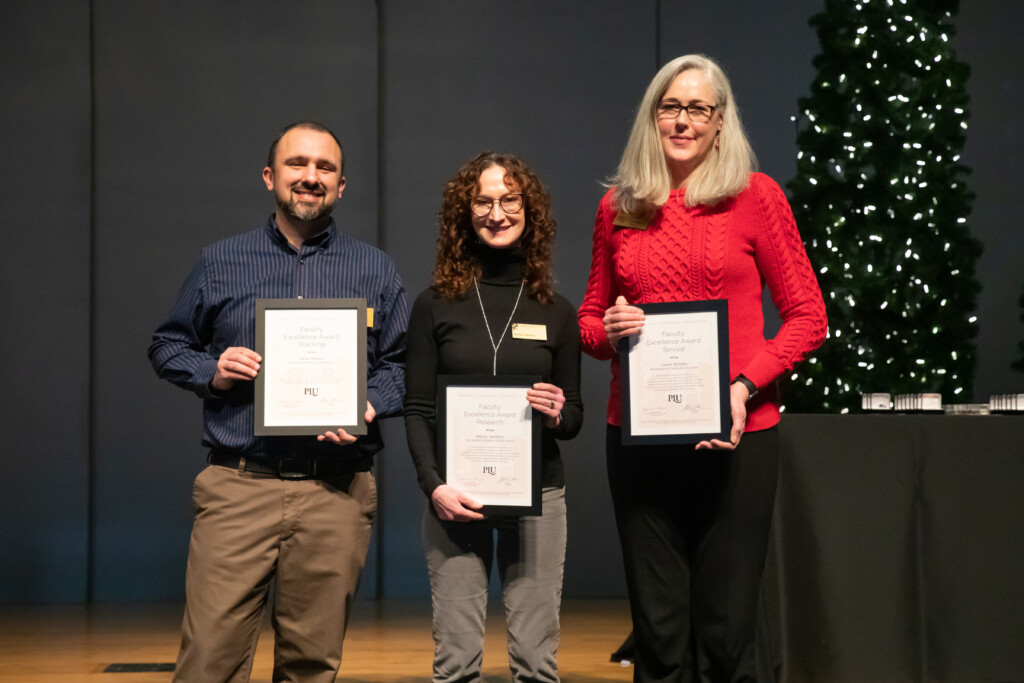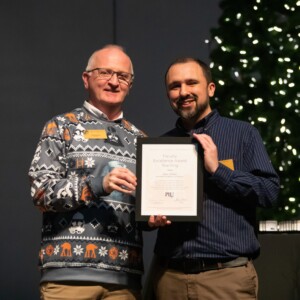 The Faculty Excellence Award in Teaching
Sean O'Neill, Assistant Professor of Physics
The Faculty Excellence Award in Teaching recognizes a member of our faculty who embodies a commitment to excellence in their ability to communicate knowledge and inspire students. The 2022 Faculty Excellence Award in Teaching is presented to Sean O'Neill, Assistant Professor of Physics.
While Professor O'Neill just started his tenure-track position at PLU, for the past seven years he has served as a contingent faculty member with us, impacting countless students by supporting them in their learning as well in their understanding of themselves.
In support of his nomination, faculty colleagues remarked on the breadth of techniques Sean uses to communicate knowledge effectively. He tailors his pedagogical approaches to different levels of students, using interactive lectures, peer-instruction, and collaborative learning for his introductory astronomy class; pre-lecture assignments, flipped learning, interactive demonstrations, and group problem-solving for his upper-level classes; and project-based and computational learning for his advanced astrophysics students. Former students recalled Sean making a tower of Jello to demonstrate the oscillations created by shear forces and sharing late nights engaging in applied learning at the PLU Observatory.
One student recalled how Sean's teaching ignited in her a love of astronomy and coding that she carries with her into her current career. She wrote, "His respect for his students has also set a precedent on how I should be treated as a young, female engineer. I know my voice deserves to be heard, my ideas are valid, and my presence is worthy of respect." 
Another student shared "Dr. O'Neill pays attention to what his students respond to and provides the learning environment they need. It is because of his dedication to his students' learning that I got to nurture my interests and pursue a career in something I learned I was passionate about. I am now over 3 years into being an engineer and use skills developed during my time with Dr. O'Neill on the daily."
Colleagues and students alike describe Sean's classes as being welcoming and inclusive, not only because he is attuned to the individual needs of each student, but also because he uses multiple and alternative methods of teaching and assessment. He is so effective that one student suggested our teaching and course feedback form should be revised with a scale ranging from "1 to Sean O'Neill".
For excellence in practicing the craft of teaching, we offer our congratulations to Sean O'Neill.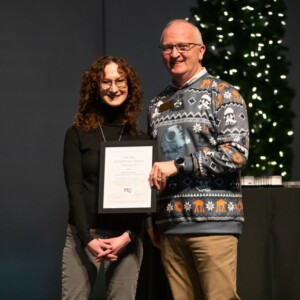 The K.T. Tang Faculty Excellence Award in Research
Wendy Gardiner, Associate Professor of Education
The K.T. Tang Faculty Excellence Award in Research is made possible by an endowment established by Wilfred Chan, a 1974 alumnus of PLU, in honor of his former professor, K.T. Tang, Professor Emeritus of Physics. The award recognizes faculty scholars who have made significant contributions to their disciplines through dissemination of research findings related to the discovery, integration, or application of knowledge. This year, we honor Wendy Gardiner, Associate Professor of Education and the Jolita Hylland Benson Endowed Chair in Elementary Education.
Dr. Gardiner's scholarly work demonstrates an ongoing commitment to high levels of scholarship that benefit academic and practitioner audiences. Through peer-reviewed publications in academic and practitioner journals, conference presentations, book and chapter publications, grants, and editorial reviews, Wendy's work reaches multiple audiences and makes unique and meaningful contributions to the fields of literacy, teaching, and mentoring.
Wendy centers equity throughout her research, examining structures and systems that disadvantage historically marginalized groups and exploring ways to support the learning of all students. In the past six years Wendy has 8 peer-reviewed publications, 30 conference presentations, 1 book, 1 book chapter, 1 editorial book review, and 2 grants totaling almost 2 million dollars.
Her current research explores how mentors are uniquely positioned to interrupt conscious and unconscious bias that leads to inequitable practices. Her book Responsive Mentoring: Supporting the Teachers All Students Deserve has received significant acclaim. It was reviewed by Washington's Office of Public Instruction, is recommended for Washington state's mentoring program and is cited in numerous teacher induction programs throughout the U.S. 
The thread of equity-focused activities that elevate teaching and learning can also be seen in Wendy's grant funded projects. She is Co- Principal Investigator on two National Science Foundation grants focused on promoting culturally-sustaining STEM teaching by providing underrepresented teacher candidates with financial and mentoring support.
A colleague summarized Wendy's achievements by sharing: "Overall, Dr. Gardiner is deserving of this award not just because her research is well-respected by her peers across the field, and not just because she conducts rigorous research despite a heavy teaching and service load. She is deserving of this award because it has impact in ways that demonstrate the promise of PLU's values of inquiry, service, care, and leadership. Her research and scholarship agenda has had a tangible impact on her colleagues in academia and the educational experiences of students and families who are many times positioned farthest away from educational services and justice. As such, her work represents the kind of thoughtful scholarship, leadership, and actionable care that is possible when one's research agenda and care for the community align." 
For excellence in research, we offer our congratulations to Wendy Gardiner.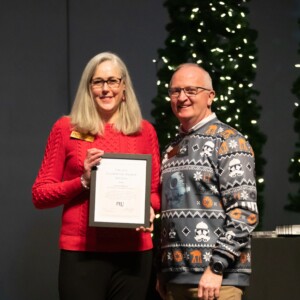 Faculty Excellence Award in Service
Laurie Murphy, Professor of Computer Science
The Faculty Excellence Award in Service recognizes a faculty member who demonstrates academic leadership and who influences the life of the university through service in areas of faculty governance, the university, and the community beyond the university. This year we honor Laurie Murphy, Professor of Computer Science.
Since joining our community in 1997, Professor Murphy has made a profound difference in the life of the institution.
Laurie was an influential and extremely effective chair of the Department of Computer Science from 2014-2020, supporting and mentoring faculty, representing the department and university internally and externally, and leading the department through important curricular revisions. One colleague wrote that the latter is an example of not only what Lauri has done, but how she has done it. The department evaluated enrollment data, determined that enrollments weren't high enough to justify continuing the Computer Engineering major and Electrical Engineering minor, and proposed the elimination of these programs. As a colleague noted, "The department did this at a time when PLU didn't have a call to reduce curriculum nor a process for doing so; it was just the right thing to do." She subsequently partnered with colleagues to launch the highly successful Data Science minor.
Laurie has held important roles throughout the faculty governance system, including service on EPC, FAC, the Benefits Committee, Budget Advisory Committee, and the Fall 2017 iteration of the Faculty Joint Committee. Colleagues describe Laurie as bringing a collegial, measured, and positive approach to all issues. Laurie has also contributed in meaningful ways in her service on the Innovation Studies Committee, the Wild Hope Project, and the Human Participants Review Board. She has mentored Washington State Achiever Scholar and STEM Scholar students, and organized and chaperoned student trips to the Northwest Regional Women in Computing Conference.
In the larger academic community, Laurie served for 10 years as co-editor in chief of the highly respected journal Computer Science Education. She recently served as an At-Large member of the Association for Computing Machinery's Special Interest Group for Computer Science Education – the premier national and global organization supporting research in computer science education.
Laurie's passion for broadening participation in computing is evident in her service to the community. One of her most substantive community service activities has been with Microsoft's TEALS program. TEALS, or Technology Education and Literacy in Schools, brings computer science to underserved schools by pairing teachers with industry volunteers. Laurie worked with a mathematics teacher from Chief Sealth High School in Seattle and three software engineers to offer a semester-long programming course. She has taught and led programming workshops for STEM conferences and camps, the MESA Saturday Academy, and a middle school girls' technology class.
In speaking to her many service roles, a colleague observed that "Laurie's service and leadership is thoughtful, analytical, calm, patient, and kind—she is an ideal mix of what a servant leader should be."
For her record of service to the university and our community, we honor and thank Laurie Murphy.
Previous Award Recipients