The university sponsors Faculty Excellence Awards to recognize outstanding accomplishments of the faculty in five areas of faculty work: teaching, advising, mentoring, research, and service. The recipients have been nominated and selected by their peers, signifying their high regard among those who know them well.
Call for Nominations 2021-2022
You are invited to submit nominations for the 2021-2022 Faculty Excellence Awards, which will be announced this December. Each recipient receives a $2500 award. Applications are due to the Office of the Provost from School/Division Deans on November 8, 2021. Please consult your Dean regarding internal deadlines for your School/Division.
2020-2021 Faculty Excellence Award Recipients
Faculty Excellence Award in Teaching
The Faculty Excellence Award in Teaching recognizes a member of our faculty who embodies a commitment to excellence in their ability to communicate knowledge and inspire students. The Faculty Excellence Award in Teaching is presented to Dr. Nancy Simpson-Younger, Assistant Professor of English.
Dr. Simpson-Younger's teaching is exemplified by her commitment to mentoring students as developing learners. Her courses are meticulously planned; assignments are carefully thought out with learning objectives and student development in mind. She scaffolds assignments and activities to help even novice students develop a sense of confidence in studying the potentially daunting material she teaches in Medieval and Early Modern/Renaissance Literature. 
A colleague described Nancy as "one of the most innovative teachers—and the most talented teacher that I know—on campus." Her excellence in teaching is founded on her outstanding ability to render familiar a very distant literature and culture, to animate students into thinking of themselves as scholars who can contribute new knowledge to a field of inquiry, and on her commitment to them as whole persons, providing them with mentorship beyond the classroom.
A student described Dr. Simpson-Younger's impassioned teaching style as feeling more like a collaboration than a lecture, and observed that this approach gives students the opportunity to engage in critical questioning. Another student noted that Dr. Simpson-Younger's interactive and immersive presentations can sometimes take on the theatricality of the Early Modern plays she teaches.
Dr. Simpson-Younger cultivates students' sense of themselves as scholars and co-learners: she convinces them that their questions, their inquiries, their insights and passions matter. As a student wrote, "Nancy Simpson-Younger encouraged, supported, challenged, and inspired me more than any other teacher, and having her as a professor and advisor changed the course of my academic studies for the better." The student went on to say "I don't know what Dr. Simpson-Younger saw in me that semester. I do know that she believed in me. …it doesn't matter what she saw in me; she saw me." 
For her ability to grow a student's spark of academic interest into a burning fire of love for learning, her care for students and attentiveness to their academic and personal growth, we offer our congratulations to Nancy Simpson-Younger.
Faculty Excellence Award in Advising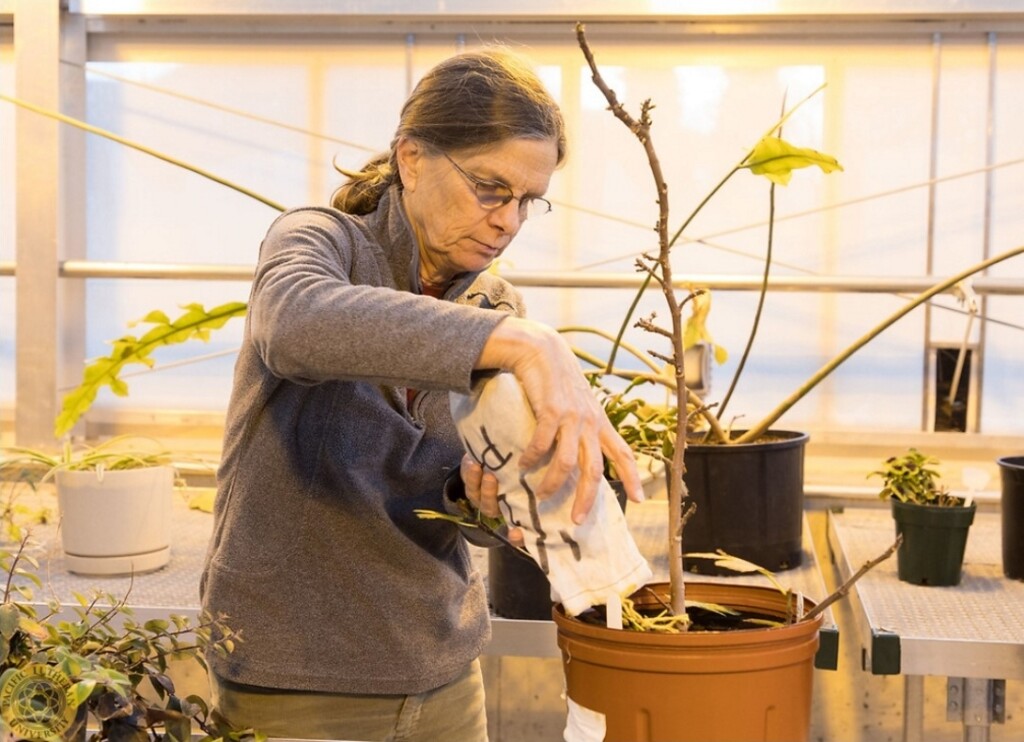 The Faculty Excellence Award in Advising recognizes a faculty advisor who embodies the qualities of effective and caring concern for student academic progress. This year we honor Dr. Romey Haberle, Associate Professor of Biology.
Dr. Haberle demonstrates deep care and concern for her advisees, regularly checking in with students between registration meetings, getting to know students and understand their needs. Romey pays close attention to elements that produce inequitable access to resources for students and then works hard to mitigate those factors. She is without fail a powerful pillar for students to lean on, showing students how to search for research opportunities that suit them and encouraging them to apply, assisting them in finding various entry points into acquiring paid field experience, and advising them in managing unexpected long distance moves that disrupt their families and lives. 
A colleague described Romey's steadfast commitment to not only excelling in her role as someone who deftly helps students select courses and plan their academic careers, but also her dedication to the care and support of student academic progress and navigation of the complexities of college life. She does this through education, skillful intervention, and building student trust for her and confidence in themselves. A colleague wrote that she "gives so much and goes so above and beyond to help students be successful in the face of whatever challenges they are trying to overcome. "   
One of her advisees offered these words: "Dr. Haberle has been a crucial part of my journey at PLU. At my high moments and my low moments, she was always there to champion me through. She has always been intentional with her support of my journey and encouraged me to create my own path to my vocation. Our meetings were filled with her asking me questions to get to the root of who I am and what I want to do with my PLU education. I always walked away from these meetings with a sense of peace that I was getting one step closer to graduating." 
For listening carefully and empathetically to students, for acknowledging students' dreams and concerns, for making each student feel valued and cared about, and for the passion and positivity she brings to advising, we honor Romey Haberle.
Faculty Excellence Award in Mentoring
The Faculty Excellence Award in Mentoring was established by a gift from the late Tom Carlson, Professor of Biology, and honors Professor Emeritus of Biology Art Gee who excelled as a mentor to colleagues and students in his many years of service on the faculty. This award recognizes the efforts of a faculty member who serves as a personal or professional guide to students or colleagues and who makes a profound difference in the lives of others as a role model, confidant, critic or co-learner. This year we honor Dr. Giovanna Urdangarain, Associate Professor of Hispanic Studies.
Dr. Urdangarain is an outstanding mentor to PLU students, PLU alumni, and her fellow staff and faculty members. 
In her work with students, Dr. Urdangarain has a gift for letting students know that they matter for who they are. As a trusted faculty member, students seek out and value Giovanna's guidance and recommendations for a breadth of things, including applying to graduate school, leadership opportunities, financial resources, transitioning to college, balancing work, family, and school, and getting involved in the community.
Her work with undocumented students demonstrates her commitment to connecting with students in need, and for galvanizing support among other colleagues to address this critically important issue at PLU.
One of Dr. Urdangarain's students shared, "As one of the first undocumented students on PLU's campus, I found an ally, an advocate, and a co-accomplice in Professor Urdangarain۬." She has an unconditional commitment  to showing up and standing in solidarity with all of her students, to serve as their personal cheerleader. As one student observed, she "reinforced my dreams every time she could". A student from a study away course led by Dr. Urdangarain wrote, "She encouraged me and my peers to work through challenges, to be vulnerable, and to engage with one another in a way that could be transformative for all. She encouraged and guided me to step out of my comfort zone so I could continue to grow as a student and as a person outside of the classroom."
To her colleagues, Giovanna is a role model in her engagement and concern for each and every student. She is a confidant and advisor, offering constructive criticism and teaching colleagues to be human in a demanding and challenging world. One colleague wrote "Her support is unstinting, never judgmental, usually humorous, and always compassionate." Another colleague said "She has taught me to celebrate even the smallest things, shared strategies for keeping my work in perspective, and offered encouragement to tend to the health of my mind, body, and soul."
For her excellent mentorship to students on campus and away, at PLU and after, and for mentorship of faculty and staff colleagues, we offer our congratulations to Giovanna Urdangarain.
Faculty Excellence Award in Service
The Faculty Excellence Award in Service recognizes a faculty member who demonstrates academic leadership and who influences the life of the university through service in areas of faculty governance, the university, and the community beyond the university. This year we honor Dr. Michelle Ceynar, Professor of Psychology.
In our faculty governance system, Dr. Ceynar has served on the Campus Life Committee, University Diversity Committee, Instructional Resource Committee, and Governance Committee, as well as serving terms as faculty secretary, vice chair, and chair. To name one example of her committee service, on the Instructional Resources Committee, she championed the role of faculty in improving teaching spaces, initiating the group's routine faculty classroom surveys, developing the Statement on Learning Environments, and adding a faculty representative to the Budget Advisory Committee.
Of  course, Michelle's most visible leadership role in our faculty governance system was in her service as faculty chair. She is the only faculty chair to serve for three years, and the first to be a member of President's Council. During her term, she supported faculty during the previous Faculty Joint Committee's conclusion, co-chaired the presidential search, co-chaired the Ad Hoc General Education Committee, led committee restructuring, and held the first virtual Faculty Assembly, along with standard chair duties. As chair, Michelle listened thoughtfully and with an open mind. She ensured all felt heard and understood, yet when decisions had to be made, she made them authoritatively. She planned tirelessly for our faculty assemblies with careful attention to detail, yet she was nimble and could pivot when necessary. She represented the faculty to the Board of Regents and administration admirably, conveying the challenges faced by faculty as well as sharing the talents and gifts faculty bring to the university.
Beyond faculty governance, Dr. Ceynar's service to the university includes serving as chair of the Department of Psychology for seven years. Under her leadership, the Psychology department developed a strategic hiring plan that has guided them since. As chair, Michelle was masterful at maintaining morale and treating everyone with respect. She did not avoid difficult conversations and was not afraid to make difficult decisions. A colleague wrote "She helped the entire department move forward in productive ways that have benefitted us long term. She demonstrated outstanding leadership." Michelle served for many years on the executive committee of the Women's and Gender Studies program, and has served on the Human Participants Review Board and the Institutional Animal Care and Use Committee. This year, she co-chaired the review of the athletics program and sewed hundreds of cloth face masks for PLU employees.  
Dr. Ceynar's service extends beyond the campus, where her scholarly expertise in gender inequality and gender inclusive teaching practices has garnered her national acclaim. A colleague from another university wrote, "Michelle has contributed to our understanding of pedagogy and how gender influences students' perceptions of their instructors. These research lines are directly applicable to the college classroom and university promotion and tenure practices, and in that way, Michelle's work serves the larger professoriate." Michelle recently  served as a consultant for the Association of American Law Schools to help attorneys understand how inequities in the workplace affect women's health.
Dr. Ceynar has been a longstanding consulting editor for the Journal of General Psychology. A professional colleague familiar with that work observed "Michelle always strived to help the authors improve their work – regardless of whether the work would eventually be published in the journal. She provided comments and suggestions to authors that were clear, direct, supportive, and meaningful."
Dr. Ceynar's service is distinctive in its outcomes and in style. She tackles difficult projects. She is strategic, listens respectfully, and leads with calmness and clarity. She is approachable, compassionate, and makes colleagues feel heard. A PLU colleague who has worked with Dr. Ceynar in a number of contexts wrote, "Successful leaders mentor other leaders. Michelle was proactive in offering me an appropriate amount of respectful guidance and mentorship as I navigated a new role I took on." 
Regardless of the particular role, Dr. Ceynar has served effectively, graciously, and with humility. She does not serve to gain or maintain personal power or influence. She serves in the true sense of the word – generously, ethically, and carefully. She has stepped up to do what the PLU faculty needed done, and always with the long-term well-being of the institution, its faculty, and students as her primary motivation.
For her record of service to the university and our community, we honor and thank Michelle Ceynar.
K.T. Tang Faculty Excellence Award in Research
The K.T. Tang Faculty Excellence Award in Research is made possible by an endowment established by Wilfred Chan, a 1974 alumnus of PLU, in honor of his former professor, K.T. Tang, Professor Emeritus of Physics. The award recognizes up to two faculty scholars who have made significant contributions to their disciplines through dissemination of research findings related to the discovery, integration, or application of knowledge. This year, we honor two of our colleagues with this award.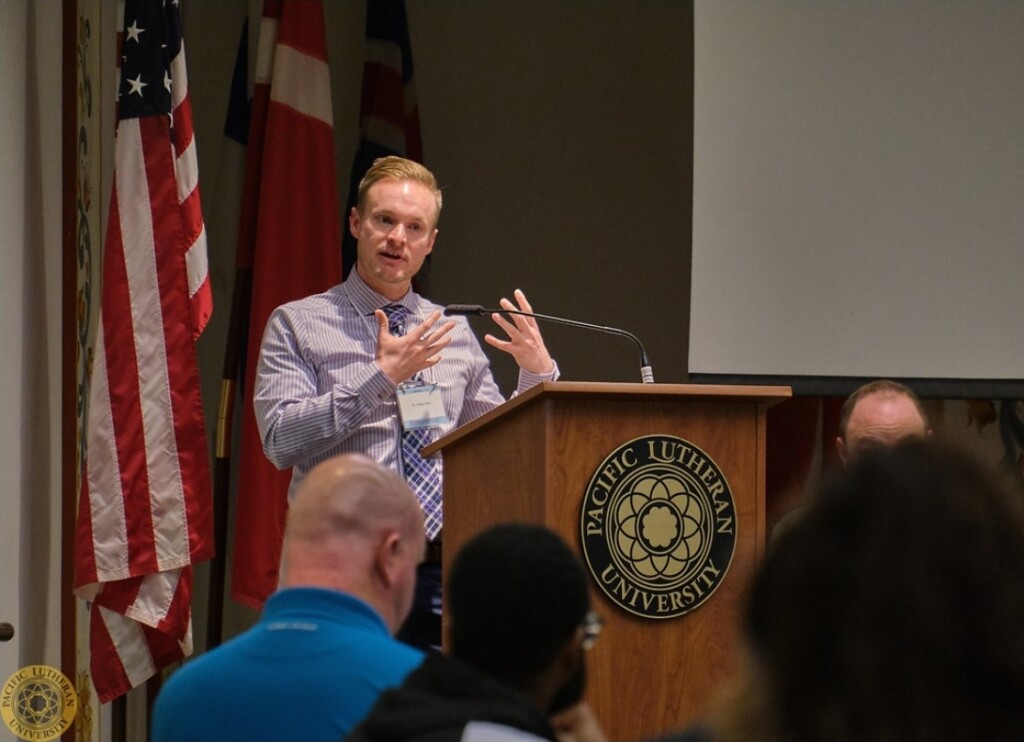 Assistant Professor of Psychology Corey Cook has a track record of developing novel research questions about psychological phenomena, designing creative methodologies to examine these questions, and working diligently to share his answers to the questions. His longstanding interest is in using social psychological theory to understand and reduce social stigma, prejudice, stereotyping, and discrimination.
A colleague shared that Dr. Cook has accomplished a rare level of research productivity. His research lab at PLU is vibrant and he publishes in top tier journals. The volume of work he generates is staggering, but so too is the quality. In speaking to one of his publications, a colleague at another university wrote "Having a theoretical paper published in Psychological Review is generally the crowning achievement for a relatively few select and very able scholars who are often at the middle or end of their careers. The fact that Professor Cook has a theoretical paper in Psychological Review as a relatively young scholar is particularly noteworthy achievement. His work is, in my estimation, at the proverbial cutting edge of social psychological discourse—a timely integration and synthesis of motivation and cognition framed in evolutionary terms."
Dr. Cook's commitment to create an exciting, fun, and effective learning environment for his students makes his research a teaching activity, too. Dr. Cook uses his scholarly expertise and shares his knowledge through stellar mentorship and guidance. He involves his students in research that has resulted in (or has the potential to result in) published scholarship. His research benefits his students by providing them with educational opportunities and career experience for their futures.
In a recent example, Dr. Cook and his students, along with collaborators from 5 countries, across all regions of the US, and over 50 individual collaborators, set out to study the personal need for structure and individual beliefs relating to COVID-19. The study will demonstrably advance the literature and potentially benefit lay understanding and future policy regarding pandemic response.
In addition to a broad swath of published articles, invited talks, and other accolades, Dr. Cooke's most recent accomplishment is being named a Fulbright Scholar for Spring 2022. Another colleague observed Dr. Cooke's "increasingly impressive accomplishments", describing him as a "rising star".
For his excellence in research, we honor Corey Cook.
Our second recipient of the K.T. Tang Faculty Excellence Award in Research is Dr. Renzhi Cao, Assistant Professor of Computer Science. Dr. Cao specializes in developing and applying bioinformatics and data mining techniques to investigate biomedical problems. His interdisciplinary projects apply artificial intelligence and machine learning techniques to a wide range of domains, including cyber security, water purification technologies in developing countries, and monitoring changes in landscapes.
Although he just completed his Ph.D. in 2016, Dr. Cao has already built a significant scholarship resume that includes over 50 peer reviewed journal and conference publications that have been cited over 1800 times. His highly productive research agenda positions Renzhi as one of leading young scientists in the field of bioinformatics and machine learning.
A colleague observed that one of the most impressive aspects of Dr. Cao's research is the amount of work he has done with students. Since coming to PLU, Dr. Cao has had over 15 articles with more than 20 different student co-authors accepted for publication. One student wrote. "Dr. Cao is deeply committed to furthering science and enabling students to contribute as well. I can not count the number of times we have been on Zoom calls late into the night discussing problems with our projects, exciting new developments in the field, or ways to improve the lab." Another student wrote, "Dr. Cao also did his best to ensure that the work we did would be something I'd be proud to put on my resume." He seeks not just to further his field, but to further his students' learning in the process.
Dr. Cao's scholarly expertise has been recognized beyond PLU. He is the recipient of several grants, including a Puget Sound Energy Research Award with Dr. Leong Chan in the School of Business,  as well as several industry awards to support classroom and research activities, such as a Google Cloud Platform Education Grants and an Amazon Earth on AWS Cloud Credits for Research grant.
For his excellence in research, we honor Renzhi Cao.
Previous Award Recipients