Tacomans talk with curiosity about a novel approach to yoga – a free class every Saturday. The class is asked about, relayed as a resource, admired for its purpose. The offering is valued as an unexpected gift to the community, and a Lute is making it happen.
Tacomans talk about about a free yoga class on Saturdays. The class is asked about with curiosity, given as a resource and sighed over as an aspiration. It's valued as unexpected gift to the community and there's a Lute making it happen.
PLU alumna Kate Fontana '08 believes that yoga should be affordable and accessible to people of all incomes and abilities.
Fontana, executive director of Samdhana-Karana Yoga in Tacoma, has helped grow the nonprofit studio, whose mission is also to provide "trauma aware" yoga as a healing service to a diverse community and to those who may not be able to afford or even have awareness of yoga's benefits.
Samdhana-Karana provides a free, weekly class and "allows everyone to have consistent access to some form of a healing practice," the Yakima native says, adding that "helping others is part of my healing."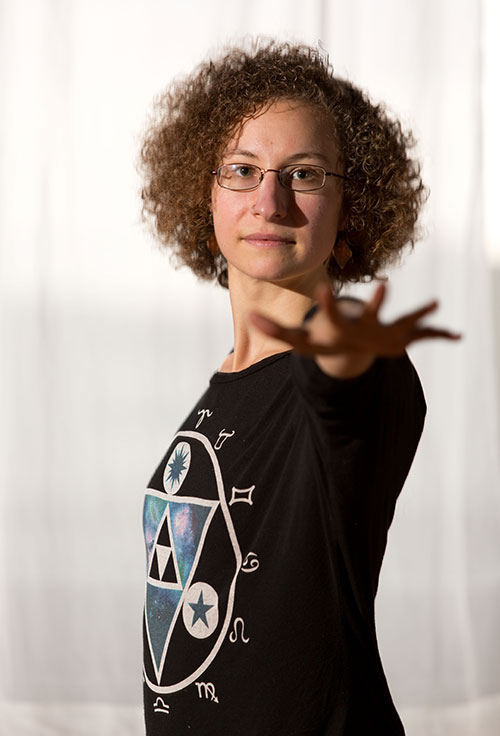 Change and activism marked Fontana's time at PLU. She started college with ambitions of studying physics and astronomy and working for NASA, but classes in women's and gender studies and religion – her eventual degree – won her heart and soul.
Her campus résumé shows Fontana was deeply engaged at PLU: a President's Scholar; co-founder of Students for Peace, a multifaceted group formed to address peace and social justice issues at a local and international level; co-founder of a Community Garden on campus to promote food security; and religious relations director for ASPLU.
She spent considerable energy on advocacy work involving gender and sexuality issues. But after years of activism in college, Fontana found herself feeling empty and needing to heal internal wounds.
During her junior year, Fontana grappled with a significant decision. She had decided to come out. "I came out as queer and I had struggled with depression," which hit hard that year, Fontana says, describing herself at the time as "compartmentalized."
"I had my academic self, and social justice self, and religious self that I kept really secret, and this person I had become when I went home. I had all these versions of myself and that was really hard," she says. "I spent a lot of time at PLU trying to fix external problems. A lot of doing, but not a whole lot of being. When that stopped working, I focused on myself."
Yoga was one of the practices that she embraced to calm the inner turmoil.
"It's a way for individuals to touch back into their own spirit and own humanity," Fontana says. "We are far more able to connect to others from that place of dignity and far more able to listen for what unifies us rather than differentiates us. The bigger theme is remembering we are one."
Vania Kent-Harber co-founded the studio with Pamela Higley. Both found yoga to be instrumental in healing from trauma in their lives.
Kent-Harber, who now serves as the organization's board president, recalls meeting Fontana shortly after the studio opened in 2010.
"She came to one of my classes and approached me, expressing her support of our work and asking how she might get involved," Kent-Harber says. "The timing was quite perfect as I had just found out that my partner's job was going to be taking us overseas for three years – at the time I was the managing director of the studio – and I needed to hire someone to take over."
"I must admit that as much as I liked and admired her when I first met her, I did not realize what a gem we were getting in her," Kent-Harber says. "Kate is unfailingly kind and lives at a level of vulnerability and openness that is not common."
Yoga convert and student Gregory Alderete, 59, vouches for Fontana and the studio.
"My first encounter there … the vibe was amazing," Alderete says. "It was just this peaceful, welcoming, kind and compassionate environment. You feel it like a warm blanket the moment you walk in there."
Alderete, who began attending with his wife some 18 months ago, credits Fontana and yoga with helping him handle considerable stresses from his 25-year U.S. Army career that included tours in war zones such as the first Persian Gulf War, Somalia and Bosnia.
Alderete, a retired lieutenant colonel, deals with the effects of post traumatic stress syndrome, including the "horrific" nature of the fighting in Mogadishu, but has found joy in the ways of yoga – and with Fontana as leader.
"She lights up all the students," he says. "She radiates the room."
Fontana speaks with authenticity and thoughtfulness and searches for deeper meaning in her answers. She credits PLU with giving her the tools to ask and explore all questions.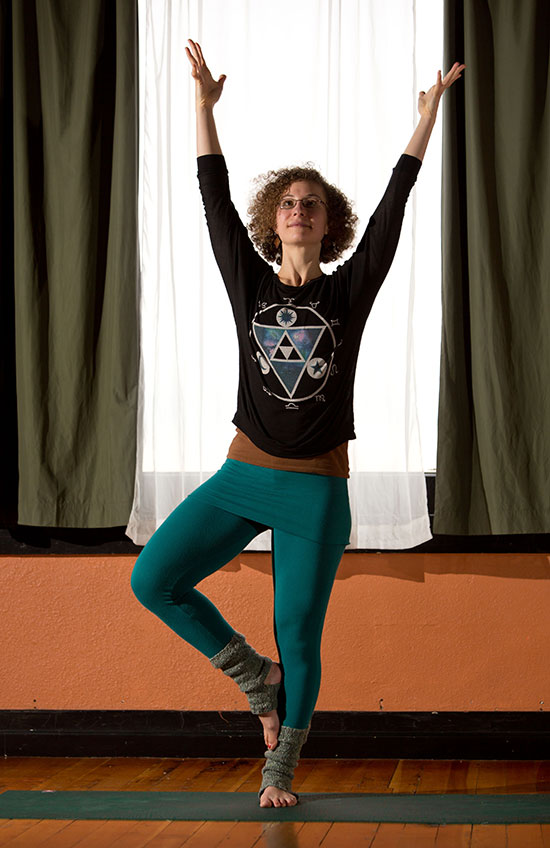 And she is back on campus teaching a one-credit physical education class on Tuesdays and Thursdays.
For students thinking about a career in nonprofit leadership, Fontana has practical advice: "Take an accounting class!" she says, noting her duties as executive director range from financial reports to studio management and all business needs in between.
She's managing without the business background, though. The studio has more than 3,000 members on the mailing list and has partnered to provide yoga to community organizations such as the Wounded Warrior Project and the Nativity House of Tacoma, which houses the chronically homeless.
Fontana – who loves hiking outdoors, being by the ocean, and "to dance and play Scrabble" – has found her own peace as a "place where I can rest without being in conflict with anything that is."
"It is a state of mind and being that releases the need for things to be any different than they are," she says. "That is the feeling – the space we are trying to create here."