Office of Advancement
Student Philanthropy Committee
Gifts to PLU make YOUR education possible!
Gifts from students, parents, alumni and friends help make a PLU education possible for all students. Watch this video to see the impact that gifts to the University have on students just like you.
Want To Get Involved in giving back to your University?
Email gradgift@plu.edu for more information!
Why you should get involved with giving back to your University:
Giving to your University is important in raising the alumni giving percentage.

The alumni giving percentage accounts for 5% of the University's overall ranking in the U.S. News & World Report Best Colleges Rankings.
If the alumni giving percentage goes up, PLU's overall ranking can go up, which would make the value of a PLU education go up as well (which employers love!)

This is your opportunity to leave your own mark on campus.
Even a gift of just $1 can make an incredible difference!
Learn more about Student Philanthropy Committee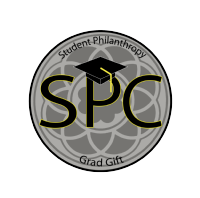 Why does PLU have SPC? What is it?
Since tuition only covers about 76% of the cost of a PLU education, Student Philanthropy Committee (SPC) exists to educate students of Pacific Lutheran University on the impact that philanthropy has on our campus community.
What has SPC done for PLU so far?
Last year we raised money to help replace the damaged trees on campus. We succeeded in increasing the participation from the senior class and were able to purchase a couple trees for campus. We also created an awesome video to showcase how Donors have changed students' lives! Check out the video at the top!