Supporting Our Future, Creating a Legacy
The PLU Harstad Heritage Society honors those individuals and families who have contributed to the future of Pacific Lutheran University by including the university in their estate plans. Begun in 1981 with a handful of individuals, this organization now includes more than 460 families, with documented deferred gifts totaling over $100 million.
To become a member of the Harstad Heritage Society, simply include Pacific Lutheran University as a beneficiary in your will or trust, or name the university as the whole or partial beneficiary of one of the following: charitable remainder trust, charitable gift annuity, life insurance, or retirement account.
Harstad Heritage Society members receive an invitation to various special events throughout the year, including the annual Harstad Heritage Society Appreciation Event, featuring catered lunch and a matinee student theatre production. In addition, financial and estate planning information is made available on a regular basis.
However, the greatest satisfaction for Harstad Heritage Society members is the knowledge that their gift will continue Pacific Lutheran University's tradition of educating students for lives of thoughtful inquiry, service, leadership, and care. Your membership in the Harstad Heritage Society will also encourage others to make similar gifts to further the mission of PLU.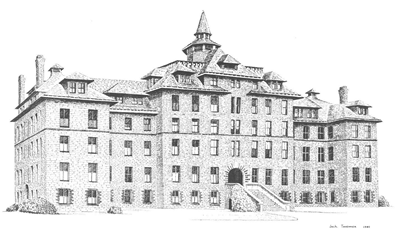 Every Harstad Heritage Society member receives a framed etching of Harstad Hall (Old Main) in recognition of their thoughtful support of PLU.
For more information about how to become a Harstad Heritage Society Member, click here, contact Doug Page, or email giftplanning@plu.edu. If you have already included PLU in your estate plans, let us know by filling out this form.