Welcome to MyChartMyChart is your patient portal to Counseling, Health and Wellness Services that will help you manage your personal health information and CHWS services!
Get the MyChart mobile app!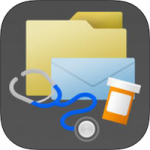 MyChart Benefits & Features
It's 12:34am, you just finished that 12-page paper and are about to start on your presentation notes for tomorrow's class but you can't remember what time your Health Center appointment is tomorrow. What are you going to do?
That's where MyChart comes in. You can manage appointments, check test results, and communicate with us all in one place. MyChart is like Sakai for your health information!
Convenience
MyChart makes it easy to manage your health services. Manage your upcoming appointments, view test results, submit prescription refills, and message your provider, 24/7!
Secure Messaging
Ever wish you could talk to your health provider without having to schedule an appointment or call in? With MyChart you can securely and confidentially email your care provider with any questions you might have. MyChart uses multiple layers of security such as 128-bit SSL encryption to protect your information. You can save yourself time and hassle with MyChart secure messaging!
Test Results
Tired of playing phone tag about those lab results you were waiting on? With MyChart you can easily check and keep track of your lab and test results online.
The Health Center uses multiple labs to process test results, if your tests are run by a MultiCare lab then your results will appear in the test results section of MyChart. Otherwise, you will receive a secure message in MyChart from the Health Center notifying you of the results from your tests.
Manage Prescriptions
Need a refill? If you use the Health Center to manage your prescriptions you can check your orders from MyChart. Request a refill using MyChart and it'll be ready for pickup within 48 hours.
Mobile App
You can access your health information and all MyChart services from the MyChart app on your iOS or Android phone! With the MyChart mobile app you have access to schedule Counseling, Health and Wellness Service appointments, check your secure inbox for messages from your provider, check to see if your lab results are in, and much more!
Virtual Visits
Don't feel like getting out of bed or too sick to leave your room? Well now you don't have to! When you sign up with MyChart you can have your Health Center appointments over video chat. This feature is available on your webcam connected computer or mobile phone with the MyChart app installed!