Currently Reading:
Minnesota Lute finds a new home at PLU
October 21, 2011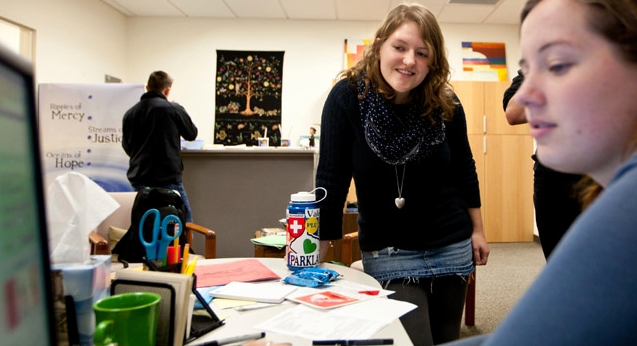 Minnesota Lute finds a welcoming new home, challenges when she arrives at PLU
By Barbara Clements
When she was choosing a college, Laura Rudquist '12 had a few requirements – no 40 degree below winters please, a location near a big city and finally, and most importantly, a college that was welcoming, academically challenging and
resonated with her Lutheran roots. When she stepped onto the campus of Pacific Lutheran University four years ago – all requirements were met in spades."That was what really struck me here," said Rudquist, 22, who doubled majored in both sociology and art history. "There's a sense of community here.  I love the outdoorsy side. I love that it's near Seattle. I liked the change."
But not to much change, mind you. Laura's father, Dwight, is the minister at Bethany Lutheran Church in Deer River, Minnesota. Both parents attended Gustavus Adolphus College. Rudquist has fond memories cleaning up after church potlucks and running local youth events around Deer River.
"It was so familiar here," she said, adding she liked the tone of the PLU chapels and the worship services."I know most of the hymns and yet there are lots of ways to branch out here, as well as experience diversity and other backgrounds."
She also relishes the Lutheran higher education commitment to service.
"That's one thing I am passionate about," she said.
And her definition of service has changed over the last four years. She's realized it's not so much what she gives, but the give and take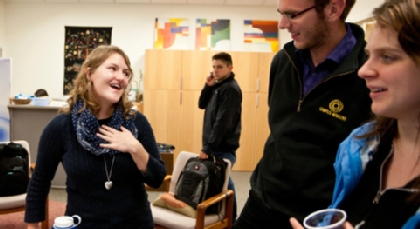 that occurs when she's involved in a cause she cares about. It's about "the interaction and working together to solve problems in the community today," she said. "It's more about working together, than me bringing service to a community."She remembers the first time she heard President Loren J. Anderson speak during welcome weekend. She felt like he was directly speaking to her.
"There is such a sense of vocation here, and you're not learning just for the sake a getting a job and earning money," Rudquist said. "You're learning about doing something enriching with your life.  You're learning how to do something you're passionate about, not something that you can just make a living at."
And the financial support offered by PLU was invaluable, she noted. She received  the President's Scholarship, as well as help from QClub and a minister's dependent grant.  All this "really prevented me from having crippling loans after I graduate, which is important since I want to go on to graduate school," she said. Rudquist plans to continue her education by studying for a masters in library science after she graduates in 2012.