Currently Reading:
Athlete. Coach. Educator.
May 9, 2012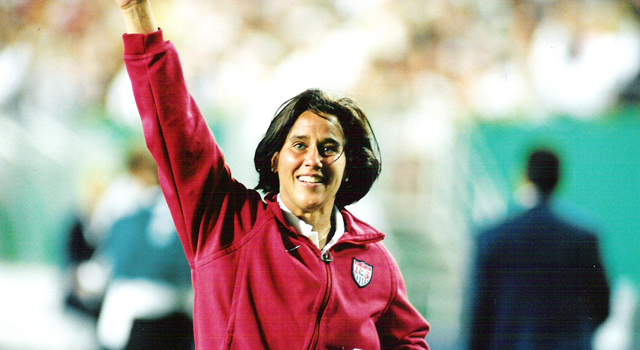 Athlete. Coach. Educator.
PLU professor of Movement Studies and Wellness Education Colleen Hacker rarely uses hypothetical situations to help her students learn new concepts—as an athlete that has competed in five different sports on the national level, and a mental skills coach that has worked with some of the world's best since 1995, there aren't many situations that Hacker hasn't experienced firsthand.
"Every example she gives is an example from experience," said Hacker's student Matt Leslie '13, who is pursuing a sports psychology minor. "Not only does it help you validate what she's saying, it helps you put a picture to it. It's really easy to picture some of the more complex concepts."
Many of these examples come from her work with national teams and professional and Olympic athletes, which began in 1995 when she started working with the U.S. National Soccer Team. Since then, she's worked with athletes in a variety of sports, including Major League Baseball, the National Football League and USA Ice Hockey.
Hacker travels year-round to help these athletes get their head in the game, and to bring the mental toughness and psychological demands of their sport under control.
"I'm really able to bring back these experiences to complement and inform my teaching," Hacker said. "To bring that scholarly and academic expertise into my role here is like me being a kid in a candy shop."
In April, Hacker traveled with the U.S. Women's National Hockey Team to Burlington, Vt. to help the athletes prepare for the 2012 USA Hockey World Championships, where they won the silver medal.
After the competition, Hacker came back to campus and offered her students a rare glimpse of cutting-edge practices from applied settings with world-class athletes.
These examples make the coursework all the more meaningful to the students, who are inspired by her passion for the field of sports psychology.
"Because of the passion she brings to the table and the experience she brings to the table, she gets everyone excited. I had no idea sports psychology was even a profession. I always knew you needed to be mentally tough, but I didn't know there was a whole field of study," Leslie said. "By having someone teach it to us who has first-class and world-class experience really opened my eyes to how cool it was and interested I was in it."
Using her work with professionals as examples is "infused into how she teaches," said Mallory Mann '06. "It informs her teaching even more than students might be aware of."
According to Hacker, she has the best job in the world.
"I get the best of both worlds," Hacker said. "I get to teach my passion."
This passion was something Hacker discovered a long time ago. She recalls learning the importance of playing with a smart head and with your emotions under control early on.
"I am the youngest of three children. I learned at a very early age that it's not always the fastest and the strongest," Hacker said. "What you're doing with your head and what your doing with your heart is the key difference."
Hacker's success as an athlete and as a coach and mental skills coach speaks volumes about her expertise.
After coming to PLU in 1979, Hacker led PLU's women's field hockey team to victory at the conference championship and to a spot in the 1980 national tournament.
She started the intercollegiate soccer team at PLU and led the team to 11 conference championships, district and regional championships, and to five national tournaments, three of which they won.
Hacker was on staff for the U.S. National Soccer Team's first gold medal win in 1996, the 1999 World Cup Championships, a gold medal win in the Goodwill Games, a silver medal in the 2000 Olympic Games, and gold medal wins in the 2004 and 2008 Olympic Games. She was also on the 2008 Olympic Coaching Staff for USA Field Hockey when they qualified for their first Olympic Games in 16 years.
"It's exciting to teach PLU students the same skills and strategies," Hacker said. "One of the great joys for me is being a PLU faculty member."