Currently Reading:
PLU prof tells why editing organic chemistry textbook is actually fun
May 11, 2012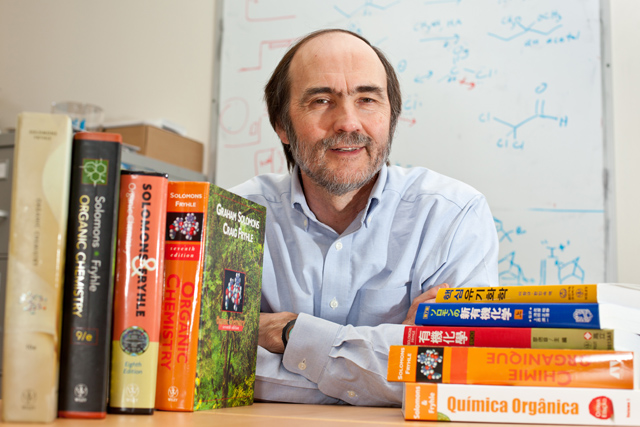 For organic chemistry students, Prof. Craig Fryhle's name pops up almost every time they open a book.
By Barbara Clements, University Communications
The picture adorning the cover of the book looks like a tangle of trees in some in some non-descript Northwest forest.
It's actually a picture of Pacific yew trees on the 7th edition of "Organic Chemistry" by Solomons and Fryhle. That's right,Fryhle.  For more than a decade, Professor Craig Fryhle, chair of PLU's Chemistry Department, has coauthored an organic chemistry textbook that has become standard, celebrated and familiar fare for sophomore students studying organic chemistry in many universities.
Fryhle is just finishing up the 11th edition of the book with his coauthor, T.W. Graham Solomons. The most recent edition in print has a picture of a magnolia plant on it, which is the source of a number of interesting organic compounds, such as several that are found to regulate stress responses.  As for the next edition? That hasn't been decided yet.
Each of the book's covers, which Fryhle has been coauthoring since 1998,  has a connection to organic compounds that relate to our everyday lives, Fryhle explained, as he started stacking the editions, including a couple of Chinese translations and study guides on his desk.
Turning back to the yew tree, Fryhle noted that to keep up with the demand to create the anti-cancer drug, the pharmaceutical industry would have had to decimate the forests to harvest the tree, were it not for organic chemists who devised ways to synthesize Taxol in the laboratory.
That's what fascinates Fryhle about organic chemistry – the ability to peer into the building blocks of life, to learn how nature makes organic molecules, and then to use this knowledge to devise new and useful molecules that can improve our lives.
Fryhle first began his work on the book almost 20 years ago,when he met Solomons at a conference in 1993. Fryhle suggested some changes to the flow of "Organic Chemistry" which Solomons, now retired from the University of South Florida, had written and edited solo up to that point. The partnership was borne.
Fryhle's name began appearing as a co-author on the book in its 7th edition, published in 2000. Each edition involves painstaking review by both Fryhle and Solomons,who make changes to address the evolution of both knowledge in organic chemistry and current modes of pedagogy.
Professors around the country provide detailed critical reviews of the text that help shape the revisions made by Fryhle and Solomons.  Updating the text, study guide, and online material, where the slightest inaccuracy in a word or a bond angle can change the meaning of the chemistry, is incredibly demanding, but Fryhle obviously enjoys the task.  The book is published about every three years, with the 11th edition due out at the end of 2012. Solomons first started writing the book in 1976.
The book is currently published in seven languages, and is comprised of a fact-chocked 1,163 pages. Fryhle doesn't do the translations, of course, but has had to advise about translating the proper meaning of passages.  It's always fun to hear from folks who seethe book in a bookstore or to meet professors at conferences who use it in with their classes, said Fryhle. He recalls hearing from a relative in Sweden who saw it there.  Thousands of copies are in print.
"I get a lot of satisfaction of presenting the material as cleanly and clearly as possible," Fryhle said. "Another stimulating aspect about writing is the dialog with other organic chemists around the country about chemical processes and how we teach our beloved discipline. But when I'm working with a student, it's just a delight when something key to organic chemistry all of a sudden "clicks" for them, whether it happens through learning from my book or by any other means. Those are the moments that we live for as faculty members."