Currently Reading:
PLU veteran, nurse writes new book on Iraq War
August 1, 2013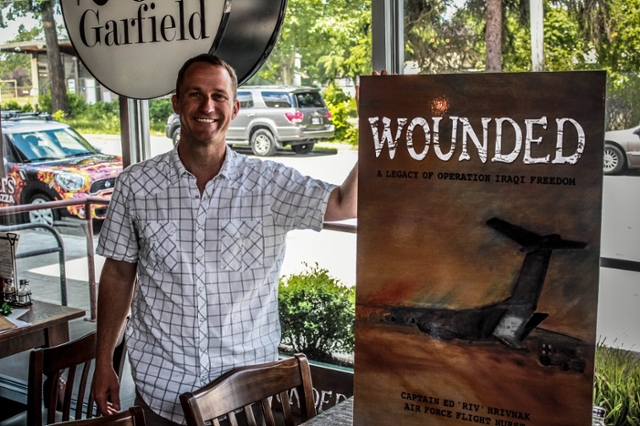 Scribbled notes on surgical tape become new book about Iraqi War by PLU nurse
By Barbara Clements
University Communications
In the pre-dawn darkness, the exhausted medic looked at Ed Hrivnak '96, and begged him to wait, just a little more, for helicopters carrying wounded out of a firefight near Baghdad in 2003. But the pilots of the C-141 was fidgeting. Dawn was approaching and the jet would make a prime target for Iraqi insurgents.
"We didn't want to leave anyone," Hrivnak reflected this summer, while meeting up at Pacific Lutheran University to talk about his new book: Wounded: A Legacy of Operation Iraqi Freedom. Hrivnak was at the Garfield Book Store on Sept. 12 to sign and promote his work.

In the end, Hrivnak had to order the C-141 to take off, and leave wounded behind, so those already on board could be saved. Even though it was the right decision, he admits now, 10 years later, it still turns over like a well-worn stone in his mind.
"It was the right thing to do, but I'm going to have to live with that for the rest of my life," he said.
The book chronicles Hrivnak during his time in the in Iraq, when Hrivnak was a captain and flight nurse in an Air Force medevac unit charged with caring for U.S. casualties. Hrivnak first started writing the book – although he had no idea his musings would end up in newspapers, a documentary and in the New Yorker – by scribbling notes to surgical tape and then sticking them to his flight suit while he was out in the field. He'd then transcribing thoughts to a notebook and to emails home to his family in 2003.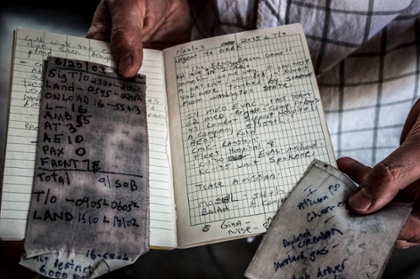 The notes talked about parties and practical jokes – a la MASH –  to let off steam, and of soldiers, looking up from ruined bodies, begging Hrivnak to tell them everything was going to be alright.  Hrivnak reflects on survivor's guilt, along with the frustration with the American public, who seemed to have forgotten about the war.
Pulling out those tattered and faded pieces of tape, Hrivnak  said he had no idea just how bad the casualties of the campaign would be.
After all, he'd been in peacekeeping missions before, in Somalia, Rwanda, the Balkans and the first Gulf War. In the first Gulf War, he had memories of a quick deployment and few casualties, but this time was different, he said. This time, the casualties kept coming to overwhelmed nurses and doctors.
The book talks about his experiences, who he saw and who he met. Hrinvak was frustrated by the war and discouraged by the toll not only the troops, in terms of casualties and wounded, but the emotional cost to the medical personnel in the field.
He remembers that day, in May 2003, when then President George W. Bush declared that the war was over. Looking back, "that was the worst possible speech to make," Hrivnak said. "It had catastrophic consequences."
Iraqi insurgents took Bush's speech as a sign to increase their attacks. To prove his point, Hrivnak pulled out a 10-year-old log, noting that the casualty and wounded levels treated by his unit skyrocketed.  He poured out his frustration to his family via emails, who unbeknownst to him, sent the emails to a local paper, The Tacoma News Tribune, where his thoughts were published.
"I started receiving emails saying "great job," and didn't know what they were talking about," he laughed. He still has the April 2003 article.
That article lead to some of Hrivnak's experiences being published in Operation Homecoming: Iraq, Afghanistan, and the Home Front in the Words of U.S Troops and Their Families (Random House, 2006).  His entries were included in a documentary which was nominated, but didn't win, an Academy Award in 2008.  Hrivnak intended to publish his own book long before now, but life got in the way – children, a wife who returned to grad school, a career change – Hrivnak works now as a firefighter for Central Pierce County Fire and Rescue.  But finally, last fall, it was time to publish his own version and views of events during the Iraqi War.
"It was time to honor the sacrifices the vets and the medical personal made during that war," he said.