Currently Reading:
Center Stage
August 2, 2013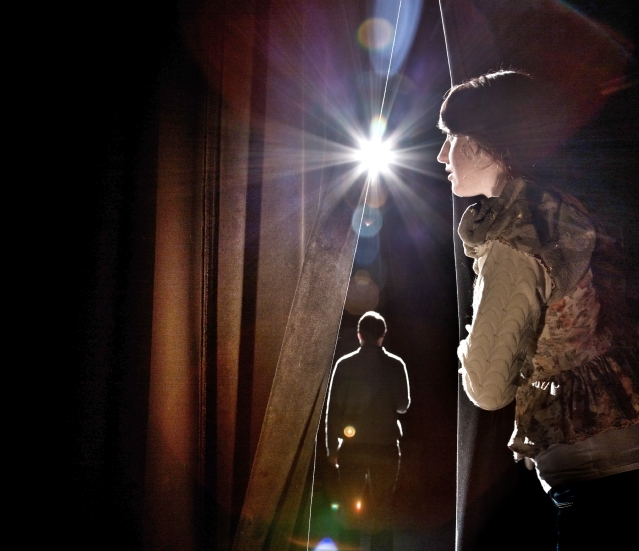 Center Stage: The $20 million Karen Hille Phillips Center for the Performing Arts officially opens in October
By Steve Hansen
Jeff Clapp '89, PLU artistic director of theater, PLU theater program undergraduate, son of a theater professor, likes to tell a story of his tenure interview. There, he was asked: What is the strength of the PLU theater program?
"We sort of teach the MacGyver school of theater," he told his interviewers. "We arm students with a pocket knife and they go out into the woods and produce art."
The MacGyver reference, of course, is a lighthearted nod to the late-'80s action-adventure television show in which a secret-agent solves complex technical problems with everyday materials – items like a Swiss Army knife, duct tape and a few bent coat-hangers.
Clapp considered this high praise. He still does.
"PLU theater students are practiced in being very creative," he said, "because that's about as technologically savvy as that building was."
The building to which Clapp refers is Eastvold Chapel, the venerable brick icon that has been at the heart of campus for 60-plus years. Just about any student who has walked Red Square over those years has some kind of positive association with it – and that is undoubtedly true for PLU's theater students, who have been using Eastvold's mainstage for about a half century.
But, as Clapp intimates, the arrangement has not been ideal. The auditorium in Eastvold Chapel, completed in 1952, was not designed for theater. To know for what the building was intended – in precise order ¬– it is instructive to know the building's original name: The Chapel-Music-Speech Building.
"If you were in the balcony, you could hear a pin drop, but you couldn't see anything," Clapp said. "And if you were on the main floor, you could see wonderfully, but you couldn't hear anything.
"That place was designed for music, not the spoken word."
On October 12, 2013, all that will change.
On the Saturday evening of homecoming weekend, the PLU community will celebrate the completion of one of the university's more ambitious projects, the complete remodel of Eastvold Chapel, renamed the Karen Hille Phillips Center for the Performing Arts. The 45,900-square-foot center takes the name of Karen Hille Phillips '55, a nursing graduate and former PLU regent who, upon her death, bequeathed more than $10 million to alma mater which was used for the completion of the project. All told, Phillips left nearly $25 million to PLU, making her the single largest benefactor in university history. The three-year, $20 million endeavor completed in two distinct phases will officially open with the production of Cole Porter's Tony Award–winning "Kiss Me, Kate" on the rechristened Eastvold Auditorium Main Stage. Jeff Clapp, who has spent so many of his years in this building, both as a student and a professor, will direct production.
From the exterior, it appears little has changed since the days of the Chapel-Music-Speech Building. However, aside from the original brick exterior, everything is new – from the copper roofline to the miles and miles of conduit buried underneath. Seating in the auditorium ranges around 600 depending on configuration – about half of Eastvold's former capacity. By removing those extra seats, architects were able to create space for an orchestra pit, and greatly enhance the acoustics and the sightlines, vastly improving what Clapp calls the "audience relationship." The sound, lighting, rigging, and other technical infrastructure is state of the art.
It is worth noting that the performing arts center will not host just theater. Dance, opera and jazz performances will also use Eastvold Auditorium. Lectures, touring ensembles and other PLU-sponsored events will also take place there. It will be a very busy place.
Phase II also includes many changes not related to theater. PLU's cherished Tower Chapel is restored, renamed the Ness Family Chapel, thanks to a $2 million gift from Kaare and Sigrunn Ness, Arne Ness '69, Shane Ness '99 and Cindy Ness. The chapel will continue to bask in the spectacular light though the refurbished Rose Window, but will include improvements such as a new entrance, elevator access, and wood benches crafted from fir trees felled on campus.
With such a deserved focus on main auditorium, it is easy to forget that Phase I, completed in October 2011, has also proven a phenomenal success. The $5 million 60-seat "black box" studio theater and scene shop has been a hive of activity since it opened, and has capably shouldered much of the theatrical load since Eastvold Auditorium closed. Like its larger sibling, it is also equipped with state-of-the-art lighting, sound and infrastructure, and was constructed with the highest environmental standards in mind.
When the Eastvold Auditorium Main Stage opens in October, PLU will have two working stages that are capable of running simultaneously.
"The opening of the Karen Hille Phillips Center for the Performing Arts is an incredible achievement for Pacific Lutheran University and the School of Arts and Communication. Having one of the region's preeminent performance arts centers on our campus provides an exemplary environment for learning and creativity. The opportunities for our students, whether through our multifaceted programs or collaborations with area performing arts organizations, are limitless, " said Cameron Bennett, dean of PLU's School of Arts and Communication.
"Kiss Me, Kate" will be the first of three productions
on the Eastvold Auditorium Main Stage directed by PLU faculty this academic year – the Christmas farce "Inspecting Carol" and Shakespeare's "Macbeth" being the other two. A fourth main stage production, sponsored by Alpha Psi Omega, the national theater honor society, will be mounted by student Alexandra Rose Schultz '14. That a student has the opportunity to select, and direct, her own production on a brand new mainstage is not lost on Schultz."It is an amazing testament to this school," she said of her upcoming production. "It is quite a gift to let a student use the mainstage for a performance. At most schools, that does not happen."
Schultz has selected "In the Garden of Live Flowers" by Attilio Favorini and Lynne Conner, a drama inspired by the life of environmentalist Rachel Carson and the writing of her groundbreaking book, "Silent Spring." In making this ambitious choice, Schultz said she was looking to select a play that would make the audience both laugh and cry, and that would feature an ensemble cast. She feels she is most successful when she is part of an ensemble cast – working in collaboration with her fellow students.
This idea of collaboration is a common theme that seems to run throughout the PLU theater program – the whole campus, really. It is evident as Schultz talks about staging her upcoming drama. It is evident almost any day in the new studio theater and scene shop, which has come to serve as something of an ad hoc theater workshop and clubhouse where students drop in and test out ideas, improvise and hone their craft.
It is evident, too, when speaking with PLU Assistant Professor of Theater Amanda Sweger, who begins her second year at PLU teaching theater lighting and design. It is clear she looks at this type of collaboration in the same way a natural science professor in Rieke Science Center might look at a student–faculty research project.
It is for this reason Sweger is so quick to let the students learn the light board, for example, or hang lights, even run a table saw to help build a set. The more opportunities to get involved, to collaborate with each other, the more prepared students will be.
That was certainly true for Mariah Madden '14. As part of her final for her computer-aided design course, Sweger had Madden put into practice lighting ideas on which she was working for last season's finale, "The 25th Annual Putnam County Spelling Bee." As acknowledgement of her work, Sweger made sure Madden was listed alongside her as lighting designer for the production.
"The goal is to give our students as much opportunity to do actual work in their own right," Sweger said. "I want them to practice here first, where I am with them and I can help them. Then they can head out into the world."
This, of course, is what a performing arts center needs to be on a campus – both a place to train artists, and a place where great art can take place. The Karen Hille Phillips Center for the Performing Arts will provide all that, and more – right at the heart of campus.
"There's been a real groundswell of support here," Clapp said. "There has been this mindset that 'If we are going to build something, then let's build something really special.' And that's what this building has become."