Currently Reading:
Retired Navy Veteran Fulfills Dream of Becoming a Math Teacher
May 28, 2014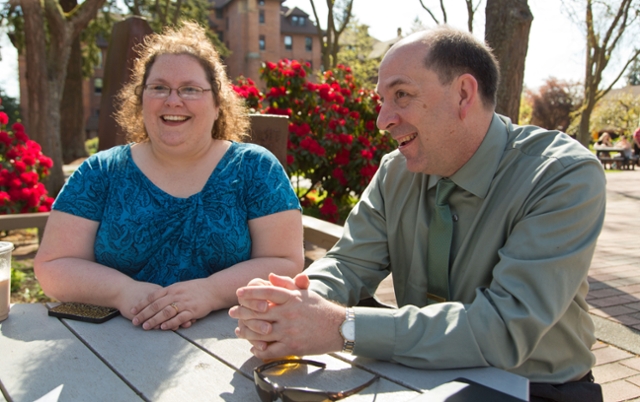 Navy vet realizes his dream of becoming a math teacher
By Barbara Clements
PLU Marketing & Communications
For Jym Kinney '13, '14, it's all about persistence and a dream that just wouldn't go away.
The culmination of the dream played out on May 24 as he walked across the stage to receive his master's degree in Education. He was accompanied at Commencement by his wife, Jennifer Kinney '14, who received her degree in Psychology and plans to continue for a master's in Marriage and Family Therapy from Pacific Lutheran University.
It's been a long road for the Kinneys, who celebrated their 21st wedding anniversary on the day of PLU's Commencement ceremony. Their true journey began three years ago, on Sept. 6, 2011, when Jym Kinney reported to his first day of classes at PLU. After meeting with his advisor, Kinney headed home on his bike. He turned onto South 112th Street, near his home. The last thing he remembered was concentrating on getting home. Kinney woke up in a hospital intensive-care room that day and was told that a red car had hit him from behind at 40 mph, destroying his bike and tossing him 24 feet. The driver never came forward and was never caught.
Kinney spent a month in the hospital with a crushed ankle,  concussion, fractured shoulder and various torn ligaments. The Naval reservist had to drop out of classes at PLU, and considered quitting. But neither his wife, nor his PLU advisors, would let him consider that option. So he started classes again, as a transfer student, and in May 2013, completed his bachelor's degree in Math Education, with a minor in Theater. On May 24, 2014, he officially completed his master's with certifications in math and science teaching. He already has a job offer from the Clover Park School District.
"I didn't want him to give up," Jennifer Kinney said. "I got his homework to him to keep him going. And Mike (Farnum) also kept in contact with him."
Farnum is PLU's Director of Military Outreach, and he encouraged Kinney and helped keep him on track to graduate, even during his hospital stay. Kinney credits Farnum, as well as PLU's Yellow Ribbon program, which paid for the tuition and books, for his success in the program and for making his dream of becoming a math teacher come true. And of course, his encouragement from his wife, Jennifer.
Kinney, 47, laughs that he almost always was the oldest person in class, except perhaps for his professors. But the students in the Education program accepted him readily as one of their own, and made him feel part of the cohort. In fact, they often looked to him for advice.
"For the students, it was really no big deal, to have this old guy in the class, coming in with his walking stick," he said.
Teaching science or math had always been of interest to Kinney, even in his youth.
"I always wanted to be a teacher. I just didn't have a clue on how to get there," he said.
Life got in the way, for one thing, and he worked at various jobs until he was laid off from his clerks job just before their daughter was born.  He then joined the Navy Reserve and stayed home with their daughter while finishing up his Associate's degree at Fresno City College.  Making ends meet was still difficult, so he signed an active duty Navy contract, which then stationed the Kinneys in Tacoma. Jym Kinney remembers discovering PLU while touring around on his bike. Kinney later completed his associate's degree at Pierce County Community College and transferred his credits to PLU just before his accident.
After he re-entered courses at PLU, he started encouraging Jennifer to do the same. So she started her own journey. There may be a second generation of Kinneys on the way, as their daughter Aleesha, 17, is also considering PLU.
"I would just say, if you have a dream, go for it, just do it," Jennifer Kinney said.
And Jym's advice: Get back on the bike and continue chasing your dreams. Or in his case, simply get back on the bike. Jym is in training now and hopes to ride on the Seattle to Portland Bicycle Classic again next summer, for the fifth time.