Currently Reading:
5 New Fulbright Scholars Bring PLU Total to 100
May 26, 2014
5 New Fulbright Scholars Bring PLU's Total to 100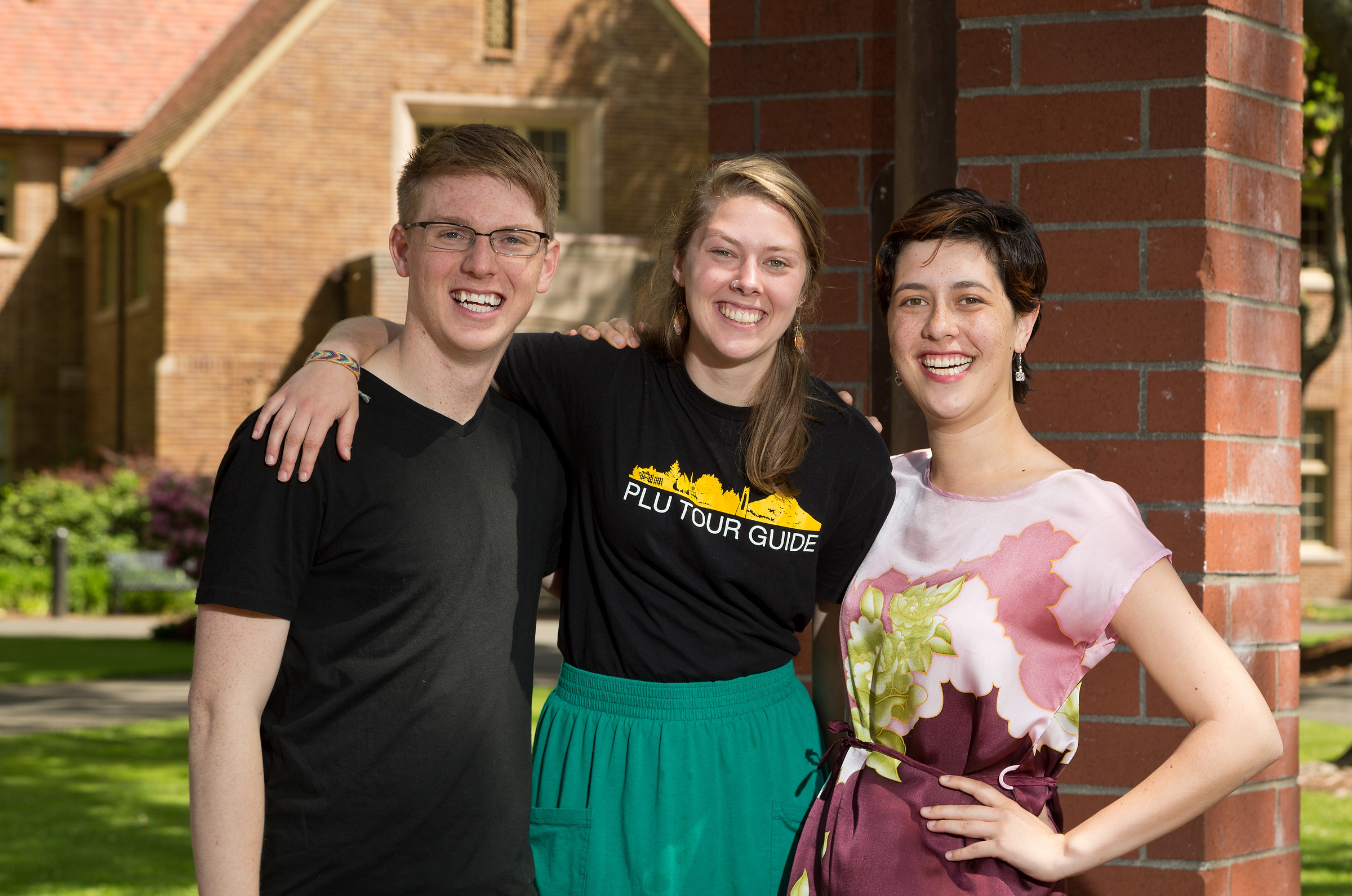 2014 graduates, from left, Tommy Flanagan, Brianna Walling and Lillian Ferraz are three of PLU's five new Fulbright Scholars. (Photo: John Froschauer/PLU)
Lutes Will Travel the World to Teach and Study Under Prestigious Program
By Barbara Clements
PLU Marketing & Communications
This year, Lutes will go to China, to Turkey and to Germany, Taiwan and Argentina, as five Pacific Lutheran University graduates were accepted into the Fulbright program, bringing PLU's total number of Fulbrights since 1975 to 100.
That 100th Fulbright, Brianna Walling '14, said she was speechless when she received the email from the Fulbright committee that informed her that come next March, she would be travelling to Argentina for about nine months to teach English there.
"I was hiking up Mount Rainier when I found out from a friend on Facebook," she laughed before walking across the Tacoma Dome stage on May 24 to receive her degree in Political Science and Global Studies, with a minor in Hispanic Studies. "I had to wait until I got home to read the email myself."
After her Fulbright experience, she plans to attend graduate school, or perhaps law school, specializing in immigration policy or law.
Sponsored by the U.S. Department of State, the Fulbright program was established in 1946 by Congress to "enable … mutual understanding between the people of the United States and people of other countries." It is the largest U.S. international exchange program offering opportunities for students, scholars and professionals to undertake international graduate study, advanced research and university teaching. Most scholars teach in elementary or secondary schools worldwide.
Like Walling, the other two 2014 graduates had not learned exactly where they would be teaching in their respective countries.
Lillian Ferraz '14 leaves Aug. 1, first for training in Washington, D.C., and then for 10 months of teaching in Taiwan. She graduated May 24 with a degree in English Literature and a minor in Music. While in Taiwan, she also will study local and American songs.
Thomas Flanagan '14 will leave Sept. 1 for Germany, where he'll teach English. His love of languages likely will mean returning to a master's program once his Fulbright tour is over.
Two PLU alumni also received Fulbright Scholarships this year. Natalie Burton '13 will study piano education and culture in China, a continuation of her senior research project at PLU.  She will conduct her research at Central China Normal University in the Wuhan area this fall.
Ted Charles '12 will study in Turkey during his one-year scholarship. Charles is studying for his master's in Archeology at the University of Idaho and would like to eventually get his doctorate in this field and become a university professor.
Neal Sobania, Professor of History and PLU's Post Graduate Fellowship Director, said PLU applicants receive intense tutoring, editing and encouragement from PLU faculty and staff.
"I think one of the real strengths of our whole program is the astonishing help and support they get from faculty members," said Sobania. "This is real significant to their success. … We've got students who are seriously committed to being global citizens, and they are being recognized as such."
As for the next batch of Fulbrights, the 2014-15 applicants are already hard at it. The first draft of their essays was due to their advisors May 2.